Moving from a primary school to secondary school can be a daunting prospect for children.
Whilst schools understand the need to prepare the children for the transition process, due to time constraints, the focus tends to be on group visits to the new school rather than one to one support for individual children.
The challenge therefore is to ensure that each child feels prepared for the transition and that they have the opportunity to talk about any worries they may have.
My sister is a head teacher of a small village school and was interested in finding out more about her pupil's experience and thoughts about their impending move to secondary education.
With the permission of parents I offered a Talking Mats session to each child in the term prior to them leaving for secondary education. In total this was 8 children.
I used digital Talking Mats, choosing the "What I do and support" topic cards from the primary school pack.
The children were told that we were going to think about how each topic may be affected by moving up to secondary school. We used a happy/not happy top scale.
The level of engagement from the children first amazed me. They were all excited by the prospect of using the digital Talking Mat. All were familiar with iPad use and grasped the concept quickly.
They used the topic cards to think about areas such as playing, friends, helping in the house, looking after yourself, your safety and managing stress.
They all expressed worry about the transition process but for many it was not around areas that teachers or parents would have automatically considered. How they were going to get to and from the new school was a theme that concerned them, as well as getting up and getting ready to go to school in the morning. A large number of the children also explained that they had poor sleep due to either difficulty getting off to sleep or waking with worries. Some children also disclosed some concerns about family life.
I found that the diverse nature of the cards prompted the children to think about areas of their life that their teachers had not ordinarily thought about when considering the impact of transition.
As an occupational therapist it struck me that many of the children were expecting that with the change from primary to secondary there also came the added responsibility of having to look after themselves. For them the transition was not just about moving schools it was also about being more "grown up" and being less reliant on their parents for prompting their self care routine or accompanying them when outside.
At the end of the session a summary was agreed with each child and this was sent to both the teacher and the parent so that they could support the child with the issues they raised. The teachers remarked that even though each session had only lasted 20 minutes, and was facilitated by someone the child had never met before, it had managed to reveal a breadth of information about how each child was feeling, that they were not previously aware of.
In summary, the beauty of the Talking Mats approach is that it allows the thinker to explore a range of issues that are relevant to them and does not lead the listener down a path of asking questions they think to be relevant. This gave the child I worked with the opportunity to really say what was troubling them. They were not put off by the fact they have never met me before, they talked freely with the digital version of the Talking Mat being both a point of focus as well as in a format they enjoyed.
Whilst the theme of the sessions in this case was transition, I would commend teachers to consider using Talking Mats in schools to enable children of all ages to think and communicate their feelings on a wide range of topics.
Thanks again Rachel Woolcomb OT for a great practical example.
We are grateful to Rachel Woolcomb OT,  for sharing this Talking mats story.
Within my occupational therapy practice I have found Talking Mats to be an excellent thinking tool to help my clients establish their priorities for therapy.
I was asked to work with a teenage girl who had sustained a brain injury resulting in a mild cognitive impairment which was impacting on her participation and ability to learn at school.
She had undergone formal cognitive testing with a clinical psychologist, however had shown poor levels of engagement with the assessment process (which had taken over two hours). She was reported as having erratic focus and inconsistent answers to questioning. The results were therefore deemed to be inconclusive and no recommendations made.                                                                  I knew that Talking Mats would provide me with similar information to that which the psychologist was trying to gain, but in a way that would be engaging and client focused. I also felt that the concept of the Talking Mat, which enables the thinker to express their own views rather than a "right or wrong" answer, would help to improve participation.
I selected the learning and thinking topic cards from the communication set within the Health and Wellbeing pack. These cards cover areas that I would normally look at within any cognitive assessment and are functionally relevant.   Together we selected the visual scale, choosing the question "how well are you managing?"
She explained that organising herself, writing, listening, reading, problem solving and planning were all going well. She talked about how she sometimes had difficulties concentrating and paying attention due to getting distracted in the classroom. She also felt she was struggling more than before with calculating and that this was affecting her scores in Math tests. She explained that remembering and making decisions were "not going well' and she was particularly worried about the fact she had forgotten some of the teaching she had received prior to her brain injury.   I was also able to conclude from the way she understood the concept of the mat, as well as her ability to engage and attend for the whole session, that she could concentrate, learn new skills and had the ability to weigh up information to help her make decisions.
Together we used the information gained from the Talking Mat to set goals for therapy which were focused around having a range of strategies to help her concentrate in class, remember new information, and make decisions.
Two months later, once having completed a therapy programme, we used the Talking Mat again to explore her current thinking about the topic area. She explained that making decisions was something she no longer had difficulty with as her confidence had grown. She felt that there had been some improvement with her ability to remember information and we discussed the strategies she now used to help her concentrate in class, which included ways to minimise any distractions.
In summary, the Talking Mat enabled her to think about how her brain injury had affected her ability to remember, make decisions and learn. This provided valuable information from which a therapy programme could be created. The Talking Mat also provided a visual representation of her perception of the issues before and after therapy, showing clearly her progress. This was well received by her parents, teachers and the other professionals involved in her care.
Once again I have been amazed by the power of the Talking Mat to produce a breadth of information in a relative short space of time and I will be advocating its use within cognitive assessment and rehabilitation across all ages.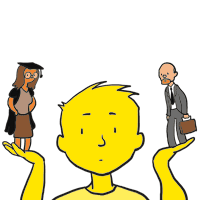 It was great to be able to attend the Intermediaries for Justice Conference on the 9th May in City University London. From the very beginning there was a real buzz of excitement in the room. Intermediaries demonstrated throughout the day their commitment and passion for their job despite frequently working in difficult circumstances as well as having a role that is not always appreciated. They are employed by the crown, magistrates and family courts in England, Wales and Northern Ireland. Intermediaries support two way communication between personnel involved in the justice system  supporting  those previously judged incapable of giving clear and effective evidence to do so.
There was a real buzz from the outset at the conference. At times, it can be quite a lonely role being an intermediary. If you get the role right and put the appropriate communication scaffolds in place,  everyone communicates well – then some in the justice system find it hard to recognise that you have done anything at all! Baroness Newlove, the victims commissioner for England and Wales who was one of the key note speakers said 'You need to see how intermediaries work to believe what they do ' Being a skilled communicator and being creative is the bedrock of intermediary practice. Baroness Newlove was clear that there needs to be greater access to registered intermediaries and but also there were clear management and long term support issues that need to be addressed by government.
The theme by various speakers throughout the day was the challenge of communication in the justice system. As one speaker put it 'Justice is being delivered in a system designed in the 18th century which makes it difficult to fit the needs of the 21st century and ensure all have access to legal process ' Another speaker spoke of registered intermediaries levelling the playing field but there is still not equal access as defendants do not have automatic access to the scheme . As well as communication difficulties arising through the child's age and or the person's disability the issue of cultural communication was raised particularly in relation to gang culture
The conference loved meeting Oliver – the first dog in Europe trained to be court friendly and whose role is to support children to give evidence . Research in America has shown that stroking pets can help reduce fear and support children in court
Talking Mats is a communication framework that some intermediaries use . One said she could not do the role without Talking Mats and two intermediaries have described their use of them in two previous blogs . Click to read a blog by Nicola Lewis https://www.talkingmats.com/assisting-vulnerable-people-to-communicate/ and one by Catherine O'Neil https://www.talkingmats.com/talking-mats-used-court/ . So Talking Mats was delighted to be asked to the conference to have a stand and run a workshop. It was great to have Aileen O'Hagan with us and she talked through some case examples when she had used Talking Mats in her role as a intermediary. One example involved working with a young person with selective mutism where Aileen used Talking Mats to great effect to help prepare and plan for her witness interview . She created options around the optimum environment for the interview e.g. lightening, seating etc but also options around the mode of giving evidence . The witness wanted to write things down and wanted the intermediary to speak them out loud.
The day left me in no doubt that intermediaries are effective in enabling the voice of those who would not otherwise be heard, be heard. I remain concerned and puzzled as to why Scotland does not have the scheme. We do have appropriate adults but this role does not have the legal standing nor the training and qualification demands of the registered intermediary scheme and in practice the focus of the work is different . I hope this situation will change.
The intermediaries for justice organisation have now established themselves as a charity and if you want to find more about their work then visit http://www.intermediaries-for-justice.org.
If you are an intermediary and have found Talking Mats helpful then we would love to hear form you. We are always up for more guest blogs so please get in touch
One of the reasons why Talking Mats works is because it reduces the demand on the 'thinker' to remember the question, find the vocabulary needed to answer, construct the answer into a sentence, and then say it clearly.  This reduced demand allows more 'thinking time'.
Here's a link to our website with more reasons why Talking Mats works
https://www.talkingmats.com/about-talking-mats/#whyitworks
Another reason people respond well to it is there is no right or wrong answer.   It is not a test.
Sometimes the listener can forget their role and use the interaction as a test or as a language exercise.  E.g .  'Do you know what this picture is?  'What's this one called?'  This makes the demands on the thinker instantly increase as they are required to formulate an answer. Checking the persons  level of understanding first may be necessary but it shouldn't be done as part of the Talking Mat.
In our training we recommend avoiding 'why' questions , as they can make a person feel they have made an error.  If the listener wants to know more, then a sub mat can be done
Our mission statement is to maximise the person's capacity to express what they think.  Let's help them to do that!