In this latest blog, Laura Holmes (Talking Mats Associate based in Stockport) shares a great example of how Talking Mats can be used by education staff to help children to share their thoughts and feelings:
One of Teaching Assistants I work with at Woodley Primary School in Stockport, Lucie Porteus, attended Talking Mats Foundation Training in December 2018. Since then Lucie has been using Talking Mats with many of the children on our Speech and Language Therapy caseload in school.
Lucie's use of Talking Mats with a group of Year 6 children is a great example of the benefits of using Talking Mats to help children to share their views and opinions. Lucie had carried out initial Talking Mats sessions with four children, on a one-to-one basis. These sessions had focused on getting a general idea of each child's thoughts and feelings using the Talking Mats 'Consulting Children and Young People' resources. A common theme had emerged through use of 'blanks' – all four children wanted to talk more about their upcoming school residential trip.  Here is a picture of one of the mats (click on the picture for a clearer view):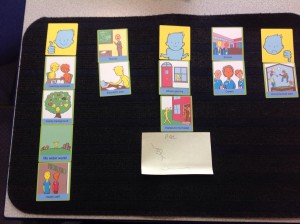 Lucie then planned and prepared options to 'sub-mat' the topic 'PGL' – the residential school trip, and chose the topline questions 'happy about/not sure/ not happy about'. She then met with each child individually to complete the mats. Some of the issues/ questions which emerged from the mats were:
'I don't know who the people there are'/ meeting new people
'I don't know what we will be doing'
'Do we have a choice about what activities we can or can't do?'/ 'I'd like to have a choice'.
Privacy – getting dressed
Will any instructions be written down – do we just listen or will we be shown what to do?
The instructions might be confusing – what will I do?
I don't like heights – I'm worried about climbing up high
Working in groups – we might all fall out
Sleeping – it might be hard to get to sleep. Sometimes other children talk and I can't get to sleep.
What will the food be like?
What happens if I don't feel well?
The journey – I might feel sick if I'm not at the front of the coach/ Do we get to choose who we sit with?
This information was passed on to each child's Class Teacher and Teaching Assistant. Further conversations then took place to answer/address the above queries and concerns. Using Talking Mats meant that these conversations were personalised and focused. The children's queries/concerns were listened and responded to well before the school trip itself.
School staff report that all the children had a fantastic time on their school trip!
Talking Mats enabled these children to have their voices heard about a topic which was really important to them. If you are interested in finding out more about accessing training to enable you to support the children and young people you work with to have their voices heard, take a look at our training options here: https://www.talkingmats.com/training/
Many thanks to Tina Wood, Occupational Therapist at Therapy In Motion, for this great example of how Talking Mats can be used to explore thoughts and feelings both in present-day and in retrospect, to evidence positive outcomes from a change in educational placement. Tina's use of colour coding and pie charts really helps to illustrate this.
Tina attended our Talking Mats Foundation training back in September 2016 and since then she has been using Talking Mats regularly in her work as an Independent Occupational Therapist.
In this example, Tina has used Talking Mats to enable Ben (name changed for anonymity, age 12½ years) to share his thoughts and feelings using the Talking Mats 'Consulting Children and Young People' resource packs – focusing on the topics 'My Body and Skills' and 'What I do and Support'.
At the time of this Talking Mat, Ben had been accessing a new placement at a Pupil Referral Unit for the past 11 months (click on the picture below to see a clearer version).
As there was clearly a difference in how Ben felt things were going when he was attending his previous school, Tina decided to ask him to do a retrospective Talking Mat of how things were going for him 11 months ago in January 2018, when he started to feel "unwell".
This enabled comparison with how he feels now in the "safe setting" of the Pupil Referral unit (click on picture to see a clearer version).
Tina then compiled the information from the above tables into pie charts, enabling a clear visual comparison between the two times/situations (click on picture to see a clearer version):
As can be seen from these charts, there had been a huge change in Ben's perception of how he is coping with life in general and school in particular.
Tina recommended that this information needs to be considered along with the rest of Ben's sensory needs (as reported in her full OT report) when deciding on what is the best educational setting for him after leaving the pupil referral unit.
We love this use of colour coding and pie charts to illustrate the information from Ben's Talking Mats – to really ensure that Ben's feelings and thoughts are seen and heard.
 If you would like to know more about accessing Talking Mats training – available across the UK and Ireland as well as online – please take a look here: https://www.talkingmats.com/training/
 If you have any examples of how you report/share information about completed Talking Mats we would be interested to hear about it! Just email laura@talkingmats.com
In this latest blog, our Director, Lois Cameron describes the initial stage of a Scottish Learning Disabilities Observatory project aimed at enabling involvement and engagement of people with learning disabilities in supporting people with learning disabilities to have a voice. A great example of co-production in action:
Background
The Scottish Learning Disabilities Observatory aims to generate evidence, build understanding and provide information on the causes of poor health and health inequalities experienced by people with learning disabilities in Scotland. However, they recognised that there was a need to develop their approach to involving people with learning disabilities. They considered whether a citizens' jury for people with learning disabilities on health and health research would be a constructive way of engaging people with learning disabilities in supporting people with learning disabilities to have a voice. From the outset, they acknowledged that communication would be a key challenge and approached Talking Mats to work with them to put forward a bid to the Welcome Trust Public engagement fund. This bid was written, submitted and was successful.
To establish the project, our first task was to recruit a Public Engagement Lead to take the lead on project delivery. This raised the first hurdle, as since the Engagement Lead was not in post there was no citizen's jury and therefore no pool of people with learning disabilities to approach to be involved in the interview panel. From the outset, involvement of people with learning disability was seen as central to the project. Talking Mats had recently completed a course working with people with learning disabilities from the National Involvement Network to become Talking Mats interviewers, so we approached one of the participants who had completed the course and asked if he would be willing to be on the interview panel. He was very happy to take part and contribute his skills and experience to the interview panel.
Planning the interview Talking Mat
We examined the job description and divided it into questions that were more factual and knowledge-based and those that we might describe as 'softer'. However, calling them soft might be misleading as they were actually value based and we felt that the successful candidate's proficiency and self-awareness in responding to these options would be central to the success of the project. After going through this sifting process we came up with 8 possible options for the interview talking mat. We met with our interviewer from the National Involvement Network and with him honed it down to six and choose the top scale: extremely confident, confident, not that confident. He also choose the symbols he wanted to use. Candidates would be asked to justify where they placed their options. A script was developed to support the interviewer e.g. 'It would be good if when you placed the card down you gave us a reason why you placed it there. Examples from other work you have done would be helpful' .   The full script can be found here – Interview Script
The six options were:
Making information accessible
Making sure everyone has a chance to speak
Helping the group understand research
Helping the group set its goals
Involving people with severe learning disabilities in the research agenda
Not taking power away from the group
The interview
In the interview, candidates were asked to give a short presentation, and then the member of the National Involvement Network carried out the Talking Mat. After this, there were some further panel questions and a chance for the candidate to ask questions.
The experience and outcomes
"I really liked being involved in making the mat. At the interview I knew what I had to do and I felt the other interviewers listened to me and my opinion."
Other panel member's perspective
"Having never used a Talking Mat in a recruitment interview before I was not sure how effective it would be as a recruitment tool. We wanted the process to be as inclusive as possible, where all interviewers had a clear and purposeful role. The Talking Mat worked really well, both as a way of gathering knowledge and information from the candidates, but also by providing an opportunity to observe the interactions between the candidate and the interviewer. I also think that the structured framework of the Talking Mat put the interviewer at ease and it was nice to observe that his confidence in using it in this context and, where necessary, in prompting and supporting the interviewee. All in all this was an effective way of conducting an inclusive interview process that signalled to our candidates that people with learning disabilities should be involved meaningfully in all stages of the process. It also meant that when we came to reviewing the candidates against the role criteria all members of the panel were able to contribute. I can't wait to do more interviews like this!"
Candidate perspective:
"For me, an interview process is really about making sure that you and your potential new employer have compatible values. Therefore, it was a relief to have someone with learning disabilities on the interview panel who could help direct the questions. It was also clear that the interviewer knew how he fit into the interview process and was taking the lead on his section of the interview.
The Talking Mat itself was an interesting tool for the interview discussion because the top scale allowed me to look at where my skills and confidence were but also identify some potential challenges within the project. The interviewer also really kept me on my toes with some good follow up questions. In one in particular, he asked me what I would do if he was talking too much and dominating the conversation in the group. It was a challenging question and quite uncomfortable on the spot, but it forced me to be honest about my own values and say that actually, the right thing to do is to politely confront someone who is not letting others speak.
The benefit of a Talking Mat is that it has to be really clear and concrete to work, so I actually felt that I understood the demands of the role better than reading the much longer job description."
Summary
The involvement of people with learning disabilities was possible from the start of the project because we were able to harness the skills and experience of a person from the National Involvement Network who was trained in Talking Mats. He had a clear independent role which was central to the interview process and improved the quality of the information gained by panel members . The Talking Mats design gave all panel members particular insight into those 'soft skills' that were felt to be crucial to the project and that might not have come through so clearly if just the traditional presentation and questions were used.
If you are thinking about a Talking Mats project for your own organisation/service you can find more information here:  https://www.talkingmats.com/projects/