Last week, Laura Holmes, our NW England Associate, had the pleasure of interviewing our inspirational Founder, Joan Murphy. Joan will be retiring after our Talking Mats 21 event on 15th August 2019 and so this was a great opportunity to find out more about her Talking Mats experiences:
Are there any stand-out moments for you, from your Talking Mats time?
Talking Mats are now used in many countries across the world and it has been great to have the chance to travel widely. One particular moment which stands out for me was during one of two trips I made to China with Sally Boa. I was asked to demonstrate Talking Mats with a man who was in hospital having had a stroke. He had no speech and was using a wheelchair. I used Talking Mats to find out what the man felt he could/ couldn't do. The man shared that he felt he could walk. I had to present the symbol three times as the family members and medical staff watching were adamant that the man could not walk. On the third time, the man pushed the table, moved his wheelchair back then stood up and walked around the room. His family and medical team were completely shocked and realised that no-one had actually thought to ask him if he could walk. This was a massive turning point both for the man – and also for his family and medical team, who could now see the power of using a Talking Mat.
Have you done any Talking Mats yourself that helped you to make an important decision for you or your family?
Absolutely – quite a few! My husband and I both used Talking Mats for our Power of Attorneys and shared them with our lawyer and grown-up children. My husband and I also used Talking Mats to talk about the Scottish Referendum as we had opposing views – it really helped as it made us listen to each other without interrupting. We then went on to use the mats as part of a presentation. Various members of my family have used mats to explore personal issues and decisions 
What are the top tips you have gained from your Talking Mats journey – from working in the NHS and then more recently as a social enterprise?
You have to have humour. And be able to listen. It has been essential to be able to work in partnership with Lois and the other Talking Mats team members. The team are such nice people to work with and we have lots of laughs. Setting up as social enterprise was vital for Talking Mats – in terms of having the freedom to be creative. It felt as though someone had a big rubber band which was able to be released. It was a huge risk and there have been lots of leaps of faith along the way.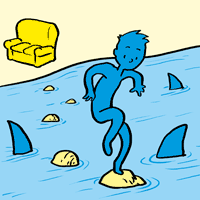 Do you have any top tips for people using Talking Mats in the Listener role?
Be quiet – and Listen! It's also important to feel relaxed and to have a sense of humour whilst using it. A Talking Mat is not a test – it is serious, and can be used to explore difficult issues, but it should be fun.
Talking Mats is a low-tech AAC system – do you think it has a place in the modern world?
It is absolutely crucial! Low-tech resources are fundamental in terms of being able to have and develop conversation skills and social closeness.
What do you want for Talking Mats in the next 10 years?
World Domination! Talking Mats has the potential to be used everywhere in the world, by everyone. However I would like to see Talking Mats continue to have a small core team, but increasing Licensed Trainers across both the UK and the rest of the world.
Our Talking Mats is 21 Event is in Stirling on Thursday 15th August 2019.  Thanks to funding from NHS Forth Valley endowment committee the event is free but you do need to book your space https://www.eventbrite.co.uk/e/talking-mats-is-21-tickets-62362171935
You can come to the morning only, afternoon only or come for the whole day.
If you can't come to our event watch out for out blogs and social media celebrating the reach of Talking Mats for 21 days before the 15th of August.  Please join in with your contributions using the hashtag #TMis21. For 21 days after our event we will be having a special Birthday offer! Watch this space, more to follow …….
Many thanks to Jenny Trott for our new guest blog about her interview with Talking Mats Director, Lois Cameron – Jenny's video provides some great information about the Talking Mats approach and our original and digital resources:
A year ago I started my YouTube channel (www.youtube.com/jennytrott) as a way of supporting parents and carers with information and inspiration. As a parent of a disabled child myself I knew that one of the best ways to find out things is from other parents, and YouTube was just a different and new way to do that. To date I have published nearly 50 films about subjects ranging from Self Directed Support to Rebound therapy, and including interviews with parents, professionals and disabled people.
Quite early on I knew that I wanted to make a film about Talking Mats. I had used Talking Mats when I worked with people living with dementia, and I knew that my son's school were using them too. I had seen the benefits of this innovative communication tool but I also knew that many parents and carers didn't really understand it because they hadn't been given the right information.
Lois was kind enough to agree to join me in front of the camera, so in April I visited Talking Mats in Stirling with my tripods, microphones and cameras. It can be a bit daunting interviewing someone I've not met before but Lois instantly put me at ease and had the great idea of demonstrating a Mat rather than just talking about it. It was so interesting, experiencing using a Mat first hand and it helped to show the viewers what Talking Mats is really about.
You can view the video here: https://youtu.be/Fmyt1fE-_U8
The feedback from the film has been great, both from professionals, parent carers and SLT students; lots of lightbulb moments; "ah, now I get it"!
I am still making films but less frequently as I am now also setting up a social enterprise, Mecoco (www.mecoco.org) here in North Ayrshire.  We'll be offering work experience and volunteering opportunities to disabled people to work alongside us making candles and melts. I am sure Talking Mats will be invaluable in our workshop!
If you'd like to find out more about accessing Talking Mats training take a look here- https://www.talkingmats.com/training/  – we offer a range of options including online, and bespoke training for organisations, as well as advanced courses and specialist seminars for those who have already accessed Talking Mats Foundation Training.
We are all looking forward to celebrating Talking Mats is 21 on the 15th August
The morning is aimed at people who are experienced Talking Mats practitioners and will extend thinking and Talking Mats practice. There are an interesting range of parallel sessions to choose from. Each participant will get to choose three topics to attend.
Talking Mats as a Thinking Tool
Embedding Talking Mats in Schools
Talking Mats in Forensic Settings
Talking Mats in End of Life Care
My experience of using Talking Mats as a parent
Talking Mats and Positive behaviour Support
Talking Mats and Supported Decision- Making
Empowering people with Learning Disabilities to be Talking Mats Listeners and Trainers
Talking Mats and Children's Mental Health
The afternoon is more informal and there will be an opportunity to engage with some of our partners – see how they use Talking Mats and try things out . There will be posters on the use of Talking Mats in lots of different places and for a wide range of applications.
Plus there will be lunch, cake and a few bubbles !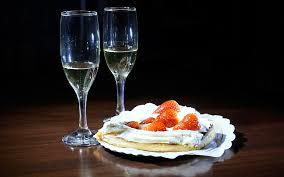 Thanks to funding from NHS Forth Valley endowment committee the event is free but you do need to book your space https://www.eventbrite.co.uk/e/talking-mats-is-21-tickets-62362171935
You can come to the morning only, afternoon only or come for the whole day.
If you can't come to our event watch out for out blogs and social media celebrating the reach of Talking Mats for 21 days before the 15th of August .Please join in with your contributions using the hashtag #TMis21. For 21 days after our event we will be having a special Birthday offer! Watch this space, more to follow …….
In this latest blog, our Talking Mats OT Associate, Rachel Woolcomb tells us how Talking Mats can support delivery of Personalised Care:
"Person centred practice", and "partnership approach" are common phrases heard in health and social care settings but what does this really mean in practice?
How good are we at ensuring our service users are truly heard, and given opportunities to talk about what is important to them?
Recently NHS England set out their ambitions for the delivery of personalised care. This is a commitment to enabling people to have the same choice and control over their mental and physical health that they have come to expect in every other part of their life.
This however requires a shift in culture.
One of the cornerstones of personalised care is shared decision making. This is a collaborative process in which people are supported to understand the options available to them including the various risks, benefits and consequences. A shared decision will have acknowledged personal preferences, circumstances, values and beliefs. This ensures that when a choice is made it is fully informed.
There is substantial literature which demonstrates the usefulness of goal setting as part of the communication and decision making process.
A well written person-centred goal will describe the anticipated achievement of a specific activity. It will be meaningful and help create a common vision within the rehabilitation process.
Talking Mats is an ideal tool to help facilitate these processes. They enable better conversations and provide an interactive thinking space. They have also been demonstrated to be a useful tool in enabling people to think about their rehabilitation goals.
Read more about this in the TMOT Resource 2: How Talking Mats can help facilitate shared decision making and goal setting: Goal setting TMOT 2
If you would like to find out more about the different Talking Mats training options we offer, take a look here:  https://www.talkingmats.com/training/
In this latest blog, Laura Holmes (Talking Mats Associate based in Stockport) shares a great example of how Talking Mats can be used by education staff to help children to share their thoughts and feelings:
One of Teaching Assistants I work with at Woodley Primary School in Stockport, Lucie Porteus, attended Talking Mats Foundation Training in December 2018. Since then Lucie has been using Talking Mats with many of the children on our Speech and Language Therapy caseload in school.
Lucie's use of Talking Mats with a group of Year 6 children is a great example of the benefits of using Talking Mats to help children to share their views and opinions. Lucie had carried out initial Talking Mats sessions with four children, on a one-to-one basis. These sessions had focused on getting a general idea of each child's thoughts and feelings using the Talking Mats 'Consulting Children and Young People' resources. A common theme had emerged through use of 'blanks' – all four children wanted to talk more about their upcoming school residential trip.  Here is a picture of one of the mats (click on the picture for a clearer view):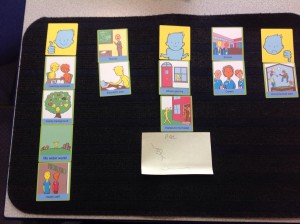 Lucie then planned and prepared options to 'sub-mat' the topic 'PGL' – the residential school trip, and chose the topline questions 'happy about/not sure/ not happy about'. She then met with each child individually to complete the mats. Some of the issues/ questions which emerged from the mats were:
'I don't know who the people there are'/ meeting new people
'I don't know what we will be doing'
'Do we have a choice about what activities we can or can't do?'/ 'I'd like to have a choice'.
Privacy – getting dressed
Will any instructions be written down – do we just listen or will we be shown what to do?
The instructions might be confusing – what will I do?
I don't like heights – I'm worried about climbing up high
Working in groups – we might all fall out
Sleeping – it might be hard to get to sleep. Sometimes other children talk and I can't get to sleep.
What will the food be like?
What happens if I don't feel well?
The journey – I might feel sick if I'm not at the front of the coach/ Do we get to choose who we sit with?
This information was passed on to each child's Class Teacher and Teaching Assistant. Further conversations then took place to answer/address the above queries and concerns. Using Talking Mats meant that these conversations were personalised and focused. The children's queries/concerns were listened and responded to well before the school trip itself.
School staff report that all the children had a fantastic time on their school trip!
Talking Mats enabled these children to have their voices heard about a topic which was really important to them. If you are interested in finding out more about accessing training to enable you to support the children and young people you work with to have their voices heard, take a look at our training options here: https://www.talkingmats.com/training/
Many thanks to Tina Wood, Occupational Therapist at Therapy In Motion, for this great example of how Talking Mats can be used to explore thoughts and feelings both in present-day and in retrospect, to evidence positive outcomes from a change in educational placement. Tina's use of colour coding and pie charts really helps to illustrate this.
Tina attended our Talking Mats Foundation training back in September 2016 and since then she has been using Talking Mats regularly in her work as an Independent Occupational Therapist.
In this example, Tina has used Talking Mats to enable Ben (name changed for anonymity, age 12½ years) to share his thoughts and feelings using the Talking Mats 'Consulting Children and Young People' resource packs – focusing on the topics 'My Body and Skills' and 'What I do and Support'.
At the time of this Talking Mat, Ben had been accessing a new placement at a Pupil Referral Unit for the past 11 months (click on the picture below to see a clearer version).
As there was clearly a difference in how Ben felt things were going when he was attending his previous school, Tina decided to ask him to do a retrospective Talking Mat of how things were going for him 11 months ago in January 2018, when he started to feel "unwell".
This enabled comparison with how he feels now in the "safe setting" of the Pupil Referral unit (click on picture to see a clearer version).
Tina then compiled the information from the above tables into pie charts, enabling a clear visual comparison between the two times/situations (click on picture to see a clearer version):
As can be seen from these charts, there had been a huge change in Ben's perception of how he is coping with life in general and school in particular.
Tina recommended that this information needs to be considered along with the rest of Ben's sensory needs (as reported in her full OT report) when deciding on what is the best educational setting for him after leaving the pupil referral unit.
We love this use of colour coding and pie charts to illustrate the information from Ben's Talking Mats – to really ensure that Ben's feelings and thoughts are seen and heard.
 If you would like to know more about accessing Talking Mats training – available across the UK and Ireland as well as online – please take a look here: https://www.talkingmats.com/training/
 If you have any examples of how you report/share information about completed Talking Mats we would be interested to hear about it! Just email laura@talkingmats.com
Rachel Woolcomb, our Talking Mats OT Associate, tells us about the recent Royal College of Occupational Therapists' Report and considers the ways Talking Mats can support:
The Royal College of Occupational Therapists have recently published a new report. "Making personalised care a reality: The role of occupational therapy."
As the OT Associate for Talking Mats, I took the opportunity to review the document and consider how Talking Mats can help OT's in fulfilling the recommendations made.
The report recognises that people living with long-term conditions bring different and equally important, knowledge and expertise to the decision –making process.
It challenges OT's to ensure that they really listen to, and hear the views of the people they work with.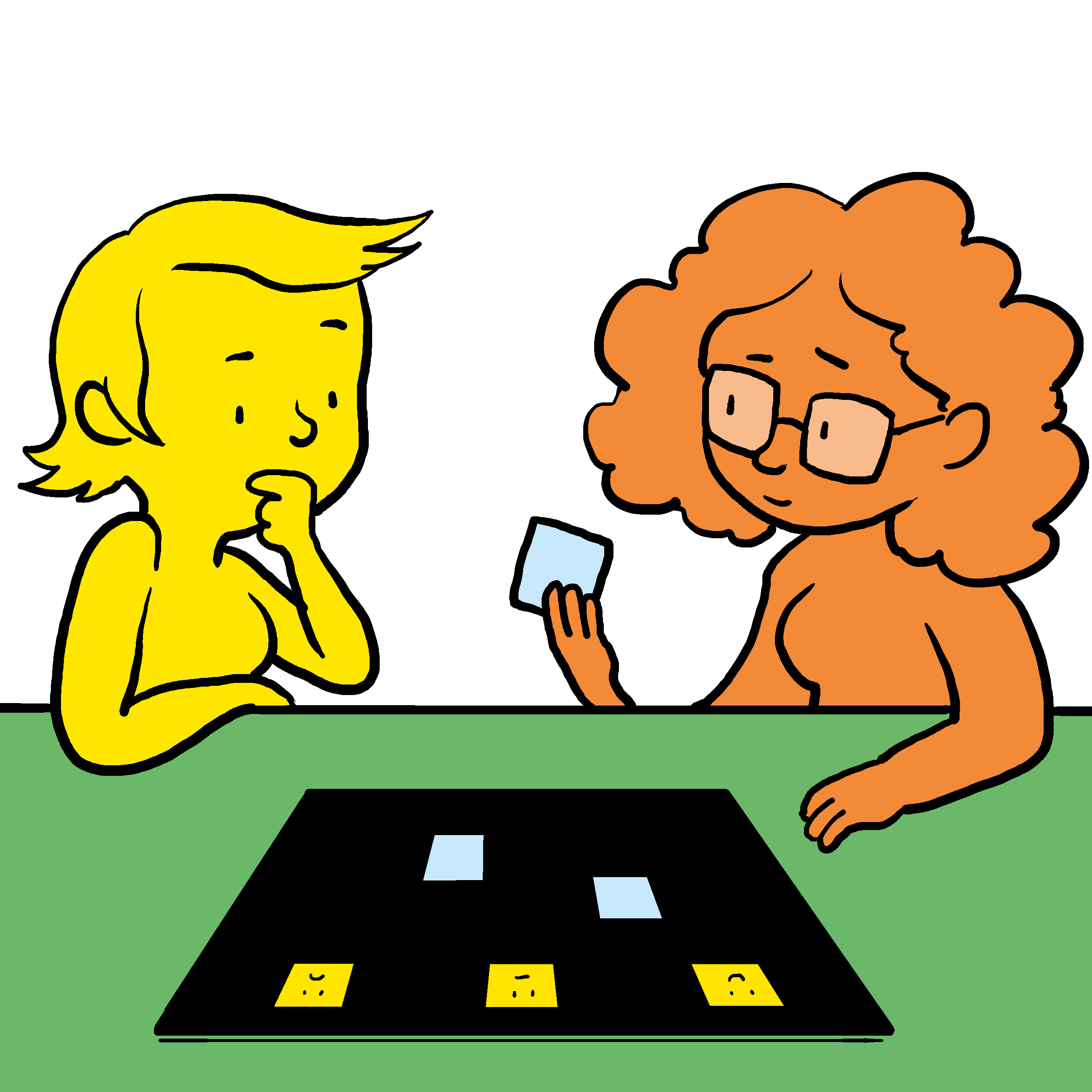 A Talking Mat can help facilitate this. It helps people to understand what is being discussed, to reflect and organise their thoughts, to say what matters most to them and record their views. It helps OT's to really listen, to learn new information, to involve the person in their own planning and support decision making.
Read more about how Talking Mats can help OT's to make personalised care a reality in the TMOT Resource 1:  TM Personalised Care – Copy.
The RCOT report is available here: https://www.rcot.co.uk/news/delivering-personalised-care-frontline
Rachel would love to hear from you if you have any examples of how Talking Mats have helped you to provide personalised care, or if you want to know more about OT and Talking Mats. Her email is: Rachel@talkingmats.com.
If you are feeling inspired and would like to find out about accessing Talking Mats Foundation Training, take a look at our upcoming courses across the UK, as well as online and organisational training options: https://www.talkingmats.com/training/
Self-management for people with long term conditions (LTC) is now a key government strategy to encourage people to take responsibility for their own health, behaviour and well-being. Talking Mats received funding from The Health and Social Care Alliance Scotland to look how using the Digital Talking Mats (DTM) can help people with LTCs to manage their health and well-being and to recognise their own strengths and abilities.
The overall aim of our project was to empower people with different long term conditions, to manage their own health and well-being. Through using Digital Talking Mats (DTM) we hoped that participants would be able to have more control over their lives and have improved communication with families and professionals.
There were a total of 28 participants in this project living with one of three different long term health conditions – stroke, dementia and learning disability. Each participant had access to a tablet device and was given a personal DTM licence which gave them access to 13 topics in the Talking Mats Health and Well-being resource. We visited each participant at home and taught them how to use it and asked them to complete and send us at least 1 digital mat per week for 6 weeks on any topic they wished. The design of the digital Talking Mat allowed them to email their mats directly to the researchers. We visited each participant a second time to discuss on how easy it was to use the digital Talking Mats and their views on their completed mats. We asked those who wished to, to continue sending us completed mats beyond the initial 6 weeks. We visited them again in 6 months to discuss how they were managing.
15 participants completed all 6 mats and 12 participants continued to complete mats over the length of the project. Participants completed 235 digital mats across all 13 topics
There were 3 particularly significant findings
1. At 18 months the participants living with dementia actually felt their well-being had improved, despite dementia being a progressive illness.
2. For the participants living with stroke the results were even more striking as 95% felt things were going well at the end of the project in comparison with 47% at the beginning.
3. At the end of the project the percentage of people with learning disability who felt things were not going well had reduced from 19% to 10%. Furthermore the percentage of people indicating that they were not sure about their views had increased from 27% to 42%. There can be a tendency for people with learning disability when using Talking Mats, to express their views at either end of the mat and to rarely use the mid- point. However being able to use the unsure mid- point is noteworthy as it indicates that the participants in the project realised that they could express their views not only as black or white but could indicate that they were unsure. This awareness opens up the potential for people to express views more thoughtfully with opportunities for further exploration.
Here are three examples of how using the DTM supported people to self-manage situations in their lives. Click on image to enlarge.
As well as helping participants self-manage their long term conditions, an unexpected outcome of this project is that many people found that using the DTM helped them see the positive things in their life and not just the negative. It also highlighted that despite having a long term condition and, for many also a deteriorating one, that things were not getting worse.
Click here for full report including 6,12 and 18 month reports to the funders  20180717 Alliance full report
Click here for the summary report 20180717 Alliance Final Short Report
Click here for a video link of 2 participants
We are grateful to Rachel Woolcomb OT,  for sharing this Talking mats story.
Within my occupational therapy practice I have found Talking Mats to be an excellent thinking tool to help my clients establish their priorities for therapy.
I was asked to work with a teenage girl who had sustained a brain injury resulting in a mild cognitive impairment which was impacting on her participation and ability to learn at school.
She had undergone formal cognitive testing with a clinical psychologist, however had shown poor levels of engagement with the assessment process (which had taken over two hours). She was reported as having erratic focus and inconsistent answers to questioning. The results were therefore deemed to be inconclusive and no recommendations made.                                                                  I knew that Talking Mats would provide me with similar information to that which the psychologist was trying to gain, but in a way that would be engaging and client focused. I also felt that the concept of the Talking Mat, which enables the thinker to express their own views rather than a "right or wrong" answer, would help to improve participation.
I selected the learning and thinking topic cards from the communication set within the Health and Wellbeing pack. These cards cover areas that I would normally look at within any cognitive assessment and are functionally relevant.   Together we selected the visual scale, choosing the question "how well are you managing?"
She explained that organising herself, writing, listening, reading, problem solving and planning were all going well. She talked about how she sometimes had difficulties concentrating and paying attention due to getting distracted in the classroom. She also felt she was struggling more than before with calculating and that this was affecting her scores in Math tests. She explained that remembering and making decisions were "not going well' and she was particularly worried about the fact she had forgotten some of the teaching she had received prior to her brain injury.   I was also able to conclude from the way she understood the concept of the mat, as well as her ability to engage and attend for the whole session, that she could concentrate, learn new skills and had the ability to weigh up information to help her make decisions.
Together we used the information gained from the Talking Mat to set goals for therapy which were focused around having a range of strategies to help her concentrate in class, remember new information, and make decisions.
Two months later, once having completed a therapy programme, we used the Talking Mat again to explore her current thinking about the topic area. She explained that making decisions was something she no longer had difficulty with as her confidence had grown. She felt that there had been some improvement with her ability to remember information and we discussed the strategies she now used to help her concentrate in class, which included ways to minimise any distractions.
In summary, the Talking Mat enabled her to think about how her brain injury had affected her ability to remember, make decisions and learn. This provided valuable information from which a therapy programme could be created. The Talking Mat also provided a visual representation of her perception of the issues before and after therapy, showing clearly her progress. This was well received by her parents, teachers and the other professionals involved in her care.
Once again I have been amazed by the power of the Talking Mat to produce a breadth of information in a relative short space of time and I will be advocating its use within cognitive assessment and rehabilitation across all ages.
One of the reasons why Talking Mats works is because it reduces the demand on the 'thinker' to remember the question, find the vocabulary needed to answer, construct the answer into a sentence, and then say it clearly.  This reduced demand allows more 'thinking time'.
Here's a link to our website with more reasons why Talking Mats works
https://www.talkingmats.com/about-talking-mats/#whyitworks
Another reason people respond well to it is there is no right or wrong answer.   It is not a test.
Sometimes the listener can forget their role and use the interaction as a test or as a language exercise.  E.g .  'Do you know what this picture is?  'What's this one called?'  This makes the demands on the thinker instantly increase as they are required to formulate an answer. Checking the persons  level of understanding first may be necessary but it shouldn't be done as part of the Talking Mat.
In our training we recommend avoiding 'why' questions , as they can make a person feel they have made an error.  If the listener wants to know more, then a sub mat can be done
Our mission statement is to maximise the person's capacity to express what they think.  Let's help them to do that!