Not many people enjoy going to the dentist but it can be a real problem for people with communication disabilities.
Recently I wrote about using Talking Mats in a care home to find out the views of an elderly lady with communication difficulties and dementia who had lost her dentures.  click here. Using the mats, she was able to tell us that she was unwilling to open her mouth but thought that if someone was with her she might manage better.
Following our Talking Mats conversation the Care Home arranged an appointment with the dentist for the following week. Her son went back over what we had talked about just before the visit. She managed fine, opened her mouth and her treatment was carried out successfully.
Her new dentures are on the way!
Dentistry is a huge problem for many people, but the impact of not being able to cooperate can have serious implications for a person's appearance, comfort, quality of life and health.
In preparing for a visit to the dentist it's important that the person understands both what is going to happen and why its happening. Talking Mats is a visual tool that can help the person with communication difficulties both with understanding and also expressing their views. In this way the family and carers can find ways to reassure the person and support them to get the appropriate dental treatment.
Please let us know your thoughts on supporting people in similar situations.
The Talking Mats Team is increasingly  asked to help ascertain a person's capacity to express their views from a non-biased perspective. We are also asked to carry out service evaluations  and are therefore developing independent consultancies to individuals and organisations. Our team of experienced Speech and Language Therapists, who have an in-depth knowledge of communication difficulties, are well equipped to do this.  
The following are examples of independent consultancies which we have been asked to carry out:
 A lawyer asked us to work with a man who had had a severe stroke to ascertain his capacity to make decisions ranging from simple ones such as where he would like to go on holiday to complex ones such as who should control his finances.  Using Talking Mats we were able to determine that he could make decisions about simple, concrete situations but wished his wife to make more complex decisions such as finances. check
A Social Work department asked us to work with a woman with dementia and aphasia who had been sectioned. They needed to ascertain if she could understand why she could no longer live in her own home. We worked closely with her social worker and through using Talking Mats ascertained that she was unable to give informed consent.
A Health Service facility asked us to evaluate the degree to which their patients felt involved in their care planning.
A Care Home asked us to use Talking Mats with a 91 year old resident with dementia to find out her views about receiving dental treatment. There had been problems in the past and both the staff and her son were unsure if she understood the reasons and implications for dental treatment. Using Talking Mats, she was able to explain her thoughts about her teeth and dentures and clearly said that she was unhappy about opening her mouth for the dentist but that if her son were with her she would feel much better. We received this comment: 

"If you were to show the first few minutes without Talking Mats you would have thought this lovely lady lacked capacity,  however the change and her engagement is noticeable."
The following points explain with whom and how we can carry out the Talking Mats consultancy:
Children or adults
Family members, friends, professional staff
Individuals or groups
With or without a carer present
At a venue and time which best suits the individual
On any topic – we already have a comprehensive range of topics for both adults and children – but can create tailored symbol sets for any situation
To find out someone's views on a particular topic or situation at a specific point in time
To help determine the capacity of an individual to make their own decisions
To compare someone's views over time
To compare different people's views e.g child and parent, person with dementia and carer
We provide a detailed report with a copy of the person's completed mat/s
To find out how we can help you and for discussion of costs please contact us at info@talkingmats.com or phone us at 01786 479511
"About half of all people with multiple sclerosis have some degree of problem at some time with aspects of thinking – memory, attention span or concentration. …. Many people may not recognise cognitive symptoms as an aspect of their MS and they can arise early in the course of the condition although the greater the disease duration and severity the more likely problems are to occur". MS Trust   
Talking Mats is one tool which can help people recognise any problems they may be having. It also provides a sensitive way for people to discuss these issues and plan ways to manage their situation.
We have developed a range of topics which encompass virtually all aspects of a person's life
Insert mind map
The Learning and Thinking topic is particularly relevant. The following is an example of a Talking Mat done with Stella who has MS and lives at home with her husband and 3 children.
Top Scale Used: Managing: Need some help: Not managing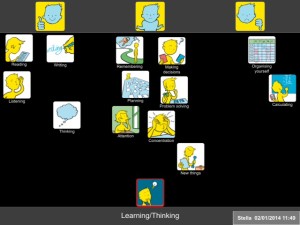 Stella began by putting most of the option symbols between the Managing and Need some help columns. However as more symbols were presented, she took time and thought about each symbol more carefully and changed her mind about many of them.
She said that using Talking Mats helped her realise that she was having some problems. On completion of the mat, she showed it to her husband and together they discussed practical ways of ways of managing her difficulties.
There are a further 12 topics in the Health and Well-being resource that can be helpful to people with MS. these are available either on our app or as Talking Mats original.