We offer a range of training courses to help you use Talking Mats effectively with people who have a communication disability. Talking Mats training courses enable you to explore Talking Mats to its full potential and we offer different types of training to suit your needs.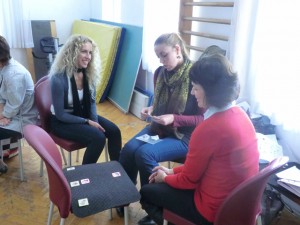 Foundation training
There are 2 types of Foundation courses available. A two half day course near our headquarters in Stirling and a one day course everywhere else. Each participant has the option to attend training only or purchase one of the Talking Mats bundles as part of this course.
Bespoke training for organisations
This is an option for organisations to have a Talking Mats course tailored specifically for their staff members and delivered within their own workplace.
On-line training
This course has been designed for people who may not be able to attend our foundation Talking Mats training courses or would prefer this method of learning.
Accredited training
This in-depth course enables people to become Talking Mats trainers within their own organisations.
Advanced courses and Specialist seminars
We have now developed advanced courses and specialist seminars to focus using Talking Mats in more detail around specific client groups and or topics.