Talking Mats Limited is a social enterprise whose vision is to improve the lives of people with communication difficulties, and those close to them, by increasing their capacity to communicate effectively about things that matter to them.
Our innovative, award-winning Talking Mats communication symbols tool is based on extensive research and designed by Speech and Language Therapists. It uses unique, specially designed picture communication symbols that are attractive to all ages and communication abilities and is used by clinical practitioners, carers and support workers in a wide range of health, social work, residential and education settings. Click here for more detail.
Whether used for consulting children and young people, used as a stroke communication resource, or used to overcome communication difficulties for people with learning disability or dementia, our communication symbols have proved highly effective.
Talking Mats is an interactive resource that uses three sets of picture communication symbols – topics, options and a visual scale – and a space on which to display them. This can either be a physical, textured mat, or a digital space, for example a tablet, smart board or computer screen for which we have created one of the best apps for communication disability.
Topics: whatever you want to talk about, e.g., pictures symbolising 'what do you want to do during the day', 'where you want to live', 'who do you want to spend time with', etc.
Options: relating specifically to each topic. For example: 'What do you feel about going for a walk? Or living at home?'
Top Scale: this allows participants to indicate their general feelings about each topic and option. The meaning of the visual top scale can be adapted to suit the questions you are asking the person, for example, whether they are happy, unsure, or unhappy.
Once the topic is chosen e.g., 'activities' or 'people', the participant is given the options one at a time and asked to think about what they feel about each one. They can then place the symbol under the appropriate visual scale symbol to indicate what they feel.
Talking Mats is used by clinical practitioners, carers and support workers in a wide range of health, social work, residential and education settings. Here are just a few ways that Talking Mats can be used:
Help children and adults to express their preferences or feelings
Provide a 'thinking tool' to enable people to explore issues and help them to structure and verbalise their thoughts.
Help people with a learning disability to both understand what is involved in a decision and to then give their opinion.
People who have had a stroke may have problems both understanding others and expressing themselves. The visual presentation of Talking Mats helps comprehension as well as providing an effective way for people to express their views.
The structured and consistent format of Talking Mats makes it easier both for people with dementia to keep to topic and for the listener to follow the track of the conversation
Support people with communication difficulties to express negative as well as positive views and reduce the tendency for people to acquiesce, i.e., agree with everything.
The act of physically moving the picture symbols helps people organise their thoughts in a logical way.
There are a number of reasons why Talking Mats is effective at helping people express their thoughts. Our clinical, research and training experience provides evidence that Talking Mats helps people express their views because it:
Supports comprehension by:
Focusing on the essential words and omitting non-essential language
Giving information in multiple channels – visual, auditory and tactile
Helping people process concepts by breaking information down into small, manageable chunks
Reducing memory demands
Reducing distractibility
Allowing the client time to process information and respond in their own time
Improves quality of information by:
Giving control to the person being interviewed
Providing a structured framework for open questions
Avoiding direct confrontation
Giving people time
Helping people to say "no"
Can be personalised by:
Providing motivating and relevant topics
Being used in a relaxed way to get to know someone
Being used across a range of ages and abilities
Not requiring literacy
Augmenting existing communication systems
Talking Mats has taken a fresh approach to communications symbols. The visual images we specially commissioned have been drawn to their own specifications by the leading comic artist Adam Murphy. These images give a flavour of the process that Adam went though to create the final symbol.
The specification was that they should be
attractive
easily recognisable
ability and culturally appropriate
fun!
The symbols have developed using two key frameworks:
Developing the symbols sets was a process that drew on the skills of the Speech and language therapists on the Talking Mats team, the artist and people with communication difficulties who advised and gave feedback on the symbols as they were developed.
There is recognition of the different level of complexity presented by the different options in Talking Mats, and the symbols are graded to how abstract or concrete they are for understanding. So, for instance, 'eating' is a concrete topic and 'safety' a more abstract one .
The feedback on the symbols has been overwhelmingly positive. One manager of a care home said "If I am honest I had given up on using symbols because they were not very engaging for my residents, but seeing these has rekindled my interest and I will use these!".
Some people are a little concerned that the symbols may not be familiar to their clients /pupils but our experience is that people love them, are engaged, adapt easily and enjoy the newness and the difference – after all, variety is the spice of life !
NB: the Talking Mats communication symbols are copyrighted to Adam Murphy for the sole of use of Talking Mats limited and should not be replicated without the permission of Talking Mats Limited.
As a result of our research on communication disability we have developed a number of useful resources which we wish to make free to anyone working with people with communication disability.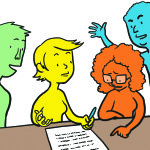 We are a team of experienced Speech and Language Therapists and have combined our clinical experience, gained through our work in the NHS, and our programme of research at Stirling University. We are happy to offer telephone or email advice and support on any aspect of our work.