10th Apr 2014 | Heather
How can you help someone express how they feel about their communication using the health and well-being resource?
In the Health and Well-being resource, we have provided four sets of symbols to help people consider how they feel about their communication. Because communication is  complex and often abstract, it can be particularly difficult for people to express their views about it, especially if they have existing communication difficulties. To make this easier, we have divided communication into four topics:
Expression
Understanding
Learning and thinking
Relationships.
In the following example, I show how each topic can be used to build up a picture of how someone feels about different aspects of their communication. I worked with Kate, a 42 year old woman who had a stroke which left her with severe expressive and receptive aphasia. She was able to communicate through vocalisations and gestures. She could sometimes draw or write down words and needed to point to 'yes/no' in order to reliably answer closed questions. Following discharge from hospital, I used Talking Mats with Kate to find out how she felt about her communication. I started with the 'communication – expression' topic and found that she felt that she was having lots of difficulties making herself understood, particularly on the phone and in group situations:
I then explored how Kate felt about understanding what people were saying to her. Kate was able to tell me that she found it easier to understand people on a one to one basis rather than in a group setting. She indicated that it really helped her if people used gestures or wrote things down. Her main difficulty was understanding people on the phone, and in fact she had stopped answering the phone altogether (see mat below).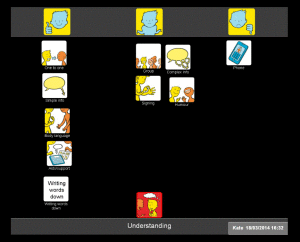 We went on to do a mat about Kate's learning and thinking. In this set, there are symbols which cover higher level language activities such as reading, problem solving and organisation. When we talked about these areas, Kate was able to tell me about the things she was finding most problematic, but could also identify some things that she felt she could still manage (such as calculations and reading newspapers).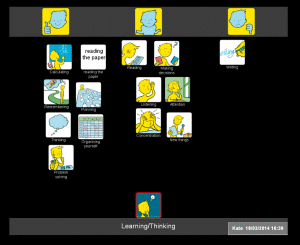 I then asked Kate how she felt about communicating with different people in her life. This mat shows that Kate found talking to her husband and her parents (who lived quite far away) particularly difficult.
As a result of doing these mats, we were able to target the things that mattered most to Kate in relation to her communication, and came up with the following actions:
1. Kate felt that her husband needed support and information, so we spent time working with him, showing him the best ways to support Kate's communication.
2. Because Kate's parents lived quite far away, she could only contact them using the phone, which was very difficult. We worked on getting Skype set up so that Kate could communicate with her family using all the modes available to her.
By splitting communication into different sub mats, Kate was able to think about different aspects of her communication and identify the things that she found most challenging. Together we began to work out some ways to help her overcome her difficulties.
Use the communication symbols to find out what people want to work on and use a collaborative approach to establish some goals to work on in therapy. I used the original Talking Mats when I explored  Kate's communication with her, but you could do the same with Digital Talking Mats. Find out more about it here.