Here Laura Holmes, our North-West England Associate, describes how she used Talking Mats to support mid and end of placement reviews with a Speech and Language Therapy Student:
I am very familiar with using Talking Mats to help the children I work with to express their views and opinions – to give them a voice in terms of therapy planning and to enable the children to think about and share what works for them.
However I recently also used Talking Mats to support a Speech and Language Therapy student who was on placement with me. I introduced the approach to support our discussion during her mid-placement review, and then again, during the final review at the end of her placement.
I introduced a Talking Mat with the topic 'Clinical Areas' and the topline question 'Confident/OK/ Not Confident'. I made up options relating to each clinical assessment area as described in the University Student Handbook/Guidelines.
Here is the mat from the student's mid – placement review:
And here is the mat from the end of placement review:
The pictures help to show the shift in the student's confidence from the mid-point of the placement in comparison to the end of the placement.
The first Talking Mat helped us to focus our discussions in terms of what skills needed further support/development during the placement. The second Talking Mat then supported our evaluation of current learning outcomes at the end of the placement, as well as helping to identify key learning outcomes for the student's next placement.
The student shared that she found Talking Mats a really useful thinking tool to help her to think carefully about her skills and the progress she had made during the placement. This was easier than during a typical face-to-face discussion due to the focus on the mat. The interaction itself was also more relaxed as a result.
My next step will be to introduce use of symbols for topic and options – here are some examples from a Scotland-wide Talking Mats project which involved asking students about their work placements:
We often have members of University and College staff coming to our Foundation Training Courses – find out more about this and other training options we offer here:
https://www.talkingmats.com/training/
If you have any examples of using Talking Mats for student supervision, and would like to share them, it would be great to hear from you! Just email me at laura@talkingmats.com
  Improving communication with board games
Thanks to Karen MacKay from Focus Games for this new guest blog.
 Playing board games can deliver more benefits than just having fun with friends and family. In the workplace they help people to learn, collaborate and communicate, while they are having fun:
1. Breaking the ice
Ever attended an event or meeting where you didn't know anyone? A board game helps everyone to become involved, talking and interacting, with each other – who doesn't feel more comfortable, relaxed and happy to chat after playing a game together?
2. Learning through play
We learn through play when we are children, and it works just as well for adults too. Educational board games are a great way to learn from others, share experiences, ideas and gather new knowledge from the game itself. Plus you'll be having fun – what's not to love?
Developing social skills
Playing board games helps children learn to share, take turns, be a gracious loser and, for shyer children, to come out of their shell more. As adults, we continue to refine our social skills through games. They promote collaboration, communication, and teamwork, useful skills for us all!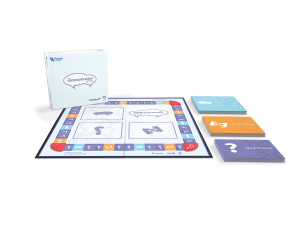 If you like the idea of improving your communication skills using a board game, The Communication Game is your ideal tool. Effective communication allows everyone the opportunity to express themselves clearly. In health and social care, effective communication is vital to ensure individuals receive safe and appropriate care.
For many people who have communication support needs, accessing health and social care and other public services is a challenge. We partnered with Talking Mats who worked with us and a group of people with communication support needs to develop and test The Communication Game. Initial development was funded by NHS Education For Scotland, and The Communication Game was born as an engaging way to help us all to reflect and develop our own and our teams communication, and thus improve the quality and safety of services.
The Communication Game is designed to help anyone working in health and social care to improve how they communicate, particularly with people who have communication support needs. Playing the game will help you think about the barriers to effective communication; and things you can do to ensure you communicate well with others. It is being used by many groups across the country including allied health professionals, nurses, charities, voluntary and community groups, nursing/care home staff and students studying nursing, speech and language therapy, social care and more.
The Communication Game uses questions to help build knowledge, scenarios to help you see the issues people face when communicating, and activities to help you practise different ways of communicating. It is a 1-hour training session for up to 10 people that you can use over, and over again with different groups.
The game is available from Focus Games and you can learn more and order at www.communicationgame.co.uk
In 2016 ten Speech and Language Therapists working in Gloucestershire Care Services NHS Trust were funded to attend a Talking Mats training day. During that day the trainers mentioned that Talking Mats is used within their organisation to carry out appraisals. This highlighted that Talking Mats could not only be used with clients but also between professionals.
The Speech and Language Therapy Team decided to use Talking Mats for their supervision sessions. They came up with a set of labels that could be used. The supervisor takes the role of the "Listener" and the supervisee takes the role of the "Thinker". The supervisor hands the labels to the supervisee who places them on the mat as either something that they wish to discuss, something they don't need to discuss or in the middle – i.e. something that might be useful to discuss if they have time. They are then able to move the items around to prioritise items and add labels if required. This mat then forms the basis of the agenda for the meeting.
The Team discovered that although they had previously felt that the supervision agenda was set collaboratively, the use of Talking Mats allowed the supervisee to have an opportunity to shape the agenda of the meeting and the agenda setting became truly collaborative. It also helped supervisees to raise challenging and difficult issues more easily and led to better time management of the sessions as the mat could be referred back to throughout the session to ensure that discussions remained on track. At the end of the session, a photo of the mat would be stored alongside supervision notes as a visual reminder of the session.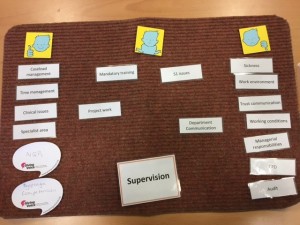 The Team is very positive about the changes to supervision that have resulted from adopting Talking Mats as evidenced by the quotes below:
"As a supervisor I feel reassured that my supervisee has the opportunity to bring up any topics she may wish to discuss as there are prompts for so many aspects of our work. It allows her to prioritise issues to be discussed and makes the structure of the session overt and collaborative."
"The visual and tactile nature of talking mats enabled me to quickly map out which areas were priorities for discussion in supervision. Because all topics have to be initially organised by how I feel about them/ what impact they are having, I found it was easier to discuss subjects that were previously difficult to broach."
Many thanks to Ashleigh Denman, Principal Speech and Language Therapist, Gloucestershire Care Services NHS Trust for this interesting blog.
Please let us know of any other ways that Talking Mats has been use innovatively.
We have been exploring how Talking Mats can be used as a tool to support business – both a framework for interviews and appraisals.  Because it supports reflection, it is an ideal framework for employers to use with job candidates.
The recruitment process is time consuming for organisations, and any errors at this stage can be costly for teams.  When I applied for the post of associate with Talking Mats I wasn't surprised that the actual interview was engaging and different from any other interview experience.
The first part was for the candidates to teach the interview panel a skill, in 5 minutes.  As a speech and language therapist this made a lot of sense to me, as teaching people a skill is more empowering than merely sharing your knowledge.
The second stage of the interview was using a Talking Mat to consider my levels of confidence in relation to aspects of the post.
Having used Talking Mats with children and parents in my clinical work,  I wasn't used to being  'on the other side of the mat',  and experienced  first-hand the positive aspects.
Firstly, it gives the interviewee permission to break eye contact.  This immediately takes away the pressure of  non-verbal feedback from the panel e.g. if one of the panel is smiling encouragingly, it is tempting to focus on that one person and possibly say too much.   The focus being on the cards and the actual mat can reduce anxiety, supporting people to clearly express their views.
Another aspect of Talking Mats is that the person interviewing, hands to the candidate a picture card on one aspect of the topic e.g. knowledge and skills.
The multi sensory  aspect i.e. auditory , tactile and visual, supports the candidate to focus on this one concept and share his or her reflection.
The conversation is then built up and captured on an actual mat and the candidate has the opportunity to move the options on the scale as the conversation progresses.
Talking Mats as a communication tool maximises the capacity of individuals to say what matters to them.  How many people leave an interview feeling they didn't say what they wanted to?
P.S.  I got the job!
One of the many 'non-traditional' uses of Talking Mats has been the work that has been undertaken with university students (both undergraduate & post graduate) at the University of Stirling. Since 2008, staff in the Career Development Centre at the University have been trained to use Talking Mats as a tool to help students to articulate their career thinking and planning.
We have established from our research and trialling of a range of topic cards that students respond well to the process. While the majority of the students we work with have no speech or language difficulties, the process of TM enables students to articulate their thoughts and to feel more at ease to raise particular issues. It can be very hard for students to talk openly about financial worries, academic issues, or career anxiety. TM gives a platform for this to be done in a non-threatening way and quickly allows the Careers Adviser to see where the student is 'at' in their thinking. This then allows the adviser to work more efficiently & effectively to support the student to develop their career plans /strategy.
Staff feedback would indicate that they enjoy working with TM in both one to one and group settings with students. There are many perceived advantages to using TM but one of the main ones is that it can make better use of the time available and that it can be a good way to see quickly where the key issues are that need to be addressed. TM also fits well with current Career Guidance Theory, allowing the student to narrate the 'story' and arrive at their own solutions to the 'problem' under discussion.
There are of course some students who do have additional learning needs and TM is again an ideal tool. In particular, students with dyslexia and dyspraxia comment positively that the visual aspect of the cards allows them to process the information and structure their thinking in a clearer way that just talking to a careers adviser can.
International students who sometimes have poor English language skills respond well to using TM as it allows us to get a clearer picture of the students thinking than sometimes is the case from a more 'traditional' discussion
Action Planning and Goal setting are a big part of the Career Management process and TM is a really useful tool to 'kick-start' this process for students. The visual impact is powerful and enables students to see clearly what they are considering and the cards allow the students to physically move the cards to help them to decide how to move forward in their thinking and planning. Students consistently comment that they appreciated the opportunity to see clearly the issues that they are considering and allow them to move forward.
Many thanks to Elaine Watson, Careers Adviser, University of Stirling and one of our accredited trainers for this stimulating description of how she is implementingTalking Mats