When this blog from Janie Scott, a Talking Mats Licenced Trainer with Perth and Kinross Council came in I was a bit stumped. There was a lot that I wanted to highlight but I didn't want to focus on one thing and detract from others:
The importance of understanding and applying the Talking Mats framework allowing conversations on topics not covered by our resources.
Demonstrating how Talking Mats can enable the voice of the child to be heard, upholding Scotland's Promise to care experienced children, young people, and families.
A model for embedding Talking Mats in a service.
I decided to go with everything. In 2 parts.
Part 1
Talking Mats; UNCRC, the Promise and hearing the thinker:
Janie Scott, (Highly Specialist SLT Perth & Kinross Council)
Scotland is currently progressing with the incorporation of the United Nations Conventions on the Rights of the Child (UNCRC) through the UNCRC (Incorporation) (Scotland) Bill.1 The UNCRC, article 12, states that, 'children have the right to give their opinions freely on issues that affect them. Adults should listen and take children seriously.'
Talking Mats enables rights-based participation for children, allowing them to form and express views freely. It allows others to understand the issues and, as stated above, have those views taken seriously 2
The 'voice' of the child is central to The Promise3. Talking mats should be considered the 'scaffolding' to enable a voice to be heard.
Last year I rolled out Talking Mats foundation training to Social Workers and Senior Social Care Officers working within Services for Children, Young People and Families, in Perth and Kinross Council. Fundamental to Talking Mats is the framework; the ability to use an appropriate top scale, open questions, silence and pass control to the thinker. Having demonstrated the importance of the framework in the training, we then went on to develop symbol sets specifically related to the work of the Social Work teams. These covered a wide range of topics including:
sleep
becoming a foster family
contraception
sexual knowledge
contact arrangements,
behaviours that adopted children think might be difficult to deal with
grief
school life
triggers (related to drugs and alcohol)
I was privileged to hear several reports of how Talking Mats had allowed the voice of the children and young people to be heard which had a direct positive impact on their lives. Here are two powerful examples from a parent and a social worker.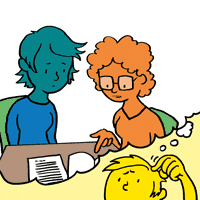 Parent
" I have really enjoyed using Talking Mats. It lets me see everything in an organised way. I really like that. It has also shown me the progress I have made; I have found using an advocate really useful in the past but I don't need to use an advocate any more as I feel more confident. I used to struggle with making decisions but this mat made me realise that I make decisions all the time and they are not wrong decisions."
Assessing Social Worker for Kinship Care
"As part of my role, I need to find out information from teenagers on how they feel their kinship placement is going. Typically I find that many teenagers give one word answers or sometimes they tell me what they think I want to hear. Talking Mats has been useful in my work in allowing teenagers to open up. It has also been useful with children who have English as an additional language. The children did speak English, but it made it easier to get their 'story' from them.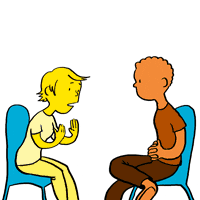 "There was one particularly quiet and reserved teenage boy who was reluctant to share information. The Talking Mat allowed him to tell me much more than when I had initially questioned him. Through the Mats we were able to distinguish the difference he felt between living at home and living with his kinship carers. The Talking Mat enabled him to express that his kinship carers were open to having discussions with him and talking about his worries whereas his Mum did not want to talk about his worries. this was something that I was able to support him in sharing with his Mum as part of the plan for him to return home."
To uphold Article 12 services must be proactive in creating opportunities to listen to the voice of the child. Talking Mats is enabling the voices of children, young people and families to be heard in Perth and Kinross. This voice is influencing key decisions in their lives across a variety of forums including the Children's Hearing System, Kinship Panels, and Child's Plan Meetings.
Talking Mats Director, Margo MacKay, will be presenting with Laura Lundy, Professor of International Children's Rights, QU, Belfast on Wednesday 1st of November, 2023 at NHS Education Scotland webinar; 'The voice of the infant and child; rights- based participation for children and young people'
For more details please see the NES website.
Read 'Can Scotland Be Brave, Incorporating UNCRC Article 12 in practice here
This year's campaign focuses on the importance of healthy connections in supporting mental health and wellbeing.  Being able to communicate feelings and opinions is a huge contributor to creating healthy connections. Whether it is because there is a visual focus or because the 'side by side conversation' is more comfortable, Talking Mats is a tool that allows the voice of the young person to be heard.  Read these blogs on Mental Health and Young People and our Impact Stories (to follow!) to find out more and take advantage of our discount on the Advanced Keeping Safe online module (details at bottom)
Keeping safe is an Advanced Online Module and the first 20 people to sign up to this course will receive a 20% discount. Please remember you need to already be trained to Foundation Level to access this course. Use the code KS2020 at the checkout
Find out more about our Keeping Safe Resource and how to book click
Foundation Training and how to book
On Wednesday November 10th we held a colloquium with the University of Edinburgh and NHS fife to report on the findings of the research that was funded with the Burdett foundation . The easy-read version of this report can be found here.
48 people attended the online event on Wednesday and engaged in some very thoughtful discussion and reflection on communication in forensic settings. There was much to think about including whether ethos and values align with self-determination , how to get communication taken seriously by staff who are often under huge pressure. Consideration of where power lies in an organisation and an acknowledgment that in order to share power staff themselves need to feel they have power.
The recognition that in the promotion of shared decision making, you increase the risk of people taking what others may see as unwise decisions. The need to support the capacity of people to be involved in decision making early on and in the smaller decisions of life and not leaving including them to a crisis.
The importance of further research in his area and that small clinically driven research projects have an important role to play in addition to ones funded by bigger grants. There is much to digest and we are hoping to keep the conversation going.
If you would like to see for yourself the research presented and the topics discussed at the colloquium you can watch the recording of the Zoom session here.
If you want to attend foundation Talking Mats training please find out more here. if you have completed your foundation training please consider attending the Keeping Safe advanced online module which includes the Keeping Safe resource . If you have the Keeping Safe resource please download the new Being Included bolt on to use with it.
Many thanks to Edith Barrowcliffe from The Action Group for sharing her experiences of using Talking Mats to support counselling with adults who have cognitive or communication difficulties. Watch this space for Edith's follow-up blog next week which will describe how she has continued to use Talking Mats during lockdown. Please note that the image used in this blog is from a mock session and has been taken for publicity purposes only.
Eleven years ago, I began working at The Action Group with adults who have additional support needs and was struck by how many had mental health difficulties that they were getting little help with. Sadly, with services scarce enough for the "mainstream" population, I could see why.
The issue resurfaced for me in 2016 when I began training as a counsellor. I kept returning to whether talking therapy was possible with those who had difficulty communicating – or even thinking about – their feelings.
Then in 2019, I attended Talking Mats training. Immediately excited by the potential for emotional connection, I signed up for the advanced "Keeping Safe" training and approached The Action Group's CEO with the beginnings of a plan.
I'm fortunate in working for an organisation willing to take new ideas and run with them. Within six months I was embarking on a pilot project, called HearMe, offering counselling to adults with cognitive or communication difficulties, with Talking Mats as a key method to help overcome those barriers. Within a fortnight of opening the service was full to its limited capacity and had a waiting list!
The work has been experimental, learning as I go and adapting to the particular needs of each client. To conduct initial assessments, I've assembled symbols based on "Thoughts and Feelings" from the "Keeping Safe" pack. We return to this to review progress. Most clients have used a top scale of "True"/ "Not True" with statements "about me" for the assessment. We always begin with a practice mat based on more neutral material, allowing the client (Thinker) to learn what's involved and me to gauge whether the mat is right for them. This is crucial – one client found a way to frame everything we placed on the mat positively even when they'd been able to tell me the opposite was true a moment before! In this case we simply used each symbol as a focus for exploration.
We've kept the number of questions relatively small, but the assessment can take two or three sessions to complete as clients often respond quite deeply to the symbols.
Some more verbally able clients move on to a more "freeform" style of counselling as we progress, relying less on the mat to open up. But even in these cases having symbols on hand can be helpful. One client brought up the topic of sex – then apologised and asked if it was OK to talk about it.
"It's fine," I was able to reassure her, producing the relevant symbol. "Look, we even have a picture for it". She laughed and visibly relaxed, the card giving her tangible evidence that the topic was allowed.
It's still early days, but from the feedback we've received so far, the project really seems to be helping people to open up, express feelings they've never given space to before, and explore ways they want to change their lives. The power of simply being heard.
Edith Barrowcliffe, Hear Me, The Action Group
With thanks to our funders and partners for making this work possible – Hospital Saturday Fund, The Action Group Board, Leith Benevolent Society, Port o'Leith Housing Association, and The Scottish Government. And to the team at Talking Mats for their support and help!
Follow the link below to find out more about our Keeping Safe training (now available online) and resource:
https://www.talkingmats.com/keeping-safe-a-new-talking-mats-resource-available-to-purchase/