When this blog from Janie Scott, a Talking Mats Licenced Trainer with Perth and Kinross Council came in I was a bit stumped. There was a lot that I wanted to highlight but I didn't want to focus on one thing and detract from others:
The importance of understanding and applying the Talking Mats framework allowing conversations on topics not covered by our resources.
Demonstrating how Talking Mats can enable the voice of the child to be heard, upholding Scotland's Promise to care experienced children, young people, and families.
A model for embedding Talking Mats in a service.
I decided to go with everything. In 2 parts.
Part 1
Talking Mats; UNCRC, the Promise and hearing the thinker:
Janie Scott, (Highly Specialist SLT Perth & Kinross Council)
Scotland is currently progressing with the incorporation of the United Nations Conventions on the Rights of the Child (UNCRC) through the UNCRC (Incorporation) (Scotland) Bill.1 The UNCRC, article 12, states that, 'children have the right to give their opinions freely on issues that affect them. Adults should listen and take children seriously.'
Talking Mats enables rights-based participation for children, allowing them to form and express views freely. It allows others to understand the issues and, as stated above, have those views taken seriously 2
The 'voice' of the child is central to The Promise3. Talking mats should be considered the 'scaffolding' to enable a voice to be heard.
Last year I rolled out Talking Mats foundation training to Social Workers and Senior Social Care Officers working within Services for Children, Young People and Families, in Perth and Kinross Council. Fundamental to Talking Mats is the framework; the ability to use an appropriate top scale, open questions, silence and pass control to the thinker. Having demonstrated the importance of the framework in the training, we then went on to develop symbol sets specifically related to the work of the Social Work teams. These covered a wide range of topics including:
sleep
becoming a foster family
contraception
sexual knowledge
contact arrangements,
behaviours that adopted children think might be difficult to deal with
grief
school life
triggers (related to drugs and alcohol)
I was privileged to hear several reports of how Talking Mats had allowed the voice of the children and young people to be heard which had a direct positive impact on their lives. Here are two powerful examples from a parent and a social worker.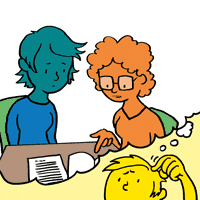 Parent
" I have really enjoyed using Talking Mats. It lets me see everything in an organised way. I really like that. It has also shown me the progress I have made; I have found using an advocate really useful in the past but I don't need to use an advocate any more as I feel more confident. I used to struggle with making decisions but this mat made me realise that I make decisions all the time and they are not wrong decisions."
Assessing Social Worker for Kinship Care
"As part of my role, I need to find out information from teenagers on how they feel their kinship placement is going. Typically I find that many teenagers give one word answers or sometimes they tell me what they think I want to hear. Talking Mats has been useful in my work in allowing teenagers to open up. It has also been useful with children who have English as an additional language. The children did speak English, but it made it easier to get their 'story' from them.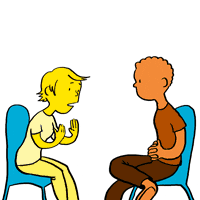 "There was one particularly quiet and reserved teenage boy who was reluctant to share information. The Talking Mat allowed him to tell me much more than when I had initially questioned him. Through the Mats we were able to distinguish the difference he felt between living at home and living with his kinship carers. The Talking Mat enabled him to express that his kinship carers were open to having discussions with him and talking about his worries whereas his Mum did not want to talk about his worries. this was something that I was able to support him in sharing with his Mum as part of the plan for him to return home."
To uphold Article 12 services must be proactive in creating opportunities to listen to the voice of the child. Talking Mats is enabling the voices of children, young people and families to be heard in Perth and Kinross. This voice is influencing key decisions in their lives across a variety of forums including the Children's Hearing System, Kinship Panels, and Child's Plan Meetings.
Talking Mats Director, Margo MacKay, will be presenting with Laura Lundy, Professor of International Children's Rights, QU, Belfast on Wednesday 1st of November, 2023 at NHS Education Scotland webinar; 'The voice of the infant and child; rights- based participation for children and young people'
For more details please see the NES website.
Read 'Can Scotland Be Brave, Incorporating UNCRC Article 12 in practice here
Thank you to Lisa Chapman,Lead Speech and Language Therapist at Bee U: Child & Adolescent Mental Health Services, Midlands Partnership NHS Foundation Trust, who has shared her thoughts about the new sensory resource, sharing what it means to her both professionally and personally. Use these links to read more about the resource and our giveaway offer and to book directly.
A personal and professional journey intertwined.
Communication has always been one of my passions. As a languages teacher I was struck by the speech, language and communication needs (SLCN) of my students and this led me to retrain as a Speech and Language Therapist (SLT). As a parent I saw how my youngest son struggled to communicate his needs and how others struggled to understand him across different environments. He now has a diagnosis of Autism and the experiences we have had together were the start of my journey to explore Sensory Processing.
Sensory Processing, Sensory Integration and Neurodiversity.
Sensory processing is something we all do, it is how we make sense of the world around us using our 8 senses. These websites offer a good general overview of our senses and sensory processing;
How this information is then dealt with is referred to as 'Sensory Integration'; 'the processing, integration and organisation of sensory information from the body and the environment' (Schaaf & Mailloux, 2015, p5).
From my growing personal interest came ideas on how sensory processing and integration overlapped with my professional life as an SLT. Hooked, I enrolled on the Sensory Integration Masters course with Ulster and latterly Sheffield Hallam University. I completed my Diploma in 2021 and hope to complete my Masters dissertation later this year.
I love that I have been able to weave my 'lived' experiences into my professional development. These experiences continue to overlap. Most recently, this has involved exploring the concept of Neurodiversity, "the infinite variation in neurocognitive functioning within our species" (Walker, 2014a). Walker clarifies that the neurodiversity paradigm has three fundamental principles
• Neurodiversity is natural and valuable. We are stronger because of our diversity.
• There is no one 'right' way to process information. There is no such thing as a 'normal' brain.
• It is important to acknowledge social power dynamics exist in relationship to diversity. Walker (2014b) reminds us to 'check' our privilege. This will frequently involve moving out of our comfort zone (Murphy, 2022).
This paradigm has become a core framework for me as both an SLT and a parent. It helps me make sense of variations in communication and sensory experience, to reframe these as differences, not deficits. Understanding my son's sensory processing has helped me see the world through his eyes allowing new spaces for communication and different conversations. It has helped to reduce the Double Empathy gap (Milton, 2012).
I am equally aware of the impact of environments. Luke Beardon's (2017) 'golden equation', one I quote often, aptly summarises this. "Autism + Environment = Outcome". Environment here includes identity, the sensory environment, other people and society (Beardon, 2022). The value of having a clearer understanding of your identity and needs is also context dependent, 'relational' (Chapman, 2021). You, and others around you, may have great insight into how your body and mind work, but this can only go so far. If no one is listening to you, and environments in their broadest terms are set up to be against you, are 'low-functioning' (Patten, 2022, p.8), it is harder to achieve positive and authentic outcomes.
For my autistic son, education settings have sadly often been 'low-functioning' environments, placing an immense toll on his sensory processing, communication and ultimately on his emotional well-being. The impact on us as parents has been no less challenging, coping with multiple exclusions from multiple placements. I have equally seen the power of restorative, 'high-functioning' environments (Patten, 2022, p.12) that enable him to be the best he can be: environments that offer success, building on his interests and abilities.
The very nature of neurodiversity suggests that we all process sensory information differently. A better understanding of individual sensory experiences gives more information that we can use to create and advocate for 'high functioning' environments for everyone, and achieve equity. A crucial first step in neurodiversity affirming practice is respecting an individual's 'epistemic authority' (Chapman & Botha, 2022). To listen without prejudice, and not to enforce that we know best, just because of our position.
With this as my personal and professional 'framework' I welcomed the opportunity to trial the Talking Mats resource; Me and My Senses and my final thoughts are around using it with my son.
My personal journey continues; learning and growing
As his mum, and as an informed professional, I felt that I already knew my son's sensory profile, that I could predict what some of his answers were going to be. He had also already had a full OT-ASI assessment. I came to this as an exercise in ironing out snags, not primarily one of personal learning. I couldn't have been more surprised by the wealth of new information I came away with, after using the mat with him.
My most important learning was around the significance of smell for my son. Using the mat gave him the space and opportunity to share his insights into smell that I had never really appreciated before. What's more, this 'opening up' extended beyond the time we were using the mat. For the rest of the day he continued to refer to his mat, adding further examples and anecdotes about 'smell' as a fundamental sense for his well-being. The mat had provided a safe space for exploration, connection and communication beyond its physical presence. It was a humbling, but also precious experience. It illustrated beyond doubt the importance of listening, but also the immense privilege of opening up and sharing a space that facilitated my son's voice to be heard.
Until now, few tools have captured the lived 'sensory' experiences of children and young people. The Talking Mats 'Me and My Senses Resource' meets this need. It places an individual's voice as central, acknowledging and facilitating autonomy and agency. As such, it is an invaluable tool to anyone wishing to explore sensory processing in a neurodiversity affirming way.
References
Beardon, L., (2017, July). How can unhappy autistic children be supported to become happy autistic adults? https://blogs.shu.ac.uk/autism/files/2017/07/How-can-unhappy-autistic-children-be-supported.pptx
Beardon, L. [@SheffieldLuke]. (2022, December 11). Autism + environment = outcome; environment could include: autistic self (e.g. understanding of self); others in that environment; the sensory. [Tweet]. Twitter. https://twitter.com/SheffieldLuke/status/1601894447721111552?s=20&t=HmyywdI4gDSrDJ1BggtF3w
Chapman, R. (2021). Neurodiversity and the Social Ecology of Mental Functions. Perspectives on Psychological Science, 16(6), 1360–1372. https://doi.org/10.1177/1745691620959833
Chapman, R., & Botha, M. (2022). Neurodivergence-informed therapy. Developmental Medicine Child Neurololgy. 00: 1– 8. https://doi.org/10.1111/dmcn.15384
Milton, D. E. M. (2012). On the ontological status of autism: The "double empathy problem". Disability & Society, 27(6), 883-887. https://doi.org/10.1080/09687599.2012.710008.
Murphy, K. (2022). Neurodiversity in the Early Years. Neurodiversity & ableism reflection tool. https://assets-global.website-files.com/5f903cbab2ae71f26cf02400/638a04bcc5a15c6fda2c02b1_AUDIT_Kerry%20Murphy.pdf
Patten, K. K. (2022). Eleanor Clarke Slagle Lecture—Finding our strengths: recognizing professional bias and interrogating systems. American Journal of Occupational Therapy, 76, 7606150010. https://doi.org/10.5014/ajot.2022.076603
Schaaf, R.C. & Mailloux, Z. (2015). Clinician's guide for implementing Ayre's sensory integration: Promoting participation for children with autism. American Occupational Therapy Association: Incorporated.
Walker, N. (2014a). Neuroqueer: The writings of Dr. Nick Walker. Neurodiversity: Some basic terms & definitions. https://neuroqueer.com/neurodiversity-terms-and-definitions/
Walker, N. (2014b). Neuroqueer: The writings of Dr. Nick Walker. Neurotypical psychotherapists & autistic clients. https://neuroqueer.com/neurotypical-psychotherapists-and-autistic-clients/
After many months of work the new Talking Mats sensory resource; Me and My Senses is reaching the final phase and registrations open on Friday 31st March for our launch seminar. This blog gives an overview of what's in the resource and our guest blog to be published on Friday is a powerful story of professional and personal learning with 'Me and my senses' playing a pivotal role.
The resource will aim to enable children and young people who have speech, language and communication needs (SLCN) and sensory integration difficulties to have a voice in their therapy assessment, planning and intervention. To find out more about the funding and development for this project please read the earlier blog here. It is also aimed at supporting all practitioners, regardless of their level of sensory integration training, to gain an individual's voice of their 'lived' sensory experiences, needs and challenges.
It is divided into the following topics:
My Spaces & Things I Do
My Senses 1: Proprioception & Interoception
My Senses 2: Vestibular
My Senses 3: Taste, Smell, Hearing, Seeing, Touch
Use of the resource may contribute to sensory integration evaluation but does not replace a full sensory integration assessment, however it may equally work as a stand alone-tool. We hope that professionals from healthcare,education, in both mainstream and specialist settings, as well as colleagues in social care will value this resource.
Talking Mats is hosting an online seminar to introduce the resource and we have 50 sets to give away for free to the first 50 people who register for the seminar and are already Talking Mats trained. Registrations open on Friday.
Walking Back to Happiness.
We may not be able to guarantee happiness but our friend and advocate, Karen Mellon is running a further training on our Foot Care resource and that is definitely something to sing about!
Developed late 2021 and launched in 2022 the Foundation Training with the Foot Care resource was so popular we are running it again. The resource was developed in collaboration with Karen and her team at NHS Fife Podiatry but it is aimed at anyone for whom footcare is part of their role. The College of Podiatry recently published figures on costs to the NHS in England and diabetic foot care alone cost £1 – £1.2billion per year. Supporting patients to communicate health issues around their feet is one step towards ensuring they access the right care at the right time.
Karen recently presented to the Allied Health Professional's Dementia webinar describing the resource from development to practise. You can view the presentation here, and read her blog from 2021 here.
The training is delivered on Teams in 2 sessions – January 24th 2024 and February 21st. Both sessions run from 9.20am – 12.30pm and both must be attended. The cost is £210 and this includes a copy of the Foot Care resource.
We are always keen to support other Social Enterprises, and would like to introduce our community to Communication Inclusion People, a new enterprise with a big vision. Find out a little bit about them and how to contact them.
Hello – we are Communication Inclusion People. We are a new Scotland based social enterprise aiming to change the world.
Our mission is to work with others to create communication equality through universal adoption of inclusive communication best practice.
Talking Mats is a brilliant way of making communication about specific topics inclusive. We recommend it to many people. Most recently it was one of the resources we recommended in the Place Standard Tool Inclusive Communication Toolkit | Our Place
However, people need to understand information to find out an organisation even exists. We support organisations to be communication inclusive for their clients and staff – from the first hello to the last goodbye. Our work therefore compliments Talking Mats well. We help organisations to check, plan and develop their inclusive communication practice in everything they do. We always co-produce with people who communicate in different ways.
To find out more please contact us in the way you find easiest
Talking Mats are delighted to share that we have been awarded funding to create a brand-new sensory resource for children and young people who have Speech, Language and Communication Needs (SLCN) and sensory integration/processing difficulties. The funding to create this resource has been awarded by the Communication Trust from the Communication Consortium Grants Programme – funded by The Rayners Special Educational Trust.
The Communication Trust Consortium, a coalition of over 35 not-for-profit organisations, is hosted by ICAN. They harness collective expertise to support the workforce and commissioners to support all children and young people's speech, language, and communication skills across the UK. 
This exciting year-long project will be led by Laura Holmes, our Lead Associate for Children and Young People. Laura has been part of the Talking Mats Team since 2016 and has over 20 years' experience of working as a Speech and Language Therapist with children and young people, across a wide variety of settings in both NHS and independent sectors.
New Sensory Resource
This project will develop, pilot and launch a Talking Mats visual communication resource to tune into a child's view of their sensory needs. It will enable children and young people who have speech, language, and communication needs (SLCN) and sensory difficulties to have a voice in their therapy assessment, planning and intervention.
"Sensory integration" and "sensory processing" refer to the processes in the brain that allow us to take the signals from our senses, make sense of those signals and respond appropriately.  Children and young people with sensory processing/integration difficulties often have speech, language and communication difficulties, which may be linked to a diagnosis of autism (Green et al 2016); developmental language disorder (Simpson et al 2020); hearing impairment (Alkhamra et al 2020); or a history of trauma (Fraser et al 2017).  
This work is important as sensory assessments can typically involve a mixture of formal and informal questionnaires and checklists which are carried out with Parents/Carers, Education Staff, and may also involve observations of the child in their environment. The issue is that Child Voice is not always routinely, or effectively, included in these assessments, or in subsequent planning and intervention – however the Royal College of Occupational Therapists recommends that 'person-centred goals/outcomes must be established prior to intervention' (RCOT, Informed View: Sensory Integration and Sensory-Based Assessments 2021). This also links with the current SEND system in England and GIRFEC in Scotland, both of which also emphasise the importance of child voice throughout assessment, planning and intervention processes. 
We plan to work with experienced Talking Mats OT and SLT practitioners working with children and young people who have SLCN and sensory needs, to co-create this resource.
Get Involved
If you, or someone you know, works with children who have a diagnosis of SLCN and sensory needs, and is an experienced Talking Mats practitioner, please share the news about this project.
If this applies to the work that you do, and you would be interested in taking part in this project, please follow this link to express your interest: Communication Trust Project.
Expressions of Interest should be submitted by Friday 23/09/22.
Stay Connected
For more information about Talking Mats, please visit our website www.talkingmats.com or follow us on social media to keep up to date with all our news!
Our new digital platform with enhanced features
Talking mats have been researched and developed over a period of more than 20 years. Initially Talking Mats developed as a paper based communication framework but there was always much interest in having it as a digital resource so our first digital Talking Mats platform was released in 2012.  
In the years since its release the Talking Mats digital platform has helped thousands of people who otherwise would find it challenging to express how they feel, but with the discontinuation of Flash player the opportunity to create a new web-app presented itself. We are delighted to say that it is here! Combining it with the new website means that we are able to include many of the features that our customers have wanted, including the ability to:
Add and save photos
Personalise conversations by adding symbols from other sets
Create and save your own personalised mats ( provided you are foundation trained )
Think through and order your Talking Mats conversation
Change and select an appropriate Top Scale
File your thinker's mat in an easy to retrieve manner
Easily carry out remote Talking Mats conversations
Our Digital Support Officer, Mark, is here to take you through the headlines of the new app, as well as some useful information for existing users.
In a nutshell
The new Digital Talking Mats (DTM) is a subscription-based web app which is access via our new look website www.talkingmats.com. It contains all the Talking Mats resources currently available to purchase to ensure that it can be used in as many different contexts to help as many different people as possible.
The subscriptions
We wanted to ensure that there was a DTM subscription for everyone. To that end, there are three different levels of individual subscription (starter, enhanced, complete) which can be renewed on a monthly or annual basis. There is also a licence specifically for organisations which offers the chance to have multiple users tied to an organisation, all at 'complete' level.
Once you have signed up for a subscription, you can easily see the details in the 'subscriptions' section of your account.
Existing Digital Talking Mats customers
If you had access to version 1 of the digital Talking Mats please keep an eye on your inbox as you will be getting an email giving you access to the new version . If you do not receive such an email please get In touch with us.
App Features and How to Use Them
Once you have subscribed and accessed the app, there is immediately a helpful video which tells you all you need to know about how to use the app. This includes setting up a new thinker, creating a new Talking Mat with the symbols of your choice, and how to view snapshots of previous sessions you have carried out.
Technical Tips
Browsers
All browsers are equal, but some are more equal than others. Our app is optimised for Google Chrome, but will also work on Firefox and Microsoft Edge. Internet explorer is not supported. It is a good idea to make sure your browser is as up to date as possible for the best user experience. Mor detailed information on browser compatibility is available here
Offline Functionality
We recognise that internet is not always available in homes, schools or many other places, and so it is very important to us that the app works offline. Unfortunately due to the fact it is till relatively fresh, the app will not work offline yet, but rest assured this feature is in the pipeline. One option in the meantime is to use a device that can hotspot (most smartphones will have this feature) and carry out a Talking Mat online.
App Navigation
When you are navigating from page to page in the app, it is actually creating overlays on a single web page. This means that when you are in the app, if you press the 'back' button on your browser, it will take you out of the app completely.
If you have any questions about the Digital Talking Mats platform or you are interested in learning more, you can get I touch with Mark at mark@talkingmats.com.
We are all continuing to live in challenging times due to the COVID-19 pandemic, and there are concerns about the impact on the mental health of people at all ages and stages of life.  This is a good time to reflect on the wide variety of blogs that have signposted how useful Talking Mats can be in helping people to think, structure coherent responses, and express their views. If this is an area of interest to you then take a look at these blogs to find out more: 
 Debbie Mole, Clinical Nurse Consultant in Mental Health and Intellectual Disability for DHM Mental Health Care in Melbourne, Australia shares a great example of the positive impact Talking Mats can have for people who have experienced trauma. https://www.talkingmats.com/talking-mats-and-trauma-work/
Jo Brackley, NHS Clinical Lead for SLT Secure Services  (Cumbria, Northumberland, Tyne and Wear NHS Foundation Trust) describes how Talking Mats helps people with mental health open up and have richer conversations, with increased novel information gained.  https://www.talkingmats.com/covid19_securehospitalsetting/  
 Georgia Bowker-Brady, Advanced Specialist SLT (Berkshire Healthcare Foundation Trust) describes how using Talking Mats in dementia care and acute health patient inpatient services helps patients organise their thoughts and express what is going well for them, as well as what isn't.  https://www.talkingmats.com/acute-mental-health/  
We would love someone to carry out some research in this field, so if this sparks a research or blog idea, please get in touch with us at info@talkingmats.com.
Many thanks to Natalie Paris, CashBack 180 Project Lead for our latest guest blog. Natalie shares some powerful examples of how Talking Mats has helped her to open up conversations with the young people she works with:
I joined Y2K Mayfield and Easthouses Youth 2000 Project in February 2018 as a sessional worker looking to gain practical experience in youth work, I then became Part Time Young Women's worker at Y2K, which gave me experience in working with vulnerable young women in Midlothian across an age range of 11 to 24, some with mild to moderate learning difficulties. When I first heard about the 180 project, I knew it was something I really wanted to be involved with, as I have always been interested in Criminology and Youth Offending.
In September 2018 I became the full-time 180 Project Lead, and have helped to shape and develop our CashBack 180 Project. CashBack 180 is a referral-based service, focusing on early support and prevention for young people involved in or at risk of becoming involved in offending, anti-social and risky behaviours.
The Project:
We work with young people to make positive changes in order to work towards more positive futures. Young people accessing this service have the opportunity to take part in fun, participative and educational programmes of activities as well as 1:1 supports. The CashBack180 programme is delivered at Y2K, but we can also deliver programmes within High Schools.
CashBack 180 offers a menu of options and has adapted where necessary for our journey through the pandemic.
1:1 supports
Groupwork programmes
Community outreach support through detached youth work
Case Example 1:
A 12-year-old girl had been referred to me for violence, as she had attacked a girl in the playground, which was out of character for her. She was very uncomfortable in the 1 to 1 session, so I used a Talking Mat. This made the conversation flow more naturally.
I used the Relationships topic, with the top scale 'going well/okay/not going well'.  This helped me get more information. I found out that most of the issues she was having were around peer relationships.  For example, friends saying things that weren't true, and not being believed by others in her friendship group.  This allowed me to plan a session around what is healthy and unhealthy in friendships.
Case Example 2:
I was working with a 14-year-old care experienced boy, who had been referred to me for Anti-social behaviour, and because he was easily led.  Once I got to know this boy a little better, I realised that he did not have much support within his family, apart from his older brother who he lives with now.  I realised he was someone who had just learned to cope himself, and probably didn't have many people to turn to when worried about things.  I thought coping would be a good topic for a Talking Mat, as he always said things were fine, but I didn't feel it was the full truth.  I used the top scale 'going well/okay/not going well'. This gave us the opportunity to discuss healthy and unhealthy coping mechanisms that he had and what he could do instead.
Case Example 3:
I was working with a 12-year-old care experienced boy, who had been referred to me due to his inappropriate sexualised language and reference to sexual experience.  He has been out Mainstream school for 1 year, so had missed P7 sex education.  I decided to start working on friendships and relationships over the first couple of weeks with him, to get an understanding of what he knew was acceptable in relationships.  I used the Relationships Topic with the top scale 'Going well/Okay/Not going well'.  The Talking Mat helped me keep his attention for a little longer than usual, as he is a very chaotic young person and often gets up and walks about, or jumps on tables and pretends to be sleeping.  It also showed me that he felt quite happy but was missing his friends from where he used to live. We are now looking at ways to address this.
Follow this link to Find out more about this project:
180 Service – Mayfield and Easthouses Youth 2000 Project
If you are feeling inspired and would like to know how you can access Talking Mats training, find out more here: https://www.talkingmats.com/training/
We are delighted to share this latest guest blog from Debbie Mole, Clinical Nurse Consultant in Mental Health and Intellectual Disability for DHM Mental Health Care in Melbourne, Australia.  This is a great example of the positive impact Talking Mats can have for people who have experienced trauma.
Throughout my 35 year career I have always had a big interest in finding ways to help clients express themselves. My passion is around trauma and working in creative ways to help bring some closure and recovery for the person.
This desire grew when I met a woman who had multiple disabilities. She was blind, deaf, and non-verbal. She was sensitive to touch and had very few ways to express herself. She needed to be admitted to hospital as she was unwell, we had no way to explain to her what was happening. At the time I was working in a new specialised mental health and disability team. This humbling experience of working with her pathed a way for me to find ways to help people communicate and understand.
Working in mental health I am acutely aware of risks and that so many people who struggle to verbalise thoughts, feelings, and past issues. I was always concerned that because a person could not verbalise their thoughts, feelings, and intentions that so much information and potential risks were being missed.
I heard about Talking Mats training in Australia and booked myself on the course. This inspired me and has helped me support clients to find a voice and solutions to issues.
My client was a 30-year man with Down Syndrome, he also has ASD and over the last five years had lost his ability to speak. When I met him, he had poor eye contact and appeared to be locked into his world. It was evident he was also suffering from psychosis as he was responding to auditory and possibly visual hallucinations. He could use some sign language to communicate. He had chronic OCD and anxiety and sleep was a major issue.
I did a Talking Mat exercise and checked his understanding of "like", "don't like" and "not sure". I did a simple exercise to start using the images for his family and carers. There was no real form and the cards appeared to become a collection of images that did not hold any clues.
I decided to use to the personal care cards, this was very different. Showering, bathing, and going to the toilet were placed in the negative area. There was also a change of behaviour and some vocalisation of words that made no sense. Talking to his team and mother, there was a restive quality to his behaviour – he wanted to avoid this area.
I did further assessments and his mom believed that in the past when he was young, he may have experienced some bullying, she also feared that he had suffered some form of abuse. Through the assessment it also transpired that my client was one of five children, all had a significant mental health issue. I organised a specialist to see him and he was diagnosed with Schizophrenia. He was treated with antipsychotic medication.
As the psychosis was being treated his team became aware that my client was starting to talk, it was not clear, but the content had a theme. Tragically themes, names and places started to be spoken about. When he spoke about these events his OCD behaviours of arranging his items on the floor became more chaotic. He spoke of trauma from other boys that took place in bathrooms.
I worked with the client and introduced some basic trauma work, simply allowing him to say what he wanted to and then helping him to realise that he was safe and that was the past. His team did the same. We offered choice about showering, bathing and looked at ways it could be fun or a nice activity to follow. The idea was to change his thinking around baths and showers and for him to realise he was safe and free from threat. We used the talking mats to build upon the things he liked.
I repeated the Talking Mats exercises three, six, nine and twelve months after treatment.
After the psychosis was treated, we became aware that the client looked sad and flat. There was a loss of interest in social activities and there was a lot of talk about the past. We assessed that he was depressed and that it was possible that his recall about the past was becoming clearer. He was commenced on an antidepressant and monitored intensely. We also needed to address the sleep issues. His OCD had led to his bed to being covered in items. We later realised that this helped reduce his anxiety when he was heightened.
My client has regained some speech, I believe he was locked in a world of trauma and psychosis. Now he mentions the names of some of the people who have hurt him. His team reassure him that he is safe, that was the past, and he is ok. He seeks physical attention when he distressed, and he is acknowledged and reassured. We cannot offer typical trauma therapy to him, but just helping him unlock his thoughts, knowing that what was happened was wrong and being heard is healing.
I have since developed my own set of cards, based on the Mental State Examination. I use these to expand on issues and focus on problem areas. These cards talk about perceptual issues, thought problems, beliefs and risks, all areas that are typically private and too often unexplored. The cards have images on them, so clients who struggle to verbalise can use the same system as the talking mats.
Talking Mats allowed me and his team to see things from a different angle. There were many hypotheses used to gain an understanding of his behaviour. This led to effective treatment and partial recovery.
Picture 1 at the assessment stage, images of the clients family were made into an orderly collection with no clear indication of how he felt towards the images:
Picture 2 was also at assessment, showing a clear ability to like, not like and feel unsure about aspects of self care.
Picture 3 was during treatment for Psychosis and therapy – some changes were being noted with his self care and allowing his team to help him:
Picture 4 was towards the end of treatment and intensive therapy. Some aspects of bathing remained unsure, but his behaviour indicated that he was more comfortable with activities around bathing.
Picture 5 was a repeat of the family cards after treatment:
Picture 6 are the cards I have created based on the Mental State Examination – this was six months into therapy and medication. He expressed issues around his mood, thoughts and sleep – these needed more explaining. With the mood pictures, I offered my client different images for mood and he picked the ones that reflected what he was feeling. My mood collection has happy, angry, scared and sad in them as I tend to quote these 4 basic raw emotions daily in my work:
Picture 7 was at the end of treatment the same cards were used with a very different result. As for the previous mat, for the mood pictures, I offered my client different images for mood and he picked the ones that reflected what he was feeling:
Many thanks to Debbie Mole for sharing this powerful example.  If you would like to read more about Talking Mats use in Mental Health, take a look at top 10 blogs here:   https://www.talkingmats.com/top_10_mental_health/
If you are feeling inspired and have not yet accessed our Talking Mats Foundation Training Course, find out more here: