20th Nov 2015 | Heather
Hearing the voice of the child
We are grateful to Emma Atkiss, one of our accredited trainers for this interesting report.
The purpose of The Voice of the Child pilot project carried out by the Wigan Pathfinder team was to obtain pupil views using a viable tool.  The team selected Talking Mats as a framework to support pupils to express their views in decisions regarding their lives.  They were working on the principle that engaging with the young person and his/her family would lead to better outcomes
The project team considered that Talking Mats met the 5 criteria of Shier's model of participation (2001)
Children are listened to.
Children are supported in expressing their views.
Children's views are taken into account.
Children are involved in the decision-making processes.
Children share power and responsibility for decision-making.
Click on diagram to enlarge.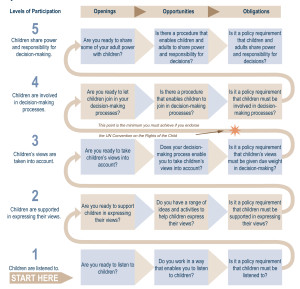 The pupils in the pilot ranged from 7 to 17 years with a range of disabilities.  During the pupil interviews the team found that the Talking Mats Health and Well being resource provided a practical framework for decision making and target setting
Talking mats provided :
An objective, neutral space – a thinking tool- 'Children and young people are able to consider their priorities when setting targets'.
Opportunities for change – 'Children and young people are able to make changes to their initial thoughts and have time to decide and reconsider options'.
A truly person centred approach
It was fun!
For example :   A seven year old child with Autistic Spectrum Disorder identified both her cognitive strengths and areas for development using the Learning and Thinking domain.  She provided feedback regarding her difficulty in attending when faced with too much information or choice and also her strength in planning skills.  Thinking skills targets and interventions can be developed using this information as a starting point.
Their report states that the information gained from Talking Mats can be used, as part of the Education Health and Care planning and review cycle, to inform both decision-making and goal setting for children and young people   i.e. It identifies strengths; It identifies areas to develop; It identifies the child / young person's response to a range of experiences; It informs day-to-day decision-making ;  It informs both targets and interventions for Individual Education Plans and it supports transition planning.
Ref :  Engaging the voice of the child / young person at an individual level  – Emma Atkiss,Senior Educational Psychologist and  Caroline Gomez,     Educational Psychologist, Wigan council