20th Aug 2019 | Lois Cameron
Improving Health and Housing outcomes for tenants
Talking Mats have been part of an exciting research project which looked at whether the Digital Talking Mat App could improve health and housing outcomes for social housing tenants.
Working together with tenants and staff from Loretto Housing and Care, Stirling University, Napier University and Age Scotland we have developed and piloted a new Talking Health and Housing set for the Talking Mats App!
Project Aims
The aim of the project was to:
Develop an App that would support social housing tenants with communication difficulties to say what they thought about their Housing and Health.
To improve communication between social housing tenants and health professionals.
Researchers were also keen to see whether the App would help to demonstrate the link between tenants' housing and health solutions.
What we did
The Talking mats team facilitated two focus group sessions with all the partners to decide what topics were needed.
Once the mats had been completed the researchers from Stirling University and Napier University conducted interviews and focus groups with staff from Loretto and related Health professionals and then analysed the data from the mats.
The Talking Health and Housing set
The set has three topics: Home, Wellbeing, Support people
The Top scale for this set is Going well…Going well sometimes…Not going well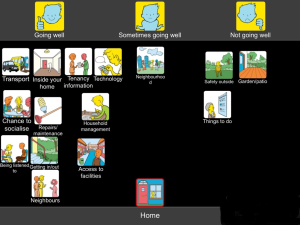 One of the major themes to emerge was safety inside and outside the house. Using the App, tenants were able to identify issues that were making them feel unsafe including:
A broken stair door
Uneven pavement outside the house,
Poor eyesight
Poor mobility
This was having a negative impact on tenants' wellbeing and by doing the mats, actions were identified to address all these concerns and anxieties were reduced.
It was a great partnership and we hope to work together again to further explore how the App can support the Service Integration agenda by facilitating communication between Health, Social and Care and Housing with the tenant at the centre.
Read the summary report 201908 Talking Health and Housing Summary Report
If you are interested in finding out more about the Talking Health and Housing App please email info@talkingmats.com
The Symbols are designed and © to Adam Murphy 2015 and assigned to Talking Mats Ltd. in perpetuity. They may not be reproduced without permission