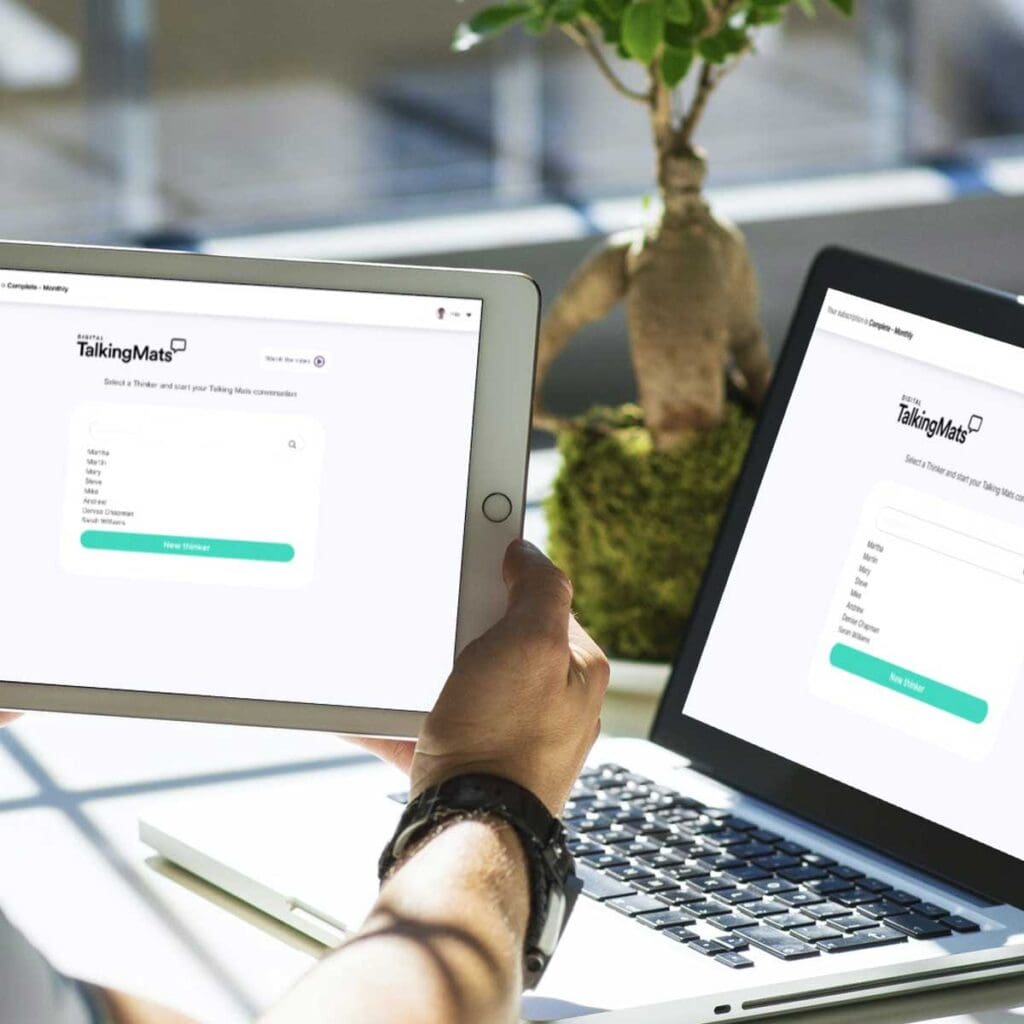 14th Dec 2020 | Laura Holmes
The Talking Mats Digital Resource – New for Old
We developed our Talking Mats' digital resource way back in 2012 when the online world was a simpler place. When first launched our technology was cutting edge – we were one of the few applications that worked on both Apple and android devices as well as web browsers. Over the years it has been used in many different settings; schools, hospitals, health centres, social work support and day centres to name a few. Unfortunately, digital development does not stay static and what was cutting edge then is now becoming outdated and so we need to revise and produce Version 2. We are delighted and excited to let you know we are launching our new digital resource early in 2021.
2020 has seen an unprecedented focus on digital communication and our web-based digital resource has proved to be invaluable. Our Talking Mats' community applied the web-based digital resource in conjunction with Microsoft Teams, Zoom and Attend Anywhere to allow remote contact when it was needed the most. However, technology progresses and recently many of you will have noticed a message from Adobe Flash Player plugin when you access the digital resource from the Google Chrome web browser. This is because Flash Player will become obsolete at the end of 2020, making it very difficult to use our current resource from the web. We began upgrading this year to ensure the stability of the digital resource and we have also taken this opportunity to improve its functionality and include new features. Flash Player will hopefully work on other browsers and it looks like its best to swap to Opera as a web browser but we are still seeking guidance on this and will let you know when advice is clearer. However you can also hare your iPad on teams and zoom and guidance on how to do this is can be found here Using Talking Mats virtually with two devices update Jan 21
Downloaded apps will still work on tablets and iPads but Talking Mats will only offer support for a limited time in 2021.
We have been working with Dundee based media company, MTC Media, over the past few months to design our new digital resource and whilst it is not quite ready, we wanted to share some of the new features.
'Can I make the mat on the screen bigger and less cluttered?'
'I'd like to be able to use a card from Health in my mat using the Secondary symbols, but I can't'
'Can I upload my own photographs?'
These questions and comments are some of the most common that our digital users ask.
Our new resource is user friendly and intuitive with bigger text, a larger area to create your mat and the ability to hide symbols until you are ready to use them.
You can create your own library of topics from across the different bundles.
Photographs can be easily uploaded and added to your library
This is just a small teaser to whet your whistle and to end 2020 with something to look forward to.
The way we sell this new resource will be changing to a subscription model but we will keep in touch with you about this and all existing digital users will automatically be moved over to our new digital resource. We are sure you will like it and want to stay with it.