12th Apr 2019 | Lois Cameron
Changing Placements – Reporting Outcomes with Talking Mats
Many thanks to Tina Wood, Occupational Therapist at Therapy In Motion, for this great example of how Talking Mats can be used to explore thoughts and feelings both in present-day and in retrospect, to evidence positive outcomes from a change in educational placement. Tina's use of colour coding and pie charts really helps to illustrate this.
Tina attended our Talking Mats Foundation training back in September 2016 and since then she has been using Talking Mats regularly in her work as an Independent Occupational Therapist.
In this example, Tina has used Talking Mats to enable Ben (name changed for anonymity, age 12½ years) to share his thoughts and feelings using the Talking Mats 'Consulting Children and Young People' resource packs – focusing on the topics 'My Body and Skills' and 'What I do and Support'.
At the time of this Talking Mat, Ben had been accessing a new placement at a Pupil Referral Unit for the past 11 months (click on the picture below to see a clearer version).
As there was clearly a difference in how Ben felt things were going when he was attending his previous school, Tina decided to ask him to do a retrospective Talking Mat of how things were going for him 11 months ago in January 2018, when he started to feel "unwell".
This enabled comparison with how he feels now in the "safe setting" of the Pupil Referral unit (click on picture to see a clearer version).
Tina then compiled the information from the above tables into pie charts, enabling a clear visual comparison between the two times/situations (click on picture to see a clearer version):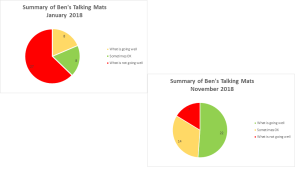 As can be seen from these charts, there had been a huge change in Ben's perception of how he is coping with life in general and school in particular.
Tina recommended that this information needs to be considered along with the rest of Ben's sensory needs (as reported in her full OT report) when deciding on what is the best educational setting for him after leaving the pupil referral unit.
We love this use of colour coding and pie charts to illustrate the information from Ben's Talking Mats – to really ensure that Ben's feelings and thoughts are seen and heard.
 If you would like to know more about accessing Talking Mats training – available across the UK and Ireland as well as online – please take a look here: https://www.talkingmats.com/training/
 If you have any examples of how you report/share information about completed Talking Mats we would be interested to hear about it! Just email laura@talkingmats.com