It's that time of year; the days are longer, there are lambs in the fields, the grass is getting cut and people are thinking about new beginnings. Maybe you want to embrace the Spring momentum and get a new skill under your belt, the one you've been hearing about from colleagues and reading about on social media; Talking Mats!
Talking Mats has been busy and there are new resources about to be launched but they have the line 'only available to those trained in Talking Mats'. You attended something a few years ago and you think something was said that had something to do with Talking Mats – does that count? And it's just pictures how hard can it be?
If this sounds like a conversation you've had with yourself read this blog to find out why training in this innovative communication tool is recommended.
I need this training; how can I get it?
You've made the decision that you'll get trained in Talking Mats. What options are there to let you do this? Like all training providers over the last 3 years Talking Mats has had to adapt our training provisions. We have also had to be responsive to what our customers want; there is a much bigger demand for virtual training and online training than we experienced pre 2020. To reflect this we currently offer a variety of ways you can access our Foundation Training. Your choice will depend on the answers to several questions; what sort of learner are you? Can you do this as part of your working day or will it be in your own time? Can you apply for study leave? Following from that; would you like to buy a resource with your training and what is available ? The following diagrams should help simplify things and more in depth information about Foundation Training is on our website, as well as booking information. Being trained in Talking Mats allows you to access all our Advanced Courses and Resources and go on to become a Licenced Trainer.
Kim Stringer, Director of the Charity Vegetarian for Life, describes her thinking behind this new resource and asks for volunteers to help test it out.
I first had a Talking Mat conversation at the Alzheimer Scotland conference in 2019 and was struck by the way a picture of my likes and dislikes emerged. I wouldn't have collected all these ideas together in a spoken conversation and I immediately thought this would be a great tool to use to explore an issue that Vegetarian for Life was becoming increasingly aware of.
We support older vegans and vegetarians, and those who care for them, and we had been hearing about some vegetarians with dementia who were asking for meat. It seemed unlikely to us that people who had chosen to be vegan or vegetarian because of their beliefs would suddenly reconsider these views. Staff and families were facing a dilemma and I thought Talking Mats would be a great tool to explore food preferences and perhaps help to find out if a person was genuinely asking for meat.
After initial conversations with Talking Mats we had a seminar to gather other team members' thoughts, and we began to create the resource. We decided what topics we wanted to cover, how these could be grouped, and what top scales would work.
Dietary Choice
Not all vegetarians like to eat vegetables or meat replacement products and this topic is designed to allow people to express their food preferences. Meat and fish options are included in this topic to help get a reliable picture of a person's beliefs. When considered along with the conversation arising from the Values topic this gives the opportunity to get a fuller understanding of someone's motivations. Suggested top scale to use:
Want to eat / sometimes want to eat / don't want to eat
My eating experience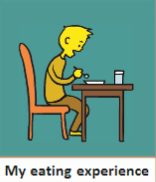 This topic helps explore if someone is happy with their current situation. Some of the symbols cover general subjects, while others are more specifically vegetarian- or vegan-focused. We included things such as celebrations and events. Vegetarians and vegans will want to enjoy these too but may feel excluded if offered something like a salad while others eat burgers. Suggested top scale to use:
Happy / so-so / not happy
Values. Lifestyle
People adopt vegetarian or vegan diets for different reasons and these topics address the reasons behind this choice, and consider the wider lifestyle implications, not just diet. For example someone following a plant-based diet for health reasons may feel differently about toiletries and cleaning products which may have been tested on animals than someone for whom veganism is a philosophical belief. These topics help build a picture of the reasons behind the lifestyle preferences. Suggested top scales to use:
Values: very important / quite important / not important
Lifestyle: want / don't mind / don't want
We hope that the conversations generated by the mats will allow care providers to get to better know the person who is receiving care. They may also foster a greater understanding of vegetarianism and veganism.
For more information about good practice when catering for vegetarians and vegans living with dementia, please see Vegetarian for Life's Memory Care Pledge.
This resource is now in the testing phase and we are looking for volunteers. If you think you can use the resource at least twice between now and the 17th of March please email info@talkingmats.com describing the setting(s) and clients you might use the resource with. We require up to 6 people for this phase.