8th May 2014 | Margo Mackay
Talking and listening to Teenagers
Teens are comfortable using communication tools in the form of social media. They can feel less comfortable with direct communication and often find it hard to put their feelings into words. Using a Talking Mat when talking to teenagers provides a communication tool which takes the focus off face to face interaction. It gives a thinking space to help them to express their feelings. It also allows you to have a balanced conversation because it talks about the positive things in daily life as well as the opportunity to talk about difficult things.
Tina is a 13 year old girl who initially had coped well with the transition to High School but in February had started to refuse to come to school. She was unable to explain what the problem was and when asked about the reason for her absence, would say " I hate school".
The "Consulting children and Young people -secondary resource" was used to consult with Tina. She was presented with some of the options from "My body and Skills" to think about how she was feeling. Tina used the top scale Happy(Things are going well and Not happy (things are not going well).
During the Talking Mats interview she opened up about how she felt about travelling to school (she hated going on the school bus and felt embarrassed) She clearly identified the fact that she has specific learning needs as she has difficulty understanding and concentrating in class and often falls behind with her written work. Attending her maths class was particularly difficult and she did her best to avoid going. She also talked about her difficulty with talking to adults and also to her peers. Often she feels excluded in conversations as although she is listening, she doesn't always understand what they are discussing and doesn't know what to say. She has a problem with sleeping and feels her mood is low a lot of the time. She also commented that she can feel extremely angry and this has a negative effect on her behaviour. On the positive side, she loves to read and feels happy about her diet and her weight.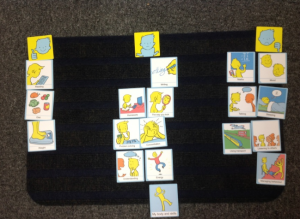 Helping Tina to grade her feelings about specific issues helped to identify what needed to be done in the first instance to get her back to school.
Alternative travel arrangements were put in place, extra support provided for her in class and from the learning support base.
She is attending school again and the pupil support team are gathering together the appropriate "team around the child" to explore her difficulties further.
Find out more about how to use Talking Mats by signing up for a training course at Talking Mats.