5th Aug 2016 | Margo Mackay
Talking Mats as a Research Method
We are very grateful to Lauren Pettit and her colleagues from Pretoria, South Africa for sending us their published paper on a recent research project which used Talking Mats as a research method.
The study's aim was to describe and compare the views of adults with aphasia, their significant others and their speech and language pathologists regarding the importance of nine life areas for the rehabilitation of adults with aphasia.
They used Talking Mats to support 15 adults with expressive aphasia to rate 9 life areas in terms of importance to them. The 9 life areas they included were Domestic Life, Relationships, Work and Education, Leisure, Self-care, Learning and Thinking, Coping, Communication and Mobility. These are taken from the World Health Organisation International Classification of Functioning Disability and Health (WHO-ICF). The researchers also obtained the ratings of 15 significant others and the 15 speech and language pathologists treating them.
They found that most life areas were rated as important to work on in rehabilitation by most participants. However, there were some discrepancies between the views of the adults with aphasia and the other 2 groups in the study and significant discrepancies were noted for 3 of the 9 life areas.
The graphs below show the comparisons of the 3 groups of participants. Click on graphs to enlarge
Fig1. People with aphasia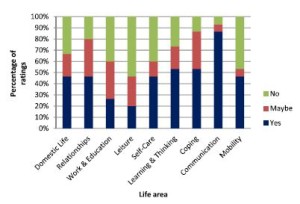 Fig2. Significant others
Fig3. Speech and language pathologists
The researchers suggest that 'These life areas can provide the 'common language' for team members to engage in dialogue and identify problem areas related to the daily life functioning of people with expressive aphasia. By simplifying some of the labels of the activities and participation dimensions of the WHO-ICF and pairing these labels with pictures and the interactive Talking Mats interview procedure, adults with expressive aphasia (who often have difficulty participating in the selection of rehabilitation priorities) were able to express their own views. This may be a first step in assisting the adult with aphasia to advocate for themselves and to exercise their right to identify the activities and participation opportunities which they would like to access, and to set rehabilitation priorities based on their choice. While the overlap in priorities among the three groups as found in this study is encouraging, the presence of some significant differences underlines the importance of the voice of adults with aphasia themselves. This ensures truly client-centred rehabilitation that underscores the principles of human rights and a focus on competence rather than deficits'.
To link to the full article:  http://dx.doi.org/10.1080/10749357.2016.1207148aphasia
Please contact info@talkingmats if you would like to discuss using Talking Mats in research