26th Aug 2016 | Margo Mackay
Talking Mats for Capacity Assessments with People with ASD/LD
Many thanks to Ruth Spilman, Senior Speech and Language Therapist, for this great blog about how she uses Talking Mats for Capacity Assessments with People with ASD/LD
I am a speech and language therapist (SLT) working in a residential provision for young people with autism spectrum disorder, learning disabilities and other co-occurring difficulties. We support young people from 7 up to the age of 20. Many of the young people are in a 'grey area' with a view to capacity assessments, including those aged 16-18. We support many capacity assessments, including deputy-ship for finances and care, health and welfare, as well as more individualised capacity assessments around restrictions in the environment, consent to medical interventions and making decisions about the future.
A large part of the way we support these capacity assessments is by using Talking Mats, which support people with autism who generally prefer to think about things visually. The young people are encouraged to use Talking Mats in their everyday communication, such as evaluating activities, lessons and therapy sessions to develop their skills, as well as during direct Speech and Language Therapy work. If a young person has proven their competence using a Talking Mat, we can then move on to supporting capacity assessments. As part of the process, the SLT would break down the concepts needed to be understood to identify if the individual has capacity or not. For example with finances, do they know what money is? can they organise things that are expensive and cheap? can they put items in a scale of least to most expensive? This would all be done using a Talking Mat, then followed up if they achieved this task with a range of further activities. A Talking Mat can then support activities to evidence their understanding or lack of, while also giving a young person all practicable help to communicate.
See below two examples of a young person thinking about 1) money to support their finances, and 2) things that are healthy or not.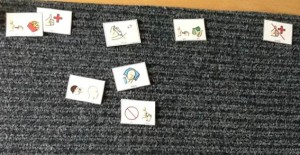 Talking mats are used for a range of different skills and assessments in the provision I work in, but their use for capacity assessment gives the young people the most practicable support with communication and allows for clear evidence of the person's understanding of the concepts involved. In addition to the range of items mentioned above, we have have also discussed tattoos, physical intervention and behaviour support strategies, having a lock on an individual's bedroom door, and understanding of fantasy and reality.
Talking Mats has proved to be a truly simple but brilliant and useful tool.
Ruth Spilman, Senior Speech and Language Therapist, Specialist services in education
The Cambian Group, Dorset, BH19 1PR www.cambiangroup.com