15th Sep 2014 | Margo Mackay
Talking Mats – the ideal resource to help you with your Education Health Care Needs Assessment and Plans
Thanks to Anita Devi,Education Consultant, for her helpful contribution to this blog.
The implementation of the recent SEND reforms in England requires interdisciplinary teamwork. Integrated assessments will now be carried out in cooperation with the young person and the parents. Capturing the child's own perspective and recording their views, interests and aspirations is now a statutory requirement. The principles of the SEND Code of Practice state that practitioners should encourage the child or young person, and the child's parents to participate as fully as possible in the decisions affecting their lives and use a common language to shape educational and other outcomes.
Talking Mats has produced a practical and creative resource – "Consulting Children & Young People" that helps practitioners to ensure that they take account of the SEND Principles at all stages of the assessment process and development of the EHC Plan.
We recognised the need to develop a tool that would give a holistic picture of how a child or young person feels about their lives at home, at school and in their communities. Having a visual framework means that there's more time for reflection. You can help young people to see their personal strengths and abilities and take time to consider what their problem areas are.  Talking Mats gives greater choice and control about what kind of intervention is required to support them.
Communication is a two way process and the role of the facilitator is crucial. Talking Mats provides training at the following levels:
Awareness – an introduction to the Talking Mats framework and the development of the CCYP resource.
Enhanced – a whole day training to equip practitioners to use Talking Mats
Specialist – In depth training which allows the practitioner to train others in their organisation.
(as stipulated on page 58 of The 2014 SEND Code of Practice for England)
Why not sign up for one of our training courses and learn more about –
    Improving the quality of your engagement
    Creating a visual framework for consultation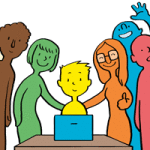 A child centred approach to joint decision making.
Read Part 2 of this blog next week.