2nd Apr 2014 | Heather
Using the 'looking after yourself' symbol sets
When people have been in hospital for a period of time, for whatever reason, consideration needs to be given to discharge planning. There are often concerns about what a person may manage to do independently when they get home, and this often has an impact on where people are discharged to and what type of support they might need.
The 'looking after yourself' symbol sets in the health and well-being resource provide a good starting point for exploring some of these issues. This set is made up of three topic sets:
Domestic life
Self-care
Work/education
I used these when I worked with a woman (Ruby) who had severe receptive and expressive aphasia. She had been discharged from hospital with a care package (carers came in three times a day to help her with personal care, meal time preparation and housework). Ruby had difficulty communicating through speech but was able to use Talking Mats effectively to express her views. I used the 'domestic life' symbols to find out how Ruby felt about managing the daily running of the household. Ruby was able to tell me that she felt she could now do more things around the house, such as hoovering and the laundry. She was 'unsure' about cooking and shopping, but indicated that these were areas that she wanted to work on.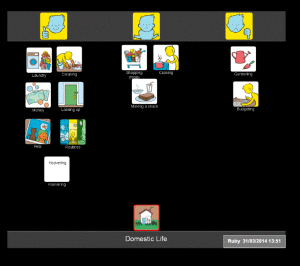 Using Talking Mats, Ruby was able to tell me that she wanted to try to do more things for herself. We used photographs of the completed mats to discuss these issues in more detail with Ruby's social worker and her husband. Initially, Ruby's husband was hesitant about her doing more things around the house, but seeing the mat in front of him meant that he really listened to her views and felt happier about her taking risks and trying things for herself. As a result of our discussions, Ruby's social worker reviewed her care package. She reduced the daily visits by carers and Ruby was given support from the rehabilitation team to help her work on preparing meals. Her husband arranged for a friend to take her to the supermarket once a week so that she felt more in control of the cooking. Use of Talking Mats meant that Ruby was really involved in setting her rehabilitation goals and ensured that her views were heard when her care package was reviewed.
The 'looking after yourself' symbols can be used to include people with communication difficulties in the decision making process. This is particularly important given the current legislative drive to promote self-directed support. Find out more about how to use Talking Mats by signing up for a training course at Talking Mats.