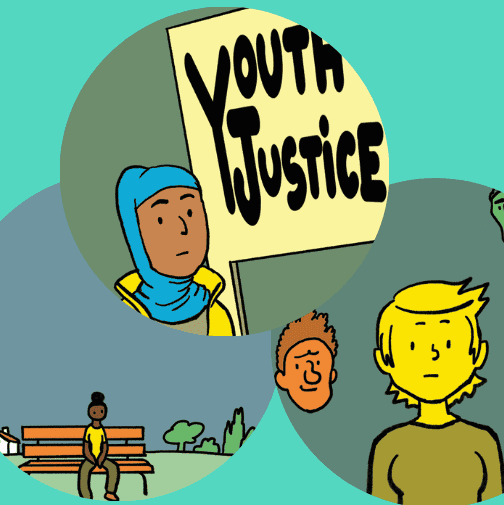 5th Apr 2022 | Paula Douglas
Youth Justice Resource Part 2: Development
In the 2nd blog about our new resource, Licenced Trainer Fiona Taylor tells us about its development.
I am Fiona Taylor, Speech and Language Therapy Service Lead in Salford and also the Greater Manchester SLT Youth Justice Lead. I have been part of a group of Youth Justice practitioners who have worked with Talking Mats to develop a Youth Justice resource and below is the story of our journey.
Within Greater Manchester we have Speech and Language Therapists working within seven of the nine Youth Justice Services (YJS). Since April 2019, we have received funding from NHS England to support and enhance the Speech and Language Therapy service in this area. We wanted to explore training packages and materials which would support YJS staff to have conversations about a wide variety of topics related to the young person's offending. An approach was needed that the young people would not find confronting and that would take into account the language and learning needs of many the young people (RCSLT Justice Evidence Base, 2017). We felt that Talking Mats would allow this approach as it could be incorporated into every day practice. Discussions with Talking Mats developed into collaborating on a specific set of Youth Justice cards to support this population.
In February 2020, 23 staff from the nine Greater Manchester Youth Justice Services attended a one day Talking Mats training course with Margo and Laura. Then in March 2020, a focus group met again with Margo and Laura to develop a set of bespoke Talking Mat cards for use within Youth Justice. We spent time as a whole group discussing areas we felt were key for YJS practitioners and then split into three groups to further develop these ideas.
From this, three sets of cards were developed focusing on the young person's:
Safety (Places and Spaces), to open discussions around areas where the young person felt safe/unsafe which could also support an understanding of wider antisocial behaviour.
Relationships, with the aim that this would support assessments around sexually harmful behaviour.
Youth Justice Experience, to ensure user voice was captured and to support service improvement.
The COVID pandemic has meant that the pilot phase for the resource set has taken longer than originally planned. Throughout the planning phase we have met regularly with Talking Mats to provide feedback on how we as practitioners have found the sets and how the young people have responded. YJS staff have reported that the packs have helped open up conversations about difficult topics, including those related to Covid. Staff have also been able to provide case studies to show how the information shared from the mat has supported the young person during their time working with the youth justice services.
Working with Talking Mats has allowed us to develop a resource set for use within a previously unmet area for Youth Justice practitioners, including SLTs. The cards provide an evidence based, structured approach to support the young people we work with and enable them to express their views and feelings and to have their voices heard and responded to. This has supported us as practitioners to develop relationships and to better tailor support and interventions to that young person. We hope that you enjoy using the cards and we look forward to hearing how they have been used.