Launch of new resource and module, Communication Matters Conference 2023
Tuesday 12th September – launch seminar, Lois Cameron & Katherine Small. 
Discount code will be revealed at the seminar giving 15% off the online module with the resource.
Communication is a fundamental human right, yet many individuals with communication difficulties face daily challenges in expressing their thoughts, needs and feelings. Augmentative and Alternative Communication (AAC) is a powerful tool that bridges this communication gap, and Talking Mats is one innovative approach that has proven highly effective in enhancing the lives of those who use AAC.
However, in the 25 years that Talking Mats has been developing resources we have never created one that specifically addresses the needs of AAC users.
Until now!
The new resource, Supporting Communication with AAC and the online advanced training module, AAC will be launched at this year's Communication Matters Conference 9th-11th September.
The idea
Ace Centre first contacted us in 2018 with the idea of developing a specific assessment resource that would allow the person considering using AAC to express their views about it; were they ready to use AAC, did it fit with their life and communication needs and how much support would be required? This could then inform decisions around referrals onto specialist AAC services.
Development
As with all Talking Mats resources, this one was piloted and discussed and changed until the final version was reached. Thank you to all the practitioners and clients who gave their time and energy in that process. Thank you also to the Scottish Centre of Technology for the Communication Impaired who also collaborated on the resource and the module.
Outcome
The outcome is a resource that can contribute to both assessments and reviews, and an Advanced online training module, both of which aim to put the AAC user at the heart of decision making about their communication.
Here is a brief outline of the resource and the module.
Supporting Communication with AAC (card and digital resource)
Topics
Your Communication
This topic considers the 'How', 'Who' and 'Where' of interactions and helps develop an understanding of the Thinkers communication needs. It can be completed when you are getting to know the Thinker.
Joining in conversations
These topics are designed to help a Thinker explore how they feel about their AAC resource when it comes to joining in conversations and reflect the fact that an individual often uses a combination of communication modes to be effective. The three topic cards are: Verbal conversation, Paper support and Electronic Support.
How your AAC works
This topics explores different ways of accessing the AAC device as well as the different features it has, incluing functions, appearance, sound, and access.
If you are trained in Talking Mats to Foundation level you can buy the resource from our website
AAC Advanced module
To access this course you must have already completed the Foundation Course.
The objective of this course is to ensure that AAC users are at the heart of decision making and that necessary adaptations are in place to support those conversations
The course is split into three different sections:
The Resource
Aim – to recognise the different topics and who they might be suitable for
Access
Aim – to recognise different positions, places and methods for a Thinker to access a Talking Mat
Communication Dynamics
Aim – to recognise the dynamics in a conversation, and appraise the process of using additional people during a Talking Mat
To successfully complete the course participants must pass the quiz and contribute to the forum telling us about their experience.
Courses will run from the 1st of every month starting in November.
Launch of Resource and Module, Communication Matters Conference 2023
Tuesday 12th September – launch seminar, Lois Cameron & Katherine Small. 
Discount code will be revealed at the seminar giving 15% off the online module with the resource
See you there!
Talking Mats are delighted to share that we have been awarded funding to create a brand-new sensory resource for children and young people who have Speech, Language and Communication Needs (SLCN) and sensory integration/processing difficulties. The funding to create this resource has been awarded by the Communication Trust from the Communication Consortium Grants Programme – funded by The Rayners Special Educational Trust.
The Communication Trust Consortium, a coalition of over 35 not-for-profit organisations, is hosted by ICAN. They harness collective expertise to support the workforce and commissioners to support all children and young people's speech, language, and communication skills across the UK. 
This exciting year-long project will be led by Laura Holmes, our Lead Associate for Children and Young People. Laura has been part of the Talking Mats Team since 2016 and has over 20 years' experience of working as a Speech and Language Therapist with children and young people, across a wide variety of settings in both NHS and independent sectors.
New Sensory Resource
This project will develop, pilot and launch a Talking Mats visual communication resource to tune into a child's view of their sensory needs. It will enable children and young people who have speech, language, and communication needs (SLCN) and sensory difficulties to have a voice in their therapy assessment, planning and intervention.
"Sensory integration" and "sensory processing" refer to the processes in the brain that allow us to take the signals from our senses, make sense of those signals and respond appropriately.  Children and young people with sensory processing/integration difficulties often have speech, language and communication difficulties, which may be linked to a diagnosis of autism (Green et al 2016); developmental language disorder (Simpson et al 2020); hearing impairment (Alkhamra et al 2020); or a history of trauma (Fraser et al 2017).  
This work is important as sensory assessments can typically involve a mixture of formal and informal questionnaires and checklists which are carried out with Parents/Carers, Education Staff, and may also involve observations of the child in their environment. The issue is that Child Voice is not always routinely, or effectively, included in these assessments, or in subsequent planning and intervention – however the Royal College of Occupational Therapists recommends that 'person-centred goals/outcomes must be established prior to intervention' (RCOT, Informed View: Sensory Integration and Sensory-Based Assessments 2021). This also links with the current SEND system in England and GIRFEC in Scotland, both of which also emphasise the importance of child voice throughout assessment, planning and intervention processes. 
We plan to work with experienced Talking Mats OT and SLT practitioners working with children and young people who have SLCN and sensory needs, to co-create this resource.
Get Involved
If you, or someone you know, works with children who have a diagnosis of SLCN and sensory needs, and is an experienced Talking Mats practitioner, please share the news about this project.
If this applies to the work that you do, and you would be interested in taking part in this project, please follow this link to express your interest: Communication Trust Project.
Expressions of Interest should be submitted by Friday 23/09/22.
Stay Connected
For more information about Talking Mats, please visit our website www.talkingmats.com or follow us on social media to keep up to date with all our news!
Our new digital platform with enhanced features
Talking mats have been researched and developed over a period of more than 20 years. Initially Talking Mats developed as a paper based communication framework but there was always much interest in having it as a digital resource so our first digital Talking Mats platform was released in 2012.  
In the years since its release the Talking Mats digital platform has helped thousands of people who otherwise would find it challenging to express how they feel, but with the discontinuation of Flash player the opportunity to create a new web-app presented itself. We are delighted to say that it is here! Combining it with the new website means that we are able to include many of the features that our customers have wanted, including the ability to:
Add and save photos
Personalise conversations by adding symbols from other sets
Create and save your own personalised mats ( provided you are foundation trained )
Think through and order your Talking Mats conversation
Change and select an appropriate Top Scale
File your thinker's mat in an easy to retrieve manner
Easily carry out remote Talking Mats conversations
Our Digital Support Officer, Mark, is here to take you through the headlines of the new app, as well as some useful information for existing users.
In a nutshell
The new Digital Talking Mats (DTM) is a subscription-based web app which is access via our new look website www.talkingmats.com. It contains all the Talking Mats resources currently available to purchase to ensure that it can be used in as many different contexts to help as many different people as possible.
The subscriptions
We wanted to ensure that there was a DTM subscription for everyone. To that end, there are three different levels of individual subscription (starter, enhanced, complete) which can be renewed on a monthly or annual basis. There is also a licence specifically for organisations which offers the chance to have multiple users tied to an organisation, all at 'complete' level.
Once you have signed up for a subscription, you can easily see the details in the 'subscriptions' section of your account.
Existing Digital Talking Mats customers
If you had access to version 1 of the digital Talking Mats please keep an eye on your inbox as you will be getting an email giving you access to the new version . If you do not receive such an email please get In touch with us.
App Features and How to Use Them
Once you have subscribed and accessed the app, there is immediately a helpful video which tells you all you need to know about how to use the app. This includes setting up a new thinker, creating a new Talking Mat with the symbols of your choice, and how to view snapshots of previous sessions you have carried out.
Technical Tips
Browsers
All browsers are equal, but some are more equal than others. Our app is optimised for Google Chrome, but will also work on Firefox and Microsoft Edge. Internet explorer is not supported. It is a good idea to make sure your browser is as up to date as possible for the best user experience. Mor detailed information on browser compatibility is available here
Offline Functionality
We recognise that internet is not always available in homes, schools or many other places, and so it is very important to us that the app works offline. Unfortunately due to the fact it is till relatively fresh, the app will not work offline yet, but rest assured this feature is in the pipeline. One option in the meantime is to use a device that can hotspot (most smartphones will have this feature) and carry out a Talking Mat online.
App Navigation
When you are navigating from page to page in the app, it is actually creating overlays on a single web page. This means that when you are in the app, if you press the 'back' button on your browser, it will take you out of the app completely.
If you have any questions about the Digital Talking Mats platform or you are interested in learning more, you can get I touch with Mark at mark@talkingmats.com.
On Wednesday November 10th we held a colloquium with the University of Edinburgh and NHS fife to report on the findings of the research that was funded with the Burdett foundation . The easy-read version of this report can be found here.
48 people attended the online event on Wednesday and engaged in some very thoughtful discussion and reflection on communication in forensic settings. There was much to think about including whether ethos and values align with self-determination , how to get communication taken seriously by staff who are often under huge pressure. Consideration of where power lies in an organisation and an acknowledgment that in order to share power staff themselves need to feel they have power.
The recognition that in the promotion of shared decision making, you increase the risk of people taking what others may see as unwise decisions. The need to support the capacity of people to be involved in decision making early on and in the smaller decisions of life and not leaving including them to a crisis.
The importance of further research in his area and that small clinically driven research projects have an important role to play in addition to ones funded by bigger grants. There is much to digest and we are hoping to keep the conversation going.
If you would like to see for yourself the research presented and the topics discussed at the colloquium you can watch the recording of the Zoom session here.
If you want to attend foundation Talking Mats training please find out more here. if you have completed your foundation training please consider attending the Keeping Safe advanced online module which includes the Keeping Safe resource . If you have the Keeping Safe resource please download the new Being Included bolt on to use with it.
During May we are hosting 3 one hour webinars which will demonstrate the new digital Talking Mats that is currently being developed for us by our technical partners MTC.
The webinar will focus on demonstrating its new features including:
technical specification for use

the range of symbols sets

available

including Keeping Safe

,

Thinking Ahead,

H

ealth and

H

ousing and the

L

eisure subsets of

S

ports and

O

ut and

A

bout

how to add your own photos

how to

make sub

mats ,

how to

us

e

it to support effective

remote

conversations

how to file restore and retrieve individual mats.
The migration from our current system to this will be explained as well as how to purchase and use if you are a new user.
Please note this is not a Talking Mats training.
Choose a webinar that suits your time zone and work pattern and book a place. All times are GMT
SOLD OUT

Tuesday 11

th May 9.30 -10.30 am

SOLD OUT
All webinars are free and we would love to see you to show you he new digital Talking Mats
I stole the lyrics and altered them slightly, but this is the song line that has kept popping into my head over the past few weeks as we find ourselves hurtling through the different phases of lockdown easing. The rules and recommendations that have guided our lives for the past 3 months or so are changing rapidly and change can be difficult.  Communicating how we feel about change and life in general can be difficult.
We have seen creative uses of our resources and have really enjoyed learning how they have helped young people and adults express how they coped throughout lockdown and beyond.  Kirsten Lamb's guest blog about Returning to School After Lockdown is just one example of how the TM framework was invaluable in gaining the opinions of young people as they adapted to ongoing changes over which they had little or no control.
https://www.talkingmats.com/returning-to-school-after-lockdown/
Another Talking Mats practitioner recently tweeted this mat that she did with a college student, showing how Talking Mats helped structure thinking about how life was going.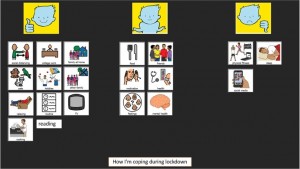 We felt a single resource was needed to help kick start a conversation around Life (but not as we know it; I am sure that's a song too) looking at the following themes:
Family / Friends / Bubbles / Social Distancing
Health
Mood / Emotion
Sleep
Exercise
Work
School / College
Activities
Shopping
Routine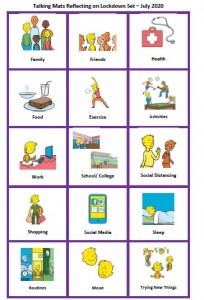 As with every Talking Mat you can change the top scale to be more or less concrete, you can use blanks to add in things that we haven't included, you can leave things out that aren't relevant.  Download your free printable pdf here: LOCKDOWN SET
We look forward to hearing stories from our Talking Mats Community on how you helped others express themselves (definitely another song!)
Since the start of the restrictions placed on us by Covid-19 there have been lots of questions to us about how you can use Talking Mats remotely. We have all been forced to learn quickly what we can and cannot do in a virtual world when we need to be physically distanced from each other.
We have tried various ways to do Talking Mats virtually, but the easiest way we have found is to log into your digital Talking Mats through our website and use the Talking Mat in this mode. Then open your virtual meeting app, e.g. Microsoft Teams or Zoom, and share your screen. For both you can share the control of your screen so your thinker can move the options as you talk them through using the standard Talking Mats principles.
For Microsoft Teams see https://support.office.com/en-gb/article/share-content-in-a-meeting-in-teams-fcc2bf59-aecd-4481-8f99-ce55dd836ce8
For Zoom see https://support.zoom.us/hc/en-us/articles/201362673-Request-or-Give-Remote-Control
Sometimes people run into problems with the Talking Mats  digital log in because they get a message about Adobe Flash. If you get that, our advice would be to try a different browser or if you are using Chrome do the following:
Click on the 3 little dots at the top-right of chrome
Click on "settings"
"Privacy and security"
"Site settings"
"Flash"
Change from "Blocked" to "Ask first"
EXTENDED OFFER to increase digital access during the Covid-19 Emergency
We realise that many of you don't have the digital Talking Mats so we are making it available for a charge of £30.00 including VAT  from now until the END OF 2020. Fill in this form DISCOUNTED DIGITAL TALKING MATS REQUEST FORM. 
(We hope you will understand that we will not release your digital logon until payment is received.) We always recommend the Talking Mats foundation training to get the full benefit from this communication framework so watch out for our online training offer which will be released next week.
On a personal level we have been testing remote use of Digital Talking Mats amongst the Talking Mats team. We used the coping set from our Health and Wellbeing resource and it has helped our own reflections on how we are feeling about the current restrictions on our lives and the impact it is having on us.
We are aware it is still early days and we do not have a lot of experience of using the digital Talking Mats remotely with people with communication difficulties.  It would be good to have a forum for sharing those experiences. We held a virtual meeting on Thursday 23rd April at 10.00 a.m. to do that here is the report of that meeting including a link to a video demonstrating how to set up your digital Talking Mat 20200429 post zoom meeting notes_ no link
Many thanks to our Talking Mats Founder, Dr Joan Murphy, for this latest blog talking about the training course she recently delivered at the Cyprus University of Technology.
Cyprus is a beautiful Mediterranean island with a population of approximately 1 million.
I was invited by Dr Eliada Pampoulou to run a 2-day course on Talking Mats for 12 Speech and Language Therapists, some of whom are masters students and some, lecturing staff at the Cyprus University of Technology. The Cyprus University of Technology founded the first Department of Rehabilitation Sciences  in Cyprus and the Department offers the first public recognised university bachelor degree in Speech Language Therapy / Speech Language Pathology in the Greek language (https://www.cut.ac.cy/faculties/hsc/reh/).
Day 1 was a Talking Mats foundation training course and Day 2 focused on discussion around capacity, research and clinical applications. This model worked very well as the participants were able to think about and discuss how to apply the training immediately.
Some of the immediate plans of the participants were both clinical and research oriented and are outlined below:
To administer the Greek Stroke and Aphasia Quality of Life Scale (SAQOL-39) with healthy people over  50 both with the text version and an adapted Talking Mats version quality and to examine which they prefer.
 To use Talking Mats both with people with people with aphasia and their carers in order to share their understanding about  the communication skills and needs of people with aphasia.
 To use Talking Mats as a tool to identify the factors that are related to AAC system acceptance or abandonment by focusing directly to the views of people with complex communication needs
To use Talking Mats as a goal setting tool for both paediatric and adult population
To use Talking Mats to gets clients feedback about therapy services
To use Talking Mats for student appraisals regarding their clinical training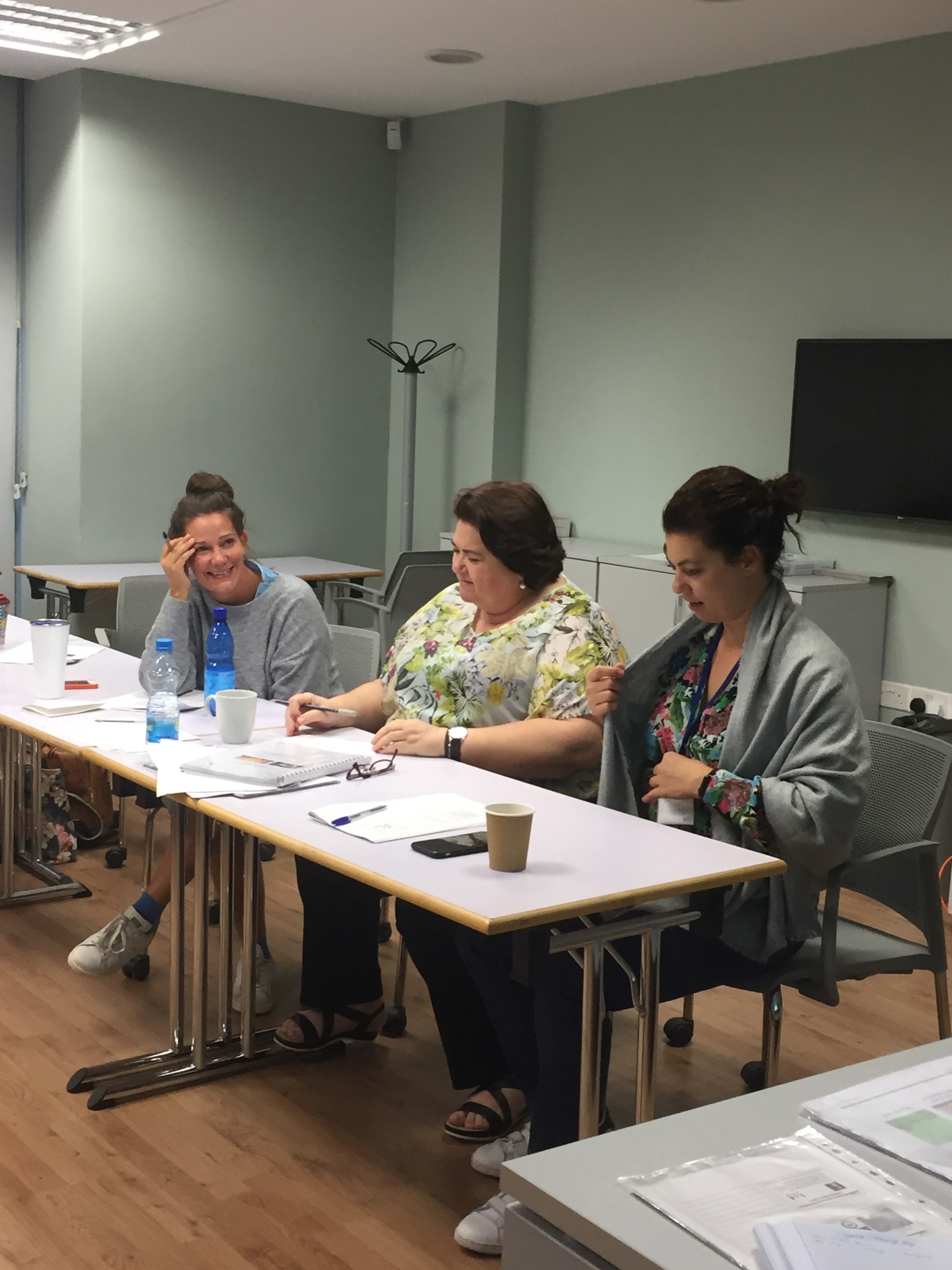 Dr Eliada Pampoulou has created the first Talking Mats centre in  Cyprus which aims to gather all people who received training every few months to share their experiences and support each other to embed Talking Mats in practice and research.
We hope that Eliada will come to Stirling next year to gain her Talking Mats licence to enable her to train others and extend the reach of Talking Mats even further.
We regularly run our Licensed Trainer 2-day courses at our base in Stirling – if you have attended Talking Mats Foundation Training and would like to train other people find out more here:
https://www.talkingmats.com/training/train-the-trainers-accredited-training/
Recently, Associated Prof. Ida Marie Mundt from Denmark completed our Talking Mats licensed trainer course. She has been looking at the theories which underpin Talking Mats and is planning to publish her work. One of the areas she speaks about is Identity.
In this blog, our Talking Mats Associate Rhona Matthews explores the area of Identity:
How do I know who I am? This is learned from actions, behaviour and language firstly with parents and family, then with friends.
For people who have difficulty interacting, this becomes much more difficult. There is a danger that others construct their identity.
A participant on our online training wrote about her experience of doing a Talking Mat for the first time with a girl who uses augmentative communication. She has a severe difficulty expressing her ideas and thoughts.
The topic was leisure activities and the top scale was things I like to do/ don't like to do. She did this quickly and with no great surprises. The listener felt she didn't get particularly useful information.
So she repeated the topic but with a different top scale. Things I am good at/Things I'm not good at.
Not surprisingly there was overlap with the earlier attempt. i.e. the things she felt good at, she liked which included horse riding.
Again the listener felt there was more conversation to be had! The thinker coped easily with another change of top scale which was things I want to get better / don't want to get better at.
This time when the option of horse riding was handed over, the thinker became very animated, nodding in agreement. Not only did she want to improve her horse riding skills but wanted to learn about looking after horses. Her family had no idea that actually she didn't just like riding but saw herself as a rider. This was part of her identity.
As Assoc. Prof. Ida says, Talking Mats offers a possibility to talk about who you are, and get other peoples' responses.
If you are interested in accessing Talking Mats training we offer a variety of options, including online – check these out here:  https://www.talkingmats.com/training/
Last week, Laura Holmes, our NW England Associate, had the pleasure of interviewing our inspirational Founder, Joan Murphy. Joan will be retiring after our Talking Mats 21 event on 15th August 2019 and so this was a great opportunity to find out more about her Talking Mats experiences:
Are there any stand-out moments for you, from your Talking Mats time?
Talking Mats are now used in many countries across the world and it has been great to have the chance to travel widely. One particular moment which stands out for me was during one of two trips I made to China with Sally Boa. I was asked to demonstrate Talking Mats with a man who was in hospital having had a stroke. He had no speech and was using a wheelchair. I used Talking Mats to find out what the man felt he could/ couldn't do. The man shared that he felt he could walk. I had to present the symbol three times as the family members and medical staff watching were adamant that the man could not walk. On the third time, the man pushed the table, moved his wheelchair back then stood up and walked around the room. His family and medical team were completely shocked and realised that no-one had actually thought to ask him if he could walk. This was a massive turning point both for the man – and also for his family and medical team, who could now see the power of using a Talking Mat.
Have you done any Talking Mats yourself that helped you to make an important decision for you or your family?
Absolutely – quite a few! My husband and I both used Talking Mats for our Power of Attorneys and shared them with our lawyer and grown-up children. My husband and I also used Talking Mats to talk about the Scottish Referendum as we had opposing views – it really helped as it made us listen to each other without interrupting. We then went on to use the mats as part of a presentation. Various members of my family have used mats to explore personal issues and decisions 
What are the top tips you have gained from your Talking Mats journey – from working in the NHS and then more recently as a social enterprise?
You have to have humour. And be able to listen. It has been essential to be able to work in partnership with Lois and the other Talking Mats team members. The team are such nice people to work with and we have lots of laughs. Setting up as social enterprise was vital for Talking Mats – in terms of having the freedom to be creative. It felt as though someone had a big rubber band which was able to be released. It was a huge risk and there have been lots of leaps of faith along the way.
Do you have any top tips for people using Talking Mats in the Listener role?
Be quiet – and Listen! It's also important to feel relaxed and to have a sense of humour whilst using it. A Talking Mat is not a test – it is serious, and can be used to explore difficult issues, but it should be fun.
Talking Mats is a low-tech AAC system – do you think it has a place in the modern world?
It is absolutely crucial! Low-tech resources are fundamental in terms of being able to have and develop conversation skills and social closeness.
What do you want for Talking Mats in the next 10 years?
World Domination! Talking Mats has the potential to be used everywhere in the world, by everyone. However I would like to see Talking Mats continue to have a small core team, but increasing Licensed Trainers across both the UK and the rest of the world.
Our Talking Mats is 21 Event is in Stirling on Thursday 15th August 2019.  Thanks to funding from NHS Forth Valley endowment committee the event is free but you do need to book your space https://www.eventbrite.co.uk/e/talking-mats-is-21-tickets-62362171935
You can come to the morning only, afternoon only or come for the whole day.
If you can't come to our event watch out for out blogs and social media celebrating the reach of Talking Mats for 21 days before the 15th of August.  Please join in with your contributions using the hashtag #TMis21. For 21 days after our event we will be having a special Birthday offer! Watch this space, more to follow …….