Thanks to Kate Boot for the second part of her interesting blog describing her use of Talking Mats to assess and teach understanding of concepts and vocabulary related to Relationships and Sex Education, illustrating use of Talking Mats in a teaching context. Check out the first part of her blog here: https://www.talkingmats.com/sex-and-relationships-part-one/
In the second part of this two-part blog series, I explore how using Talking Mats enables us to review the progress of linguistic and pragmatic understanding within the context of Relationships and Sex Education.
Considering the speech and language therapist's focus is on increasing a person's linguistic and pragmatic understanding we also use talking mats to explore potential target vocabulary and concepts. Drawing on the best evidence-based practice from the developmental literature (Steele and Mills, 2011; Justice et al, 2014; Lowe et al, 2018) we need to use a variety of methods to teach the underpinning vocabulary which wider RSE concepts relate to or hinge upon, e.g., safe, consent, power and control.
Using Talking Mats enables me to assess what the student already knows or understands of the vocabulary, which in turn informs the ongoing therapy programme, e.g., the degree of prompting or support needed to learn new words and to apply them to situational contexts. We repeat these activities throughout the academic year to evaluate how well the therapy programme is going and how the young adult's understanding is developing.
Thinking back to Young Adult B from the first part of this blog, from their initial assessment, it was evident that they did not understand the word 'safe', therefore applying the evidence base described above we spent one term working on developing their understanding using a variety of communication friendly strategies. They even wrote two songs about the word 'safe' to the tune of Jingle Bells and Ariana Grande's 'Thank u, next'. Towards the end of the term, we completed a talking mat activity to review their progress. As I referred to in Part One it's important to give control to the 'thinker', it is their mat.
Moving forwards, we will continue to review their progress using Talking Mats, which combined with the data from other best evidence-based practice will be used to determine the increase in their word knowledge which in turn, should develop their self-awareness and improve their skills needed to make decisions about sexual relations.
Kate Boot is Clinical Lead, Specialist Speech and Language Therapist and Sensory Integration Practitioner at Phoenix Learning and Care. To share ideas or chat further about this work you can contact her via Twitter @SLTinSEND or LinkedIn www.linkedin.com/in/kate-boot-salt
References
Justice, L. M., Schmitt, M. B., Murphy, K. A., Pratt, A., & Biancone, T. (2014). The 'robustness' of vocabulary intervention in the public schools: targets and techniques employed in speech–language therapy. International Journal of Language & Communication Disorders, 49(3), 288-303.
Lowe, H., Henry, L., Müller, L. M., & Joffe, V. L. (2018). Vocabulary intervention for adolescents with language disorder: a systematic review. International Journal of Language & Communication Disorders, 53(2), 199-217.
Steele, S. C., & Mills, M. T. (2011). Vocabulary intervention for school-age children with language impairment: A review of evidence and good practice. Child Language Teaching and Therapy, 27(3), 354-370.
Join the twitter chat exploring the recommendations of the Citizen's Jury for people with intellectual disabilities and need for inclusive research practices In 2018 the Scottish Learning Disabilities Observatory and Talking Mats were funded by the Wellcome Trust to set up a Citizens' Jury for people with learning/intellectual disabilities. We wanted to develop and test an adapted method of deliberative democracy, and hopefully to demonstrate that people with learning/intellectual disabilities can consider complex questions relating to health research. We also wanted to show that with resources, planning and good quality facilitation this could lead to valuable insights into inclusive research.
After a period of knowledge and skills development with our citizens' jury members we held the jury over 5 days at the end of 2019. In early 2020 the Jury published their consensus report containing 10 recommendations for health research. You can watch a video the jury members made to communicate the recommendations here: Research Voices Citizens' Jury: Our recommendations Involving People with Learning Disabilities – YouTube We believe that this report provides crucial insights into how people with learning/intellectual disabilities want to have their voices heard when it comes to health research. The next stage for us and the jury members is to secure further funding to build on this work and take forward the jury's recommendations.
Through the Research Voices project we wanted to share our learning and develop resources that could be shared with the research community. Our evaluation report provides a detailed review of the Research Voices project with comprehensive information about the jury process and outcomes. There is an easy read version available.
On Tuesday the 8th of June we will host a twitter chat about inclusive health research from 7pm – 8p.m . We hope to welcome researchers, self-advocates, third sector organisations, carers and others to contribute to this discussion. If you have never joined a twitter chat before this is your opportunity. Here is how:
At 7p.m on the 8th June go to twitter search on the hashtag #researchvoices.
The first thing will be introductions – people can say who they are and where they come When you respond in a twitter chat always use the hashtag of the chat, in this case, #researchvoices. Using the hashtag allows everyone to see the conversation.
Then we will post question 1 – when you respond to a question start with the question number e.g. Q1 but still remember to use the hashtag #researchvoices
Later on question 2 and question 3 will be posted. To respond put Q2 or Q3 and the hashtag #researchvoices
You can either respond directly to the questions or respond to the comments that other people have posed by saying what you liked or by asking them another question. Remember still use the hashtag #researchvoices in your response.
Sometimes people just want to observe the conversation. That's fine too but remember you can join in the conversation at anytime
We look forward to seeing you on the 8th of June for this important twitter chat to share ideas and good practice
Questions….
Q1 How do the recommendations of the citizens Jury align with current research practice, what changes will you make to implement them, and what are the barriers to implementation?
Q2 What does successful inclusive practice look like to you – share your top tips for promoting inclusive research?
Q3 Inclusive research builds skills, expectations and connections with researchers with learning disabilities. Does the research community have responsibility for maintaining this long term and if so how?
In the UK we are emerging out of lockdown and there are concerns about the impact on the mental health of people at all ages and stages of life. This is a good time to reflect on the wide variety of blogs that have signposted how useful Talking Mats can be in helping people to think, structure coherent responses, and express their views. If this is an area of interest to you then take a look at these blogs to find out more:
Jo Brackley

, NHS Clinical Lead for SLT Secure

Services

 

(

Cumbria, Northumberland

,

Tyne and Wear NHS Foundation Trust

)

describes how Talking Mats helps people with mental health open up

and have

richer conversations

,

with increased novel information gained.

https://www.talkingmats.com/covid19_securehospitalsetting/
Georgia Bowker-Brady, Advanced Specialist SLT (Berkshire Healthcare Foundation Trust)

describes how

using Talking Mats

in dementia care and acute health patient inpatient s

ervices

helps patients organis

e

their thoughts and express what is going well for them

,

as well as what

isn't

.

https://www.talkingmats.com/acute-mental-health/
We would love someone to carry out some research in this field, so if this sparks a research, or blog idea, please get in touch with us at info@talkingmats.com.
Many thanks to Peter Just, Head of External Affairs, RCSLT and Padraigin O'Flynn, External Affairs Assistant, RCSLT for this blog describing the newly launched UK-wide RCSLT Survey, which includes free Talking Mats resources to support those with communication difficulties to have their voices heard.
Like many of you, the Royal College of Speech and Language Therapists (RCSLT) has been worried about the impact of COVID-19 on people with communication and swallowing needs. Based on what we've heard from our members, service user organisations and service users themselves we've been very concerned about how the UK-wide lockdown (March-June 2020) affected people's access to the speech and language therapy they and their families and carers need.
To help us understand the issue better and to inform our response, we've just launched a UK-wide survey. Following consultation with service user organisations, the three key questions we're asking are:
How did lockdown affect your speech and language therapy?

What impact did this have

on you?

What are your thoughts about the future?
From the start, we were clear: we wanted the survey to be as accessible as possible to as many people as possible, no matter how they communicate and no matter what their communication preference is. Over the past couple of months, we've worked with members to produce the survey in a range of accessible formats.
We're particularly delighted that one of those formats is Talking Mats – and we're very grateful to Lois and Laura for all their advice and support . As you will know better than anyone, the mats will enable people to give us their views and tell us how they've felt and are feeling. We are delighted the mats will provide people with the means to self-advocate – this will add a richness to the survey findings that they might otherwise lack.
We'll be working with service user organisations to promote the survey to their networks. But we'd also really like your help too. Please share the survey and encourage as many people as possible to fill it out. The more voices we hear, the more stories we collect and the more responses we receive, the greater the impact of the survey findings will be.
Those findings, which we hope to publish early in the New Year, will be used to influence Governments, Parliaments and Assemblies across the United Kingdom. The case that will be making to ministers, officials and parliamentarians – that people must have access to the speech and language therapy they need – will be all the stronger for it being based on service users' lived experiences. The very powerful testimony that the mats will provide will strengthen that case even further.
The survey is open until 5pm on Friday, 8th January 2021 and you can find more information about it here:
https://www.rcslt.org/learning/has-coronavirus-affected-your-access-to-speech-and-language-therapy
We hope you find the mats useful and if you had any queries or wanted any more information, please let us know. We look forward to working with you to help make a difference to the lives of people with communication and swallowing needs.
Peter Just, Head of External Affairs, RCSLT
Padraigin O'Flynn External Affairs Assistant, RCSLT
Following on from last week's guest blog, Edith Barrowcliffe from the Action Group describes how she has continued using Talking Mats throughout lockdown. Please note that the image used in this blog is from a mock session and has been taken for publicity purposes only.
In the second week of March I was running a 9 week old pilot counselling service (HearMe at The Action Group) for adults with cognitive and/or communication difficulties, supported by Talking Mats.
A week later lockdown catapulted me into remote working and demonstrated just how crucial Talking Mats were. Without access to the digital app or a suitably high resolution webcam my first online sessions were conducted without them. One client immediately began struggling to retain the thread of their subject matter.
I quickly rigged up a secondary webcam, allowing me to shift between my face and a clear view of the physical mat on my desk. Clients direct me how to place the symbols for them.
I've recently acquired a Talking Mats digital license and am pleased to find I can add in additional images. My experience with the physical cards is that allowing the client to direct the session often means searching through multiple different sets or hastily drawing new images. We move at a slower pace because of this but it seems to be an important way of giving weight and attention to whatever the client (Thinker) brings. My fantasy version of the digital talking mats app would include an image search function allowing me to rapidly search all the symbols in all the sets, pick one and caption it appropriately mid-session!
The client I mentioned above uses Talking Mats in this very freeform way – when they tell me something I ask if they want to put it on the mat and they will reply yes, or no. Once I've located or drawn the image they tell me where to place it. Towards the end of the session we review the mat, photograph it, and I send them the picture.
Another client uses a more structured approach. I present a choice of symbol sets based on topics that seem to be important to them (eg home environment, relationships, mobility). They select a topic and we begin a more typical talking mat, giving us a framework and focus to explore their feelings around each symbol. After a while the client/Thinker moves on to other emotionally weighted topics unrelated to the symbol set and we transition into something more akin to "regular" counselling – albeit with simplified, concrete, reflections of the kind proposed by Garry Prouty [1] Yet the Talking Mat seems to provide a "way in" to these deeper feelings that we otherwise don't reach.
Not everyone uses Talking Mats. Lockdown has limited my capacity to offer it – not all clients have a computer/tablet for video calls and some clients actively prefer the phone. I'm continuing to learn, explore and find my way with this very diverse client group, but there is no doubt that Talking Mats opens up emotional exploration for some who might not normally manage it.
Edith Barrowcliffe, Hear Me, The Action Group
With thanks to our funders and partners for making this work possible – Hospital Saturday Fund, The Action Group Board, Leith Benevolent Society, Port o'Leith Housing Association, and The Scottish Government. And to the team at Talking Mats for their support and help!
[1] [PROUTY, G. (2008) Pre-Therapy and the Pre-Expressive Self. In: PROUTY, G. (ed.) Emerging Developments in Pre-Therapy. Monmouth: PCCS Books; also PÖRTNER, M. (2007) Trust and Understanding. Revised Ed. Ross-on-Wye: PCCS Books, pp82-85].
A new, updated version of our Digital app, will be available in the New Year. You can download a free taster version of our app here:
https://www.talkingmats.com/product/talking-mats-taster/
For more information about using Talking Mats remotely, check out this recent blog:
https://www.talkingmats.com/using-talking-mats-remotely/
Many thanks to Edith Barrowcliffe from The Action Group for sharing her experiences of using Talking Mats to support counselling with adults who have cognitive or communication difficulties. Watch this space for Edith's follow-up blog next week which will describe how she has continued to use Talking Mats during lockdown.  Please note that the image used in this blog is from a mock session and has been taken for publicity purposes only.
Eleven years ago, I began working at The Action Group with adults who have additional support needs and was struck by how many had mental health difficulties that they were getting little help with. Sadly, with services scarce enough for the "mainstream" population, I could see why.
The issue resurfaced for me in 2016 when I began training as a counsellor. I kept returning to whether talking therapy was possible with those who had difficulty communicating – or even thinking about – their feelings.
Then in 2019, I attended Talking Mats training. Immediately excited by the potential for emotional connection, I signed up for the advanced "Keeping Safe" training and approached The Action Group's CEO with the beginnings of a plan.
I'm fortunate in working for an organisation willing to take new ideas and run with them. Within six months I was embarking on a pilot project, called HearMe, offering counselling to adults with cognitive or communication difficulties, with Talking Mats as a key method to help overcome those barriers. Within a fortnight of opening the service was full to its limited capacity and had a waiting list!
The work has been experimental, learning as I go and adapting to the particular needs of each client. To conduct initial assessments, I've assembled symbols based on "Thoughts and Feelings" from the "Keeping Safe" pack. We return to this to review progress. Most clients have used a top scale of "True"/ "Not True" with statements "about me" for the assessment. We always begin with a practice mat based on more neutral material, allowing the client (Thinker) to learn what's involved and me to gauge whether the mat is right for them. This is crucial – one client found a way to frame everything we placed on the mat positively even when they'd been able to tell me the opposite was true a moment before! In this case we simply used each symbol as a focus for exploration.
We've kept the number of questions relatively small, but the assessment can take two or three sessions to complete as clients often respond quite deeply to the symbols.
Some more verbally able clients move on to a more "freeform" style of counselling as we progress, relying less on the mat to open up. But even in these cases having symbols on hand can be helpful. One client brought up the topic of sex – then apologised and asked if it was OK to talk about it.
"It's fine," I was able to reassure her, producing the relevant symbol. "Look, we even have a picture for it". She laughed and visibly relaxed, the card giving her tangible evidence that the topic was allowed.
It's still early days, but from the feedback we've received so far, the project really seems to be helping people to open up, express feelings they've never given space to before, and explore ways they want to change their lives.  The power of simply being heard.
Edith Barrowcliffe, Hear Me, The Action Group
 With thanks to our funders and partners for making this work possible – Hospital Saturday Fund, The Action Group Board, Leith Benevolent Society, Port o'Leith Housing Association, and The Scottish Government.  And to the team at Talking Mats for their support and help!
Follow the link below to find out more about our Keeping Safe training (now available online) and resource:
https://www.talkingmats.com/keeping-safe-a-new-talking-mats-resource-available-to-purchase/
As a group of Allied Health Professionals (AHPs) working in a secure hospital we recently embarked on a mini project using Talking Mats to check in with our service users with learning disabilities during Covid-19. We collated the evidence from our respective professional bodies (Royal College of Occupational Therapy, Royal College of Speech and Language Therapy, Chartered Society of Physiotherapists and British Dietetic Association) in terms of changes that people might experience if they'd had Covid-19 and produced a talking mat around these.  
It quickly dawned on us that we might be on to something here, and that creating an opportunity to 'check in' more broadly with our service users would serve a useful purpose, so we added some additional categories around changes to routine, psychological wellbeing and feeling safe.  
This was my colleagues' first experience of using talking mats, and their faces when I turned up clutching my 99p actual doormat were a picture! I introduced them to the theory behind the mat and its presentation and harped on about the benefits in terms of attention, comprehension, non-threatening interaction, initiation and structuring narrative; they nodded supportively.  
We set off across our learning disability wards in multi-disciplinary pairs and all but a few of the service users agreed to have a chat with us. My colleagues commented that they were pleasantly surprised by the engagement and the amount and novelty of the information gained; we  identified things that the service users hadn't told anyone because they hadn't been asked that question!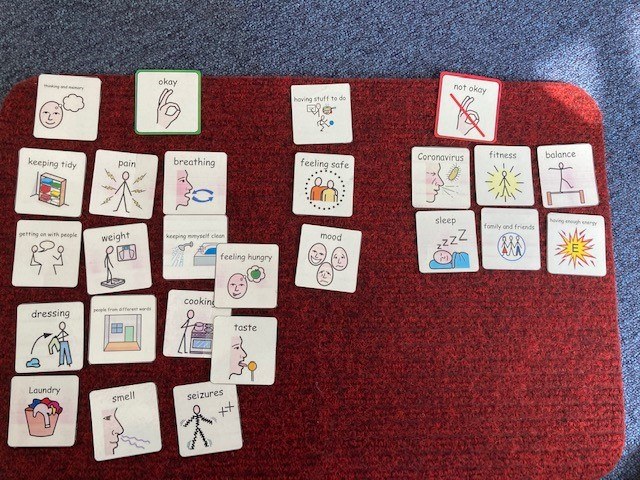 In talking to others we were asked why weren't rolling this out in a partner secure hospital for people with mental health conditions? 'no reason really, we just haven't got there yet' we answered. Then came the…. but we can just do it like a questionnaire with them. This question wasn't, and in my experience isn't ever ill meant. It comes from a place of naivety in relation to the presence of communication difficulties in people with mental health conditions and because of that, lack of exposure to different professional groups such as Speech and Language Therapy and the skills and approaches we have to offer. Skills in gaining and holding someone's attention. Skills in decreasing pressure in communication situations. Skills in enabling time, space and ways in which people can initiate their thoughts.  
The Multi-Disciplinary Team (MDT) working around the project has enabled me to show others how talking mats can support their practice. It has enabled them to see how a very simple and non-threatening visual tool can open up conversations and lead to information that the service users hadn't shared before, in a way that a face to face conversation doesn't.  
Thanks to Jo Brackley, Clinical Lead, Speech and Language Therapy Secure Services at Cumbria, Northumberland Tyne and Wear NHS Foundation Trust for this inspiring blog – which demonstrates when we shift the way we listen and gather information from patients we get a different result and improve the quality of information and communication . If you or your team want to consider Talking Mats training then we can provide this for organisations . At the moment we can take a cohort through our online course together and then arrange a zoom call to discuss application to your work setting  – email info@talkingmats.com for more information.
Our first Talking Mats advanced online module has launched. We are pleased we had developed our online foundation training well before lockdown. There has been such great feedback from people who have completed our online foundation course and they have been asking for more. They like the bite size chunks, being able to pace their own learning and the reflective practice approach. Now we are adding to our online course with an advanced Talking Mats module focusing on Talking Mats use in safeguarding. This course is structured around the Talking Mats Keeping Safe resource and how to use it.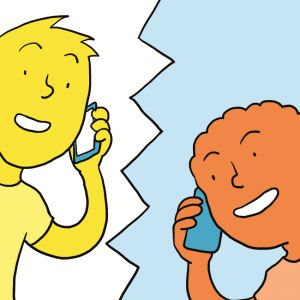 The Keeping Safe Talking Mats resource was developed to check in with people and find out how their lives are going. It uses a holistic framework to do this and the conversation it supports is structured around three topics: 1) well-being; 2) relationships; 3) thoughts and feelings. The resource was trialled and tested in projects involving over 700 practitioners. Originally, it was designed for people with learning disabilities but feedback has been that it has been helpful with a wide range of people including, those with stroke, head injury, dementia and mental health issues.
The advanced online module involves 2 to 3 hours of learning that you do at your own time and pace. It involves short talks, reading, videos and reflective practice activities. You will develop confidence in using the resource as well as an understanding of relevant issues, such as diagnostic overshadowing, developing the capacity of individuals to raise concerns, the impact of trauma. You will be encouraged to reflect on how you can apply the Talking Mats Keeping Safe resource to your own area of practice
To apply for the course, you must have completed your foundation Talking Mats training.  If you haven't completed this training book now – there is still the reduced price training offer if you book your place before the end of August 2020. Access to this advanced course will begin on the first of every month and you will have the full month to complete it.
Book your place now. The cost is £85 for the course and the Keeping Safe resource and £35 if you already have your Keeping Safe resource and just want to do the training.
What do the young people I work with think and feel about returning to school after lockdown? I am a Speech and Language Therapist working within the Learning Centre at the Donaldsons Trust in Linlithgow. I work with young people with a variety of communication needs and although the Learning Centre was closed for a short period, we re-opened a few weeks ago to provide continuity for our young people who all have additional needs. Given the current situation, many changes having been put into place to ensure the safety of the staff and children in these unprecedented times. This has included children coming in part-time and on different days from some of their peers and a designated staff team for each group of children. For some children the changes have also meant that their parents now drop them to school rather than coming in a taxi and they have their temperatures taken on arrival. The children now see some staff wearing PPE and they are asked to socially distance from those in their class. They have all coped incredibly well, adapting and accepting these 'new normals'. As a team we have tried hard to make the transition back into the Learning Centre as relaxed as possible as many of our young people find change difficult to manage.
Prior to lockdown I was almost finished my foundation Talking Mats course and was about to submit my video assessment. Lockdown meant that this did not go ahead as planned. On returning to work, I felt a Talking Mat would be a perfect way of exploring the children's feelings and opinions about the changes that they have been faced with both at home and within the Learning Centre. I printed symbols which I felt were the most relevant for the current situation and this included symbols such as 'socially distancing', 'having temperature taken', 'coming to school in the car with mum and dad', 'staff wearing masks' and 'friends coming on different days' I  used the top scale of  'this is working  well ' – 'I'm ok with this'-  'this isn't working well'. I completed the mat with one of our pupils as part of my video assessment, but the aim is to complete with all of the young people within the Learning Centre over the next few weeks.
The outcome from the completed mat was very helpful .Using Talking Mats allowed me to gather information in a clear way that I would not have been able to do otherwise. The framework allowed for improved understanding of the questions presented as well as a clear and visual way to indicate responses. I feel that having the Talking Mat as a tool has been a wonderful resource to gather the opinions of the young people in order to make sure that we are minimising any anxieties that they may be feeling. We hugely value and respect the opinions of our young people and allowing them a means of sharing their opinions about what is happening around them, through the use of Talking Mats, has been invaluable.
Thanks to Kirsten Lamb for her helpful blog describing how she used Talking Mats to help the young people express their views about adjusting to the new normal . If you want to develop your Talking Mats skills like Kirsten then take advantage of the reduced training during lockdown.   Training Order Form – 30% Discount
Many thanks to our new Talking Mats Research Associate, Dr Jill Bradshaw (Tizard Centre, University of Kent), for this latest blog focusing on how Talking Mats can help people with communication difficulties to express themselves – to help work out the reasons for behaviour that challenges.
We know that around 10-15% of people with intellectual and developmental disabilities display behaviour that can be challenging.  This might include hitting out at other people or injuring themselves.  These behaviours can serve very important functions for the individual (e.g. to avoid something unpleasant or to get a need met).  When we try to help make things better, we often focus on improving communication, quality of life and health and wellbeing more broadly.
How do we work out why behaviours that are challenging occur?
We often spend time observing the person and talk to carers and staff who work with the person to gain information about what is working well and what might help.  This is part of a functional analysis.  Here, the aim is to identify the factors that have led to and are maintaining the behaviours displayed.   Traditionally, we have not really asked people directly what they think.  This is partly people who display behaviour that challenges almost always have complex communication challenges.
How can we better access views of children and adults and would Talking Mats be one way of gaining views?
Together with Nick Gore, we have been working on ways of using Talking Mats to enable children and adults to give their views.  We developed a series of mats focusing on:
Likes and dislikes;
Difficult behaviours;
Things that help;
Things that don't help;
General preventative variables.
What happened when we used the Talking Mats?
People were able to use these Talking Mats to tell us about what was important to and important for them.  Some information was similar to reports from carers and staff and some information was in addition.   For example:
we gained information about preferred activities, such as riding bikes and preferred snacks. Doing things we like to do is important for all of us!;
people gave us information about their difficult behaviours and where these took place;
people were also able to give us at least some information about what made a bad day and what helped on a bad day. This information helped to inform support strategies.
You can read more about this work here: https://kar.kent.ac.uk/67033/1/PDF_Proof%20%283%29.pdf
Using Talking Mats certainly enabled some people to give their views.  It was particularly helpful as a way of talking about difficulties, where a focus on the mat rather than on direct questioning was useful.
As expected, more people were able to access the more concrete topics we discussed and the more abstract topics were more difficult.  We have also been working with the Challenging Behaviour Foundation to develop a range of methods (including Talking Mats) to help to gain the views of people with communication challenges.  You can read more about this work here:
https://www.challengingbehaviour.org.uk/learning-disability-assets/valuingtheviewsofchildrenwithalearningdisability.pdf
To view Jill's presentation about this topic from our Talking Mats is 21 event last August, click here: TM and PBS final version for handout
If you are interested in Talking Mats and Research and have completed our Foundation Training Course, you can find out more about our new Talking Mats Research Network Group by emailing Jill at  J.Bradshaw@kent.ac.uk, and watch this space for a new blog all about the group – coming soon!