The recent RCSLT survey (https://www.talkingmats.com/rcslt_survey/) has been aimed at finding out how access to Speech and Language Therapy was affected by the first COVID-19 lockdown, from March 2020 to June 2020. This has now come to an end, and the results are due to be published next month.
Given that we are now in our third lockdown as a result of the ongoing COVID-19 pandemic, we are pleased to announce that RCSLT will continue to be gathering Talking Mats examples up until the end of June 2021. These examples should be focusing on the current lockdown (January – March 2021). We would love to hear about the responses you have been getting from the children, young people, and adults who access your Speech and Language Therapy services. Remember it is possible to use these resources during remote sessions by holding the mat up to the screen.
The Talking Mats RCSLT survey sets comprise of 3 topics:
Face-to-Face
For those of us who are able to deliver face-to-face Speech and Language Therapy sessions, we find ourselves continuing to don PPE, and use social distancing. What has been the impact of this on those we are working with? The topscale we recommend for all the topics in this set is 'Happy with/ Not Sure/ Not Happy With'.
2. Online
Many Speech and Language Therapy sessions are now being delivered online, using platforms such as Attend Anywhere/Near Me, or Teams/Zoom. What has been the impact of this on those we are working with?
3. My Life
This final topic focuses on the more general area of 'My Life'. What has been the impact of this current lockdown on the general quality of life experienced by those we are working with, and what are their thoughts for the future? This can help to open up the conversation in relation to their communication and/or dysphagia needs.
We recommend that those using this resource have accessed our Talking Mats Foundation training. Ideally the mats should be carried out by someone other than the SLT to avoid any skewing of responses, however we understand that this is not always possible, and so if the SLT has carried out a session themselves, we would suggest that this is noted in the feedback form.
Watch out for the second part of this blog which will focus on providing some real-life examples for each of the above topics. If you have any you would like to share with us, we would love to hear from you.
For further guidance on how to use this resource, follow this link: https://www.rcslt.org/wp-content/uploads/2020/12/TM-20201008-TM-RCSLT-guidance-text.pdf
Find the feedback form which you can use to submit your responses to RCSLT here: TM RCSLT TM feedback form
Many thanks to Peter Just, Head of External Affairs, RCSLT and Padraigin O'Flynn, External Affairs Assistant, RCSLT for this blog describing the newly launched UK-wide RCSLT Survey, which includes free Talking Mats resources to support those with communication difficulties to have their voices heard.
Like many of you, the Royal College of Speech and Language Therapists (RCSLT) has been worried about the impact of COVID-19 on people with communication and swallowing needs. Based on what we've heard from our members, service user organisations and service users themselves we've been very concerned about how the UK-wide lockdown (March-June 2020) affected people's access to the speech and language therapy they and their families and carers need.
To help us understand the issue better and to inform our response, we've just launched a UK-wide survey. Following consultation with service user organisations, the three key questions we're asking are:
How did lockdown affect your speech and language therapy?

What impact did this have

on you?

What are your thoughts about the future?
From the start, we were clear: we wanted the survey to be as accessible as possible to as many people as possible, no matter how they communicate and no matter what their communication preference is. Over the past couple of months, we've worked with members to produce the survey in a range of accessible formats.
We're particularly delighted that one of those formats is Talking Mats – and we're very grateful to Lois and Laura for all their advice and support . As you will know better than anyone, the mats will enable people to give us their views and tell us how they've felt and are feeling. We are delighted the mats will provide people with the means to self-advocate – this will add a richness to the survey findings that they might otherwise lack.
We'll be working with service user organisations to promote the survey to their networks. But we'd also really like your help too. Please share the survey and encourage as many people as possible to fill it out. The more voices we hear, the more stories we collect and the more responses we receive, the greater the impact of the survey findings will be.
Those findings, which we hope to publish early in the New Year, will be used to influence Governments, Parliaments and Assemblies across the United Kingdom. The case that will be making to ministers, officials and parliamentarians – that people must have access to the speech and language therapy they need – will be all the stronger for it being based on service users' lived experiences. The very powerful testimony that the mats will provide will strengthen that case even further.
The survey is open until 5pm on Friday, 8th January 2021 and you can find more information about it here:
https://www.rcslt.org/learning/has-coronavirus-affected-your-access-to-speech-and-language-therapy
We hope you find the mats useful and if you had any queries or wanted any more information, please let us know. We look forward to working with you to help make a difference to the lives of people with communication and swallowing needs.
Peter Just, Head of External Affairs, RCSLT
Padraigin O'Flynn External Affairs Assistant, RCSLT
Many thanks to Edith Barrowcliffe from The Action Group for sharing her experiences of using Talking Mats to support counselling with adults who have cognitive or communication difficulties. Watch this space for Edith's follow-up blog next week which will describe how she has continued to use Talking Mats during lockdown. Please note that the image used in this blog is from a mock session and has been taken for publicity purposes only.
Eleven years ago, I began working at The Action Group with adults who have additional support needs and was struck by how many had mental health difficulties that they were getting little help with. Sadly, with services scarce enough for the "mainstream" population, I could see why.
The issue resurfaced for me in 2016 when I began training as a counsellor. I kept returning to whether talking therapy was possible with those who had difficulty communicating – or even thinking about – their feelings.
Then in 2019, I attended Talking Mats training. Immediately excited by the potential for emotional connection, I signed up for the advanced "Keeping Safe" training and approached The Action Group's CEO with the beginnings of a plan.
I'm fortunate in working for an organisation willing to take new ideas and run with them. Within six months I was embarking on a pilot project, called HearMe, offering counselling to adults with cognitive or communication difficulties, with Talking Mats as a key method to help overcome those barriers. Within a fortnight of opening the service was full to its limited capacity and had a waiting list!
The work has been experimental, learning as I go and adapting to the particular needs of each client. To conduct initial assessments, I've assembled symbols based on "Thoughts and Feelings" from the "Keeping Safe" pack. We return to this to review progress. Most clients have used a top scale of "True"/ "Not True" with statements "about me" for the assessment. We always begin with a practice mat based on more neutral material, allowing the client (Thinker) to learn what's involved and me to gauge whether the mat is right for them. This is crucial – one client found a way to frame everything we placed on the mat positively even when they'd been able to tell me the opposite was true a moment before! In this case we simply used each symbol as a focus for exploration.
We've kept the number of questions relatively small, but the assessment can take two or three sessions to complete as clients often respond quite deeply to the symbols.
Some more verbally able clients move on to a more "freeform" style of counselling as we progress, relying less on the mat to open up. But even in these cases having symbols on hand can be helpful. One client brought up the topic of sex – then apologised and asked if it was OK to talk about it.
"It's fine," I was able to reassure her, producing the relevant symbol. "Look, we even have a picture for it". She laughed and visibly relaxed, the card giving her tangible evidence that the topic was allowed.
It's still early days, but from the feedback we've received so far, the project really seems to be helping people to open up, express feelings they've never given space to before, and explore ways they want to change their lives. The power of simply being heard.
Edith Barrowcliffe, Hear Me, The Action Group
With thanks to our funders and partners for making this work possible – Hospital Saturday Fund, The Action Group Board, Leith Benevolent Society, Port o'Leith Housing Association, and The Scottish Government. And to the team at Talking Mats for their support and help!
Follow the link below to find out more about our Keeping Safe training (now available online) and resource:
https://www.talkingmats.com/keeping-safe-a-new-talking-mats-resource-available-to-purchase/
I stole the lyrics and altered them slightly, but this is the song line that has kept popping into my head over the past few weeks as we find ourselves hurtling through the different phases of lockdown easing. The rules and recommendations that have guided our lives for the past 3 months or so are changing rapidly and change can be difficult.  Communicating how we feel about change and life in general can be difficult.
We have seen creative uses of our resources and have really enjoyed learning how they have helped young people and adults express how they coped throughout lockdown and beyond.  Kirsten Lamb's guest blog about Returning to School After Lockdown is just one example of how the TM framework was invaluable in gaining the opinions of young people as they adapted to ongoing changes over which they had little or no control.
https://www.talkingmats.com/returning-to-school-after-lockdown/
Another Talking Mats practitioner recently tweeted this mat that she did with a college student, showing how Talking Mats helped structure thinking about how life was going.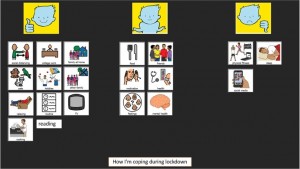 We felt a single resource was needed to help kick start a conversation around Life (but not as we know it; I am sure that's a song too) looking at the following themes:
Family / Friends / Bubbles / Social Distancing
Health
Mood / Emotion
Sleep
Exercise
Work
School / College
Activities
Shopping
Routine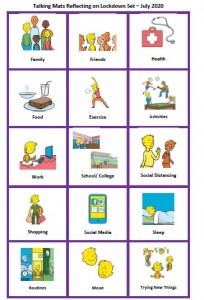 As with every Talking Mat you can change the top scale to be more or less concrete, you can use blanks to add in things that we haven't included, you can leave things out that aren't relevant.  Download your free printable pdf here: LOCKDOWN SET
We look forward to hearing stories from our Talking Mats Community on how you helped others express themselves (definitely another song!)
In the second of two blogs, we talk about how using Talking Mats Resources can help people have better conversations.   
Our first Resources blog (https://www.talkingmats.com/resources-with-training/) focused on the resource bundles which are available to purchase with our Foundation Training course.  This second blog focuses on the resources which are available to people who have completed our Foundation Training course. 
Remember that most of our resources are available in both low-tech, and digital, formats.   
Post-Training 
Once you have accessed one of our Foundation Training courses, you can purchase our resources at a reduced rate: 
1.    You can buy these in established sets using our post training order form, for example you may choose to buy a social care set, the secondary Children and Young people resource, or one of our Advanced sets (see 3. below). These sets all have 3 topics of conversation in them.
2.     New for 2020! – you can now buy individual topics of conversation from our 'pick and mix' selection, which includes topics  from our Health and Well-being Resource (also available as a bundle purchase with our Foundation Training course), as well as our Conversation Sets: 
 3. Our advanced sets, for example Keeping Safe and Thinking Ahead, are only available for those who have completed foundation training:
Keeping Safe: Give people time to reflect on their lives and raise concerns using this resource. This can help you to explore sensitive issues in a non-threatening way by creating a listening space, simplifying abstract ideas, supporting thoughts while encouraging expression and decision making.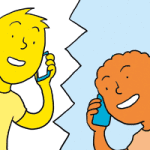 Thinking Ahead: Support people to express their views and help them plan for end of life using this resource. It will also be helpful for many other people to consider future options in their lives.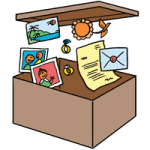 We are also planning to add a 'how was school today?' topic to our 'pick and mix' selection soon – so watch this space!
To find out how our resources could help you in your professional area of work/setting, check out these links here:  https://www.talkingmats.com/where-you-work/
For more information about these resources please contact the office on 01786 479511 or email info@talkingmats.com
In the first of two blogs, we talk about how using Talking Mats Resources can help people have better conversations.
Talking Mats provides a visual framework to help people express their views and feelings, using a selection of communication symbols that cover a variety of topics.  Talking Mats resources are used by many professionals across a wide range of health, social care, residential, and education settings.  Most of our resources are available in both low-tech, and digital, formats.  In this first blog we focus on the resource bundles which are available to purchase with our Foundation Training course.
Our resources are available to buy through our website (https://www.talkingmats.com/shop/) however we do strongly recommend completion of one of our Foundation courses (https://www.talkingmats.com/training/foundation-training/) to get the most benefit from Talking Mats – and to use it to its full potential.  If you add a Health and Wellbeing, Consulting Children & Young People, or Social Care resource pack bundle to your training you only end up paying £65 for the training day itself which is a great deal!
Resource Bundles available to purchase with Training
Health and Wellbeing Bundle:
These packs are based on the 'activities and participation' domains from the WHO ICF framework and includes 9 topics which are relevant to people, regardless of their health, disability or where they live around the world. We have translated these into more 'user-friendly' language and have generated symbols to represent each topic.
In addition to the 9 topics from the Activity and Participation domains, we have also included Environment and Health, which are important topics within the ICF framework and in people's lives.
Consulting Children and Young People Bundle:
These packs are based on 'Getting It Right For Every Child' (GIRFEC), a Scottish framework for everyone to use when working with children and young people. There are three broad topics which are relevant to any child or young person's life. This resource can also be used with SEND reforms in England.  There are different packs for each developmental stage: Early years (ages 3 to 7); Primary (ages 7 to 12) and secondary (age 13 upwards).
Best Value Bundle: This option includes the Health and Wellbeing and Consulting Children and Young People bundles above, as well as our Social Care resource packs, providing a complete set of resources to support communication on a comprehensive range of topics for children and adults.
If you'd like to book a place on one of our Foundation Courses and would like to know more about our bundle options, get in touch with us at info@talkingmats.com
Find out more about our Foundation Training course here: https://www.talkingmats.com/training/foundation-training/
In our latest blog, Rachel Woolcomb, Talking Mats OT Associate, discusses how Talking Mats can support Reflective Practice for Occupational Therapists.
Taking time out to stop and reflect on our practice can be a challenge. We convince ourselves there are more important things to do, people to see, targets to meet, and therefore we just don't have the time.
However, I suggest, that with this mind set we are doing ourselves, and the people to whom we provide support and care, a disservice.
Clinical supervision has always been embedded in the culture of occupational therapy and at its best should create a safe and supportive environment in which reflective practice can take place.
Unfortunately, in practice, the reality can look different.
The more I have used Talking Mats to enable my clients to think and express their opinions, the more I have been convinced, that there is also great benefit to them being used within the clinical supervision process.
I want to thank the occupational therapists who agreed to explore this further with me. They used Talking Mats to think about their coping skills at work, or reflected on how their ability to learn and think, impacted their job role.
They were surprised how easy they found it to think about the full breadth of their working life and the impact this had on their wellbeing. As clinicians, we are great at looking after other people and ensuring that their health and wellbeing needs are met, however, we are not so great at caring for ourselves.
The latest TMOT resource provides more information about why and how, Talking Mats can be an effective tool in enabling a reflective thinking space for clinicians. Check it out here: TMOT3 Reflective practice
Give it a go… You are worth it!
To find out more about our Talking Mats resources, check out this link:
https://www.talkingmats.com/shop/
Rachel Woolcomb, our Talking Mats OT Associate, shares a recent personal experience where she used Talking Mats to support a difficult conversation:
The vision of Talking Mats is to improve the lives of people with communications difficulties. I have been reflecting recently on the definition of 'communication difficulties.'
When I first heard about, and started to use Talking Mats 10 years ago, my perception was that it was fantastic for those that could not speak but I must admit I didn't really consider using it with people who, such as myself, could use their voice to communicate.
Over the years as my understanding has developed, and I have looked further into the use of Talking Mats as a 'thinking tool' I have come to a different conclusion.
I would like to suggest that at some points in our lives, each one of us is likely to experience a communication difficulty. I don't mean that we cannot physically speak, but that we cannot express what we really want to say in words. Perhaps a topic is too difficult to talk about with someone so we don't bother, or we are overwhelmed by the subject that we don't really know where to start.
One such subject is that of death and dying.
We know it will happen to us all one day but to talk openly with loved ones, is for some reason, too much to comprehend, too emotive, or considered bleak.
I am very fortunate enough to have grandparents in their 90's however the conversation about their wishes for the future goes unspoken. It is a challenge for my parents to raise the issue therefore it remains the big unknown.
This is a common problem. In 2009, The National Council for Palliative Care wanted to address this issue and set up the Dying Matters Coalition in England and Wales, to help people talk more openly about dying, death and bereavement and to make plans for the end of life.
Talking Mats have produced a set of topic cards called 'Thinking Ahead.' https://www.talkingmats.com/product/thinking-ahead/
These were created in consultation with Strathcarron hospice to help people with advanced illness or long term conditions to think ahead and plan for the future. The three topics in the set are: Affairs, Care and Treatment and Personal Values.
My Mum was interested in my role with Talking Mats and wanted to understand what it was all about. We had already started to talk about the challenges of having difficult conversations, especially about death, and therefore over a drink, in a relaxed coffee shop, we embarked on a journey of discovery using a Talking Mat. My Mum as the Thinker and myself as the Listener .
She used the Talking Mat to help her think about things she had not considered and was able to make plans about what she wanted to do next. I heard her wishes and her thoughts, on why certain things were important to her. It was a very special time, facilitated by a Talking Mat.
My challenge to you as readers of this blog is to ask yourself 'what do I have difficulty talking about' – A Talking Mat just might be the answer!
Another resource you might find helpful is 'Let's Talk about Death and Dying' –  www.ageuk.org.uk
Rachel will be running a 'Talking Mats as a Thinking Tool' workshop at our Talking Mats is 21 Event is in Stirling on Thursday 15th August 2019. Dr Sally Boa from Strathcarron Hospice will also be running a 'Talking Mats in End of Life Care' workshop at this event. Thanks to funding from NHS Forth Valley endowment committee the event is free but you do need to book your space https://www.eventbrite.co.uk/e/talking-mats-is-21-tickets-62362171935
You can come to the morning only, afternoon only or come for the whole day.
If you can't come to our event watch out for out blogs and social media celebrating the reach of Talking Mats for 21 days before the 15th of August.  Please join in with your contributions using the hashtag #TMis21. For 21 days after our event we will be having a special Birthday offer! Watch this space, more to follow …….
Many thanks to Jenny Trott for our new guest blog about her interview with Talking Mats Director, Lois Cameron – Jenny's video provides some great information about the Talking Mats approach and our original and digital resources:
A year ago I started my YouTube channel (www.youtube.com/jennytrott) as a way of supporting parents and carers with information and inspiration. As a parent of a disabled child myself I knew that one of the best ways to find out things is from other parents, and YouTube was just a different and new way to do that. To date I have published nearly 50 films about subjects ranging from Self Directed Support to Rebound therapy, and including interviews with parents, professionals and disabled people.
Quite early on I knew that I wanted to make a film about Talking Mats. I had used Talking Mats when I worked with people living with dementia, and I knew that my son's school were using them too. I had seen the benefits of this innovative communication tool but I also knew that many parents and carers didn't really understand it because they hadn't been given the right information.
Lois was kind enough to agree to join me in front of the camera, so in April I visited Talking Mats in Stirling with my tripods, microphones and cameras. It can be a bit daunting interviewing someone I've not met before but Lois instantly put me at ease and had the great idea of demonstrating a Mat rather than just talking about it. It was so interesting, experiencing using a Mat first hand and it helped to show the viewers what Talking Mats is really about.
You can view the video here: https://youtu.be/Fmyt1fE-_U8
The feedback from the film has been great, both from professionals, parent carers and SLT students; lots of lightbulb moments; "ah, now I get it"! I am still making films but less frequently as I am now also setting up a social enterprise, Mecoco (www.mecoco.org) here in North Ayrshire.  We'll be offering work experience and volunteering opportunities to disabled people to work alongside us making candles and melts. I am sure Talking Mats will be invaluable in our workshop!
If you'd like to find out more about accessing Talking Mats training take a look here- https://www.talkingmats.com/training/  – we offer a range of options including online, and bespoke training for organisations, as well as advanced courses and specialist seminars for those who have already accessed Talking Mats Foundation Training.
Here Laura Holmes, our North-West England Associate, describes how she used Talking Mats to support mid and end of placement reviews with a Speech and Language Therapy Student:
I am very familiar with using Talking Mats to help the children I work with to express their views and opinions – to give them a voice in terms of therapy planning and to enable the children to think about and share what works for them.
However I recently also used Talking Mats to support a Speech and Language Therapy student who was on placement with me. I introduced the approach to support our discussion during her mid-placement review, and then again, during the final review at the end of her placement.
I introduced a Talking Mat with the topic 'Clinical Areas' and the topline question 'Confident/OK/ Not Confident'. I made up options relating to each clinical assessment area as described in the University Student Handbook/Guidelines.
Here is the mat from the student's mid – placement review:
And here is the mat from the end of placement review:
The pictures help to show the shift in the student's confidence from the mid-point of the placement in comparison to the end of the placement.
The first Talking Mat helped us to focus our discussions in terms of what skills needed further support/development during the placement. The second Talking Mat then supported our evaluation of current learning outcomes at the end of the placement, as well as helping to identify key learning outcomes for the student's next placement.
The student shared that she found Talking Mats a really useful thinking tool to help her to think carefully about her skills and the progress she had made during the placement. This was easier than during a typical face-to-face discussion due to the focus on the mat. The interaction itself was also more relaxed as a result.
My next step will be to introduce use of symbols for topic and options – here are some examples from a Scotland-wide Talking Mats project which involved asking students about their work placements:
We often have members of University and College staff coming to our Foundation Training Courses – find out more about this and other training options we offer here:
https://www.talkingmats.com/training/
If you have any examples of using Talking Mats for student supervision, and would like to share them, it would be great to hear from you! Just email me at laura@talkingmats.com