On Wednesday November 10th we held a colloquium with the University of Edinburgh and NHS fife to report on the findings of the research that was funded with the Burdett foundation . The easy-read version of this report can be found here.
48 people attended the online event on Wednesday and engaged in some very thoughtful discussion and reflection on communication in forensic settings. There was much to think about including whether ethos and values align with self-determination , how to get communication taken seriously by staff who are often under huge pressure. Consideration of where power lies in an organisation and an acknowledgment that in order to share power staff themselves need to feel they have power.
The recognition that in the promotion of shared decision making, you increase the risk of people taking what others may see as unwise decisions. The need to support the capacity of people to be involved in decision making early on and in the smaller decisions of life and not leaving including them to a crisis.
The importance of further research in his area and that small clinically driven research projects have an important role to play in addition to ones funded by bigger grants. There is much to digest and we are hoping to keep the conversation going.
If you would like to see for yourself the research presented and the topics discussed at the colloquium you can watch the recording of the Zoom session here.
If you want to attend foundation Talking Mats training please find out more here. if you have completed your foundation training please consider attending the Keeping Safe advanced online module which includes the Keeping Safe resource . If you have the Keeping Safe resource please download the new Being Included bolt on to use with it.
During May we are hosting 3 one hour webinars which will demonstrate the new digital Talking Mats that is currently being developed for us by our technical partners MTC.
The webinar will focus on demonstrating its new features including:
technical specification for use

the range of symbols sets

available

including Keeping Safe

,

Thinking Ahead,

H

ealth and

H

ousing and the

L

eisure subsets of

S

ports and

O

ut and

A

bout

how to add your own photos

how to

make sub

mats ,

how to

us

e

it to support effective

remote

conversations

how to file restore and retrieve individual mats.
The migration from our current system to this will be explained as well as how to purchase and use if you are a new user.
Please note this is not a Talking Mats training.
Choose a webinar that suits your time zone and work pattern and book a place. All times are GMT
SOLD OUT

Tuesday 11

th May 9.30 -10.30 am

SOLD OUT
All webinars are free and we would love to see you to show you he new digital Talking Mats
I stole the lyrics and altered them slightly, but this is the song line that has kept popping into my head over the past few weeks as we find ourselves hurtling through the different phases of lockdown easing. The rules and recommendations that have guided our lives for the past 3 months or so are changing rapidly and change can be difficult.  Communicating how we feel about change and life in general can be difficult.
We have seen creative uses of our resources and have really enjoyed learning how they have helped young people and adults express how they coped throughout lockdown and beyond.  Kirsten Lamb's guest blog about Returning to School After Lockdown is just one example of how the TM framework was invaluable in gaining the opinions of young people as they adapted to ongoing changes over which they had little or no control.
https://www.talkingmats.com/returning-to-school-after-lockdown/
Another Talking Mats practitioner recently tweeted this mat that she did with a college student, showing how Talking Mats helped structure thinking about how life was going.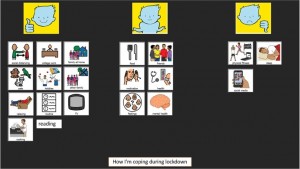 We felt a single resource was needed to help kick start a conversation around Life (but not as we know it; I am sure that's a song too) looking at the following themes:
Family / Friends / Bubbles / Social Distancing
Health
Mood / Emotion
Sleep
Exercise
Work
School / College
Activities
Shopping
Routine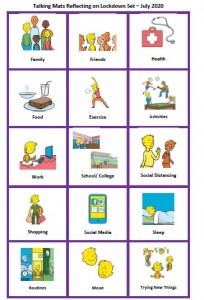 As with every Talking Mat you can change the top scale to be more or less concrete, you can use blanks to add in things that we haven't included, you can leave things out that aren't relevant.  Download your free printable pdf here: LOCKDOWN SET
We look forward to hearing stories from our Talking Mats Community on how you helped others express themselves (definitely another song!)
Many thanks to our Talking Mats Founder, Dr Joan Murphy, for this latest blog talking about the training course she recently delivered at the Cyprus University of Technology.
Cyprus is a beautiful Mediterranean island with a population of approximately 1 million.
I was invited by Dr Eliada Pampoulou to run a 2-day course on Talking Mats for 12 Speech and Language Therapists, some of whom are masters students and some, lecturing staff at the Cyprus University of Technology. The Cyprus University of Technology founded the first Department of Rehabilitation Sciences  in Cyprus and the Department offers the first public recognised university bachelor degree in Speech Language Therapy / Speech Language Pathology in the Greek language (https://www.cut.ac.cy/faculties/hsc/reh/).
Day 1 was a Talking Mats foundation training course and Day 2 focused on discussion around capacity, research and clinical applications. This model worked very well as the participants were able to think about and discuss how to apply the training immediately.
Some of the immediate plans of the participants were both clinical and research oriented and are outlined below:
To administer the Greek Stroke and Aphasia Quality of Life Scale (SAQOL-39) with healthy people over  50 both with the text version and an adapted Talking Mats version quality and to examine which they prefer.
 To use Talking Mats both with people with people with aphasia and their carers in order to share their understanding about  the communication skills and needs of people with aphasia.
 To use Talking Mats as a tool to identify the factors that are related to AAC system acceptance or abandonment by focusing directly to the views of people with complex communication needs
To use Talking Mats as a goal setting tool for both paediatric and adult population
To use Talking Mats to gets clients feedback about therapy services
To use Talking Mats for student appraisals regarding their clinical training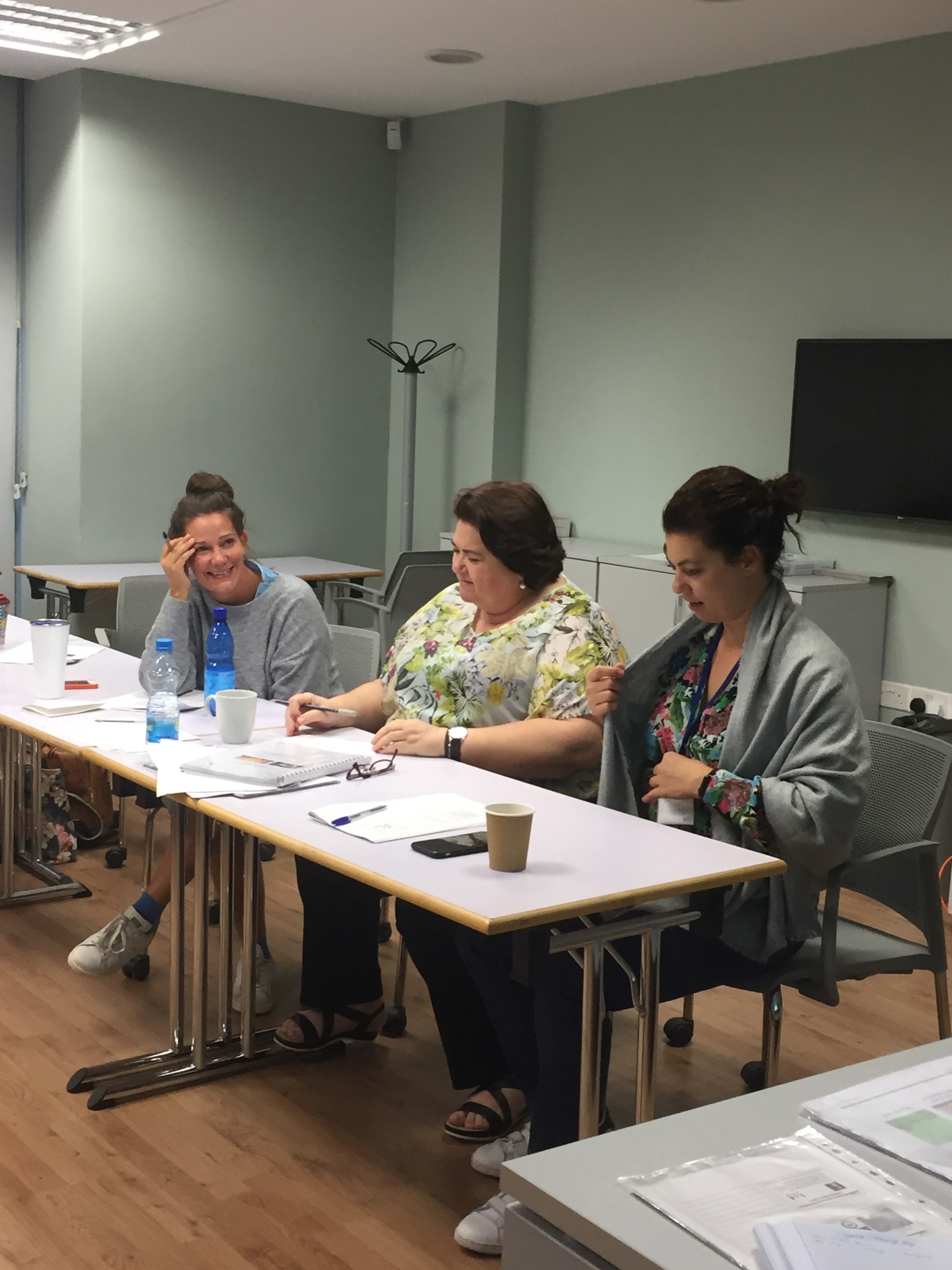 Dr Eliada Pampoulou has created the first Talking Mats centre in  Cyprus which aims to gather all people who received training every few months to share their experiences and support each other to embed Talking Mats in practice and research.
We hope that Eliada will come to Stirling next year to gain her Talking Mats licence to enable her to train others and extend the reach of Talking Mats even further.
We regularly run our Licensed Trainer 2-day courses at our base in Stirling – if you have attended Talking Mats Foundation Training and would like to train other people find out more here:
https://www.talkingmats.com/training/train-the-trainers-accredited-training/
Recently, Associated Prof. Ida Marie Mundt from Denmark completed our Talking Mats licensed trainer course. She has been looking at the theories which underpin Talking Mats and is planning to publish her work. One of the areas she speaks about is Identity.
In this blog, our Talking Mats Associate Rhona Matthews explores the area of Identity:
How do I know who I am? This is learned from actions, behaviour and language firstly with parents and family, then with friends.
For people who have difficulty interacting, this becomes much more difficult. There is a danger that others construct their identity.
A participant on our online training wrote about her experience of doing a Talking Mat for the first time with a girl who uses augmentative communication. She has a severe difficulty expressing her ideas and thoughts.
The topic was leisure activities and the top scale was things I like to do/ don't like to do. She did this quickly and with no great surprises. The listener felt she didn't get particularly useful information.
So she repeated the topic but with a different top scale. Things I am good at/Things I'm not good at.
Not surprisingly there was overlap with the earlier attempt. i.e. the things she felt good at, she liked which included horse riding.
Again the listener felt there was more conversation to be had! The thinker coped easily with another change of top scale which was things I want to get better / don't want to get better at.
This time when the option of horse riding was handed over, the thinker became very animated, nodding in agreement. Not only did she want to improve her horse riding skills but wanted to learn about looking after horses. Her family had no idea that actually she didn't just like riding but saw herself as a rider. This was part of her identity.
As Assoc. Prof. Ida says, Talking Mats offers a possibility to talk about who you are, and get other peoples' responses.
If you are interested in accessing Talking Mats training we offer a variety of options, including online – check these out here:  https://www.talkingmats.com/training/
What an amazing day we had celebrating 21 years since the first article about Talking Mats was published in August 1998 in the Communication Matters journal. Over 180 people attended from so many different walks of life. We are grateful to them all for coming and helping us mark the occasion. We are also grateful to the endowment fund of Forth Valley NHS for helping us fund the event.
In the morning thanks to a fantastic group of speakers we discussed a diverse range of topics:
Rachel Woolcomb, our OT associate explored how she sees Talking Mats as an 'energy efficient' thinking tool and outlined how it supports people to think through issues Talking Mats as a Thinking Tool
Two teachers, Fiona Graham and Claire Forgan examined the benefits and challenges of embedding Talking Mats in school to encourage and extend pupil participation
Susan Gowland, a speech and language therapist discussed the use of Talking Mats in a forensic setting illustrating from a case example how Talking Mats helped staff see that incidents do not come out of the blue. When they looked at the pattern of mats over time they could see when the patient was expressing concern about small things. This was an indication that bigger things were going on for him.
Sally Boa the Research Manager for Strathcarron Hospice led on how Talking Mats was a way to enable 'end of life' conversations, things that can be hard for any of us to talk about. The mats give a safe space and structure to enable these conversations to take place. Talking Mats and Palliative care
Two parents Tracey Campbell and Sarah Robertson spoke about their experience with using Talking Mats with their children. Sarah said 'Talking Mats gives us a happier home. It helps me be patient, listen and give power to him' (her son). Talking Mat A Parents View 15.08.19
Jill Bradshaw of the Tizard Centre, University of Kent outlined her research including her work exploring Talking Mats as a tool to sit beside functional analysis of behaviour where the person's own view of what challenges and helps them is often overlooked and not included fully. TM and PBS final version for handout
Anne Lafferty of The Advocacy Project , give a powerful example of using Talking Mats in a legal setting. This important work is in need of funding so we can explore this more fully. Everyone also got to play legislation bingo!  Talking Mats and Supported Decision Making PP 2
 Liz Taylor (Talking Mats licensed trainer) and Lynnette Linton (Talking mats co-trainer) from The Action Group shared their experience in a fantastic film.  They used a Talking Mat to reflect on the experience and would recommend co-training as an effective way to deliver the Foundation course.
Brian Robertson and Paddy Carstairs described how they developed a Talking Mats to allow members of the National Involvement Network to explore with other people with a learning disability how The Charter for Involvement related to their life experience.This is an empowering way of using Talking Mats that shows that people who get support can help change and improve the support of other supported people.This is an empowering way of using Talking Mats that shows that people who get support can help change and improve the support of other supported people.
Rosie Noyce from Pennine Care NHS described a whole team approach to supporting Healthy Young Minds and how they have embedded Talking Mats into their care pathway. She cited powerful case examples of impact and a real commitment by the team to hear the voices of young people  Talking Mats and Young People's Mental Health
And that was just the morning! Lots of delegates have asked for copies of the presentations so watch this space
The afternoon demonstrated just how far Talking Mats has come through its partnerships with other organisations. We are so grateful to all the people who came and had stalls and engaged with our networking activities! There was a real buzz in the room as people explored the variety of ways in which Talking Mats is used to support and enable more effective communication. Lots of connections were being made, people thinking about new ways of working and applying Talking Mats in their settings. People enjoyed seeing old friends but was good to see new networks were being built.
So, thank you Care Opinion, Turning Point Scotland, The Action Group, Capability Scotland, The CALL Centre, The Indigo Group, The National Involvement Network, Forth Valley NHS, The Stirling University Careers Service and Alzheimer Scotland. In addition, Talking Mats had a stand with all its products. Also, to promote our Birthday offer since we are 21, we have a 2 for 1 offer on resources for 21 days so order quickly. It ends on the 5th of September!
Today was also the day that Joan marked her 'retirement'.
She gave a very moving speech that celebrated her distinguished career and her very significant achievements. She leaves an amazing legacy in the Talking Mats framework and with all the energy in the room we are sure it will continue to grow and develop. Thank you, Joan.
Last week, Laura Holmes, our NW England Associate, had the pleasure of interviewing our inspirational Founder, Joan Murphy. Joan will be retiring after our Talking Mats 21 event on 15th August 2019 and so this was a great opportunity to find out more about her Talking Mats experiences:
Are there any stand-out moments for you, from your Talking Mats time?
Talking Mats are now used in many countries across the world and it has been great to have the chance to travel widely. One particular moment which stands out for me was during one of two trips I made to China with Sally Boa. I was asked to demonstrate Talking Mats with a man who was in hospital having had a stroke. He had no speech and was using a wheelchair. I used Talking Mats to find out what the man felt he could/ couldn't do. The man shared that he felt he could walk. I had to present the symbol three times as the family members and medical staff watching were adamant that the man could not walk. On the third time, the man pushed the table, moved his wheelchair back then stood up and walked around the room. His family and medical team were completely shocked and realised that no-one had actually thought to ask him if he could walk. This was a massive turning point both for the man – and also for his family and medical team, who could now see the power of using a Talking Mat.
Have you done any Talking Mats yourself that helped you to make an important decision for you or your family?
Absolutely – quite a few! My husband and I both used Talking Mats for our Power of Attorneys and shared them with our lawyer and grown-up children. My husband and I also used Talking Mats to talk about the Scottish Referendum as we had opposing views – it really helped as it made us listen to each other without interrupting. We then went on to use the mats as part of a presentation. Various members of my family have used mats to explore personal issues and decisions 
What are the top tips you have gained from your Talking Mats journey – from working in the NHS and then more recently as a social enterprise?
You have to have humour. And be able to listen. It has been essential to be able to work in partnership with Lois and the other Talking Mats team members. The team are such nice people to work with and we have lots of laughs. Setting up as social enterprise was vital for Talking Mats – in terms of having the freedom to be creative. It felt as though someone had a big rubber band which was able to be released. It was a huge risk and there have been lots of leaps of faith along the way.
Do you have any top tips for people using Talking Mats in the Listener role?
Be quiet – and Listen! It's also important to feel relaxed and to have a sense of humour whilst using it. A Talking Mat is not a test – it is serious, and can be used to explore difficult issues, but it should be fun.
Talking Mats is a low-tech AAC system – do you think it has a place in the modern world?
It is absolutely crucial! Low-tech resources are fundamental in terms of being able to have and develop conversation skills and social closeness.
What do you want for Talking Mats in the next 10 years?
World Domination! Talking Mats has the potential to be used everywhere in the world, by everyone. However I would like to see Talking Mats continue to have a small core team, but increasing Licensed Trainers across both the UK and the rest of the world.
Our Talking Mats is 21 Event is in Stirling on Thursday 15th August 2019.  Thanks to funding from NHS Forth Valley endowment committee the event is free but you do need to book your space https://www.eventbrite.co.uk/e/talking-mats-is-21-tickets-62362171935
You can come to the morning only, afternoon only or come for the whole day.
If you can't come to our event watch out for out blogs and social media celebrating the reach of Talking Mats for 21 days before the 15th of August.  Please join in with your contributions using the hashtag #TMis21. For 21 days after our event we will be having a special Birthday offer! Watch this space, more to follow …….
We are all looking forward to celebrating Talking Mats is 21 on the 15th August
The morning is aimed at people who are experienced Talking Mats practitioners and will extend thinking and Talking Mats practice. There are an interesting range of parallel sessions to choose from. Each participant will get to choose three topics to attend.
Talking Mats as a Thinking Tool
Embedding Talking Mats in Schools
Talking Mats in Forensic Settings
Talking Mats in End of Life Care
My experience of using Talking Mats as a parent
Talking Mats and Positive behaviour Support
Talking Mats and Supported Decision- Making
Empowering people with Learning Disabilities to be Talking Mats Listeners and Trainers
Talking Mats and Children's Mental Health The afternoon is more informal and there will be an opportunity to engage with some of our partners – see how they use Talking Mats and try things out . There will be posters on the use of Talking Mats in lots of different places and for a wide range of applications.
Plus there will be lunch, cake and a few bubbles !
Thanks to funding from NHS Forth Valley endowment committee the event is free but you do need to book your space https://www.eventbrite.co.uk/e/talking-mats-is-21-tickets-62362171935
You can come to the morning only, afternoon only or come for the whole day.
If you can't come to our event watch out for out blogs and social media celebrating the reach of Talking Mats for 21 days before the 15th of August .Please join in with your contributions using the hashtag #TMis21. For 21 days after our event we will be having a special Birthday offer! Watch this space, more to follow …….
Many thanks to Joan Murphy, our Talking Mats Founder, for this great blog sharing Jeppe Forchhammer's thoughts about the importance of social communication – communicating 'offline'  – for AAC users:
I met Jeppe Forchhammer at the 2019 ISAAC Conference in Denmark. We had an interesting conversation about the importance of social communication for AAC users and he kindly sent me this presentation and gave me permission to write a blog about his views.
https://docs.google.com/presentation/d/1EnX559_lRSa7DeGpb0YHwni2cIjjyjF1XN-I-71-hW4/present?ueb=true&slide=id.p
Here are a few quotes from Jeppe but it is well worth reading his whole presentation
We have reached a time where communication systems become more and more electronic. I have noticed that children who need AAC ie augmented and alternative communication are starting more and more early. This I would like to question! In this lecture I will try to explain, why I think it is better to teach the children to use their body first. In order first to get direct communication relation to another person.
I think it is most important for an AAC user first to learn to interact with another person face to face. This is of course important for all infants in particular if they don't have a spoken language. I think the eyes begins naturally to take over and the baby begin to communicate. At least I began to observe what happened around me using my eyes by watching things around me. In this way I began early to take contact with people around me.
I am afraid that AAC users in the future will lose some of their abilities to communicate with their body or facial expression. Especially if one starts too early. I think there is a risk that the child get blinkers and we have the risk that the child will be introvert. This might give the child some social problems if it doesn´t learn to use and read the body.
We must remember that a good relation is created face to face and not through a Speech Generating Device.
If they only communicate through their speech generating computer they may miss the face to face communication.
Many thanks to Jeppe for his thoughtful and stimulating comments.
If you would like to contact him, please email jeppeforchhammer@gmail.com
The importance of social and non-verbal communication is highlighted in our Talking Mats training courses.  If you are interested in accessing this training take a look at our options here – https://www.talkingmats.com/training/
In this latest blog, our Talking Mats OT Associate, Rachel Woolcomb tells us how Talking Mats can support delivery of Personalised Care:
"Person centred practice", and "partnership approach" are common phrases heard in health and social care settings but what does this really mean in practice?
How good are we at ensuring our service users are truly heard, and given opportunities to talk about what is important to them?
Recently NHS England set out their ambitions for the delivery of personalised care. This is a commitment to enabling people to have the same choice and control over their mental and physical health that they have come to expect in every other part of their life.
This however requires a shift in culture.
One of the cornerstones of personalised care is shared decision making. This is a collaborative process in which people are supported to understand the options available to them including the various risks, benefits and consequences. A shared decision will have acknowledged personal preferences, circumstances, values and beliefs. This ensures that when a choice is made it is fully informed.
There is substantial literature which demonstrates the usefulness of goal setting as part of the communication and decision making process.
A well written person-centred goal will describe the anticipated achievement of a specific activity. It will be meaningful and help create a common vision within the rehabilitation process.
Talking Mats is an ideal tool to help facilitate these processes. They enable better conversations and provide an interactive thinking space. They have also been demonstrated to be a useful tool in enabling people to think about their rehabilitation goals.
Read more about this in the TMOT Resource 2: How Talking Mats can help facilitate shared decision making and goal setting: Goal setting TMOT 2
If you would like to find out more about the different Talking Mats training options we offer, take a look here:  https://www.talkingmats.com/training/