In the first of two blogs, we talk about how using Talking Mats Resources can help people have better conversations.
Talking Mats provides a visual framework to help people express their views and feelings, using a selection of communication symbols that cover a variety of topics.  Talking Mats resources are used by many professionals across a wide range of health, social care, residential, and education settings.  Most of our resources are available in both low-tech, and digital, formats.  In this first blog we focus on the resource bundles which are available to purchase with our Foundation Training course.
Our resources are available to buy through our website (https://www.talkingmats.com/shop/) however we do strongly recommend completion of one of our Foundation courses (https://www.talkingmats.com/training/foundation-training/) to get the most benefit from Talking Mats – and to use it to its full potential.  If you add a Health and Wellbeing, Consulting Children & Young People, or Social Care resource pack bundle to your training you only end up paying £65 for the training day itself which is a great deal!
Resource Bundles available to purchase with Training
Health and Wellbeing Bundle:
These packs are based on the 'activities and participation' domains from the WHO ICF framework and includes 9 topics which are relevant to people, regardless of their health, disability or where they live around the world. We have translated these into more 'user-friendly' language and have generated symbols to represent each topic.
In addition to the 9 topics from the Activity and Participation domains, we have also included Environment and Health, which are important topics within the ICF framework and in people's lives.
Consulting Children and Young People Bundle:
These packs are based on 'Getting It Right For Every Child' (GIRFEC), a Scottish framework for everyone to use when working with children and young people. There are three broad topics which are relevant to any child or young person's life. This resource can also be used with SEND reforms in England.  There are different packs for each developmental stage: Early years (ages 3 to 7); Primary (ages 7 to 12) and secondary (age 13 upwards).
Best Value Bundle: This option includes the Health and Wellbeing and Consulting Children and Young People bundles above, as well as our Social Care resource packs, providing a complete set of resources to support communication on a comprehensive range of topics for children and adults.
If you'd like to book a place on one of our Foundation Courses and would like to know more about our bundle options, get in touch with us at info@talkingmats.com
Find out more about our Foundation Training course here: https://www.talkingmats.com/training/foundation-training/
Rachel Woolcomb, our Talking Mats OT Associate, tells us about the recent Royal College of Occupational Therapists' Report and considers the ways Talking Mats can support:
The Royal College of Occupational Therapists have recently published a new report. "Making personalised care a reality: The role of occupational therapy."
As the OT Associate for Talking Mats, I took the opportunity to review the document and consider how Talking Mats can help OT's in fulfilling the recommendations made.
The report recognises that people living with long-term conditions bring different and equally important, knowledge and expertise to the decision –making process.
It challenges OT's to ensure that they really listen to, and hear the views of the people they work with.
A Talking Mat can help facilitate this. It helps people to understand what is being discussed, to reflect and organise their thoughts, to say what matters most to them and record their views. It helps OT's to really listen, to learn new information, to involve the person in their own planning and support decision making.
Read more about how Talking Mats can help OT's to make personalised care a reality in the TMOT Resource 1:  TM Personalised Care – Copy.
The RCOT report is available here: https://www.rcot.co.uk/news/delivering-personalised-care-frontline
Rachel would love to hear from you if you have any examples of how Talking Mats have helped you to provide personalised care, or if you want to know more about OT and Talking Mats. Her email is: Rachel@talkingmats.com.
If you are feeling inspired and would like to find out about accessing Talking Mats Foundation Training, take a look at our upcoming courses across the UK, as well as online and organisational training options: https://www.talkingmats.com/training/
This blog summarises a project we have completed providing Talking Mats training for families living with dementia. A key aspect of the work done by Talking Mats is to find ways to improve communication for families living with long term conditions. In particular dementia is a long term condition where deterioration in communication will eventually affect everyone. This makes it increasingly difficult to ensure that the person with dementia continues to be involved in decisions about their life.
We have completed a project funded by Health and Social Care ALLIANCE Scotland. Training in the use of Talking Mats was given to families living with dementia and staff who worked with these families. The Alliance Family Training final report highlights how this training helped people with dementia to communicate their views and be more involved in making decisions about their lives.
Families identified issues relating to self-management that they had not previously been aware of and new insights emerged as the following comments illustrate.(click on box to enlarge)
For some family members an important outcome was that Talking Mats helped them see that their spouse was satisfied with many aspects of his/her life. They found this very reassuring as many assumed that the person with dementia was frustrated and discontented.
The following is an example of how using Talking Mats helped with self-management.
When using Talking Mats on the topic of Where you live, G explained that he found it difficult to find his way to the toilet in the night. As a result his wife bought special senior night lights to help him which solved their problem. As a result, night times improved for both of them.
For further examples and information read the full report here Alliance Family Training final report  and for further information about Talking Mats Family training please contact info@talkingmats.com
Talking Mats considers both health and social aspects when it is used to include people in their care planning.  Lots of interesting comments are made by course participants on the forum in our online training course.  Annemarie, who works as an agency carer visiting clients in their own homes posted her thoughts about the social model of disability
 Remembering the person behind the condition
In my experience, society is fixated on the medical model, the 'what's wrong' approach. Whilst the medical model is clearly a valuable and required tool, it often leads to labels that individuals are then lumbered with, such as, 'she has dementia', 'she is visually impaired', 'he's deaf' or has a 'leaning disability'. Taking this approach overlooks the person behind the 'condition' and so can restrict inclusion.  One example could be an individual with dementia being unable to make everyday choices about seemingly mundane issues such as what to wear that day. Using a medical model, a carer may be aware of the clients difficulties and make choices for them, whereas using the social model approach enables the carer to see beyond the condition and fully include the client, allowing them to be part of the decision making process for themselves. A second example could be a person with a communication disorder such as Asperger's Syndrome. Access to work could be severely restricted using a medical model as the pragmatic manifestation of this condition may well exclude a person from seeking certain types of employment. Promoting the use of a social model would ensure work colleagues understood the possible limitations of the condition and ensure adequate support networks were in place. The social model attempts to embrace a person's difference and raises awareness within society of individual needs that will facilitate inclusion into all aspects of life.
The WHO ICF -World Health Organisation International Classification Framework of Functioning, Disability and Health (2001, 2007b) aims to merge the medical and social model, encouraging professionals to think not only of the persons health condition and resulting impairment, but the impact this has on the persons participation and activities.  It captures the full complexity of people's lives, including environmental and social factors and can be applied over different cultures
The Talking Mats Health and Well- being resource is based on the WHO ICF and supports a person to reflect and express their view on various aspects of their lives.  Using the Health and Well being  resource supports workers to remember the person behind the condition.
At the end of a recent training session, we asked the trainees to tell us how they planned to use Talking Mats as part of their work. Their comments were as follows:
This tool will be useful in helping some residents make decisions, informed choices and express their needs. It will take time for some residents to feel confident in using this tool.
I'd like to use it with some residents to be able to adapt Talking Mats more to their understanding.
I'd like to use this tool for resident's reviews to find out what the residents likes/dislikes are.
Talking Mats will be great for service evaluation.
Talking Mats will be great for asking residents about things they want to do.
Updating Care Plans regularly from outcomes of Talking Mats.
It can be used to get to know people's needs and wishes more.
Share the findings with colleagues and joint services.
Hopefully through its use I'll learn to pass it onto others.
A gardening set. Service evaluation and well-being assessing stress levels/anxiety/emotional state?
I'd use it to promote choices of activities.
Care Inspectorate forms. Finding out how people enjoy time at the service and how to improve on it.
Can you let us know how you use Talking Mats as part of your work?
Background
Social workers are required to complete a detailed assessment of their client's needs. It is recognised that it can be a challenge to ensure clients fully participate in the process if they have cognitive or communication difficulties. The City of Edinburgh Council were keen to explore if we could adapt their standardized assessment tool and make it into a Talking Mat framework. Several staff in the council are already skilled practitioners in Talking Mats so are familiar with the framework and use Talking Mats in their practice. They are enthusiastic about the benefits of using Talking Mats both in terms of how it increases participation of service users but also because in their view it makes interviews easier for staff to undertake.
Structuring Talking Mats assessment framework
In order to develop the bespoke Talking Mat we held a seminar to discuss the social work assessment tool and approach used. Six key staff attended the seminar, facilitated by two Talking Mats associates. The discussion at the seminar identified a structure that would enable us to construct a coherent visual conversation that would cover the issues required to complete the assessment, using mind mapping to support this process. It is also important to identify a top scale that matches the question you are asking and make sure the options you are including are neutral and not leading.
The structure that emerged from this discussion is a Talking Mat that enables people to explore their views on 3 topics
their home
their health and well being
their community involvement
 Trialling the Talking Mats framework
Talking Mats then took the mind maps and developed these into symbol sets that were piloted by social work staff. At the end of the pilot a review was held and changes made which included alterations to
the language used
the symbols used
the topic an option was included under
making it clearer to staff when options were more abstract and required further explanation and or personalisation
Nicki Ewing from Edinburgh City Council who leads on the project says ' I am very excited that staff have a tool that can make assessment more meaningful for service users to participate in and makes it easier for staff to get good quality information'.
Next steps
We are thinking of holding a focus group for others that might be interested in using the framework for their practice if, you are interested please contact Lois  via the info@talkingmats.com email – call your email 'social work focus group'.
We are launching our fantastic eating and drinking resource to support shared decision making. This has been co-produced with the help of  people with eating and drinking difficulties and a range of different professionals. The resource is designed to help people think about, discuss and make informed decisions about how to manage their eating and drinking more safely. People with eating and drinking difficulties should initially be assessed by a qualified Speech and Language Therapist and Dietitian who will recommend appropriate strategies to help them eat and drink safely. This resource is particularly useful in helping people understand the effect that their eating and drinking difficulties can have on their health. It also helps people talk about how they feel about recommended strategies.
When discussing eating and drinking, there are many issues to consider. We have provided symbols under three main topics to help present ideas in a structured way that reduces the likelihood that the person will be influenced.
Click on this image to see it more clearly.

Discussing these topics separately means that people can firstly consider how they feel about different meal times, where they eat and types of food and then think about the impact that their eating and drinking has on their health. It also allows people to have a conversation about some of the suggested strategies and how acceptable these are.
We have run seminars specifically on this new resource in London and Stirling
Contact info@talkingmats.com for further information if you wish to attend a seminar in the future.
Part 1 highlighted how Talking Mats training can help improve your competency when consulting children and young people. In this part,we are grateful to Anita Devi, Education Consultant for illustrating the key differences between Statements and EHC plans. The changes have been implemented to enable individuals and families be active agents in their own lives rather than passive recipients of services.
Using Talking Mats as a communication tool  enables practitioners to fulfil all stages of the assessment process and contributes to the development of the plan. The differences of the new system under the SEND reforms are illustrated in the table below (double click on the image to see it more clearly):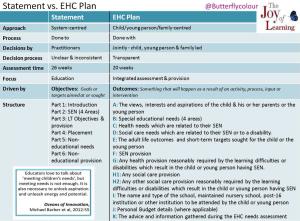 The local offer provides information on what services children, young people and their families can expect from a range of local agencies, including education, health and social care. Knowing what is out there gives  more choice to individuals and to families.
The Local Offer has two key purposes:
1. To provide clear, comprehensive, accessible and up-to-date information about the available provision and how to access it, and
2. To make provision more responsive to local needs and aspirations by directly involving disabled children and those with SEN and their parents, and service providers in its development and review.
For children and young people, who struggle with communication, this can be quite a challenge. What is required is a communication tool that makes the process real and meaningful. Talking Mats breaks down the dialogue into bite-size chunks and gives the child or young person the space and time to meaningfully express his/her preferences and opinions.
Earlier in the year, Anita Devi & I published an article on "Listening to the learner :seeking the views of children and young people with communication difficulties." It highlights the importance of creating a listening culture within the learning environment and using all modes of communication available. If we take the time to do this, the child or young person's perspective will be taken seriously and the unique circumstances of each individual kept central to the process.
In the Health and Well-being resource, we have provided four sets of symbols to help people consider how they feel about their communication. Because communication is  complex and often abstract, it can be particularly difficult for people to express their views about it, especially if they have existing communication difficulties. To make this easier, we have divided communication into four topics:
Expression
Understanding
Learning and thinking
Relationships.
In the following example, I show how each topic can be used to build up a picture of how someone feels about different aspects of their communication. I worked with Kate, a 42 year old woman who had a stroke which left her with severe expressive and receptive aphasia. She was able to communicate through vocalisations and gestures. She could sometimes draw or write down words and needed to point to 'yes/no' in order to reliably answer closed questions. Following discharge from hospital, I used Talking Mats with Kate to find out how she felt about her communication. I started with the 'communication – expression' topic and found that she felt that she was having lots of difficulties making herself understood, particularly on the phone and in group situations:
I then explored how Kate felt about understanding what people were saying to her. Kate was able to tell me that she found it easier to understand people on a one to one basis rather than in a group setting. She indicated that it really helped her if people used gestures or wrote things down. Her main difficulty was understanding people on the phone, and in fact she had stopped answering the phone altogether (see mat below).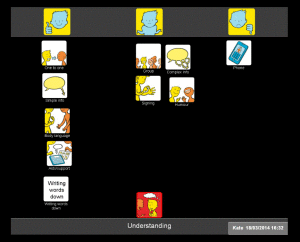 We went on to do a mat about Kate's learning and thinking. In this set, there are symbols which cover higher level language activities such as reading, problem solving and organisation. When we talked about these areas, Kate was able to tell me about the things she was finding most problematic, but could also identify some things that she felt she could still manage (such as calculations and reading newspapers).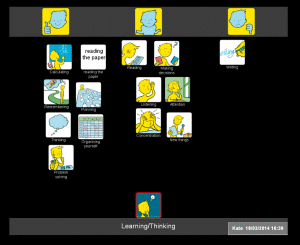 I then asked Kate how she felt about communicating with different people in her life. This mat shows that Kate found talking to her husband and her parents (who lived quite far away) particularly difficult.
As a result of doing these mats, we were able to target the things that mattered most to Kate in relation to her communication, and came up with the following actions:
1. Kate felt that her husband needed support and information, so we spent time working with him, showing him the best ways to support Kate's communication.
2. Because Kate's parents lived quite far away, she could only contact them using the phone, which was very difficult. We worked on getting Skype set up so that Kate could communicate with her family using all the modes available to her.
By splitting communication into different sub mats, Kate was able to think about different aspects of her communication and identify the things that she found most challenging. Together we began to work out some ways to help her overcome her difficulties.
Use the communication symbols to find out what people want to work on and use a collaborative approach to establish some goals to work on in therapy. I used the original Talking Mats when I explored  Kate's communication with her, but you could do the same with Digital Talking Mats. Find out more about it here.
Within the Health and Well-being resource there are four symbol sets (health, looking after yourself, communication and leisure & environment). Within the 'health' set, there are three topics which can be used to help people express their views about different aspects of their health:
• Health
• Coping
• Mobility
I worked with Pete who had severe aphasia. Pete had a range of health problems, including epilepsy and high blood pressure. Pete found it very difficult to communicate with his GP, and usually relied on his wife to translate. This meant that not all of Pete's health problems were addressed or discussed when he went to the doctor, and he often felt excluded from conversations at these appointments. Prior to one of Pete's GP appointments, I used Talking Mats with Pete to find out how he felt about his health. During our discussions, Pete was able to tell me that he was worried about a number of issues, but he especially wanted to talk to his GP about his ears, as he was having a lot of pain and also had a ringing sensation in his ears which meant that he found it very difficult to concentrate, particularly when watching TV.
Pete took the photo of his completed mat with him to his next GP appointment and his GP used this as a focus for discussions. As a result, Pete was referred to an audiologist for assessment. His GP also spent time discussing Pete's epilepsy with him and referred him back to the epilepsy specialist nurse who worked with Pete and his wife to improve their understanding and management of it.
Using Talking Mats helped Pete prepare for his GP appointment and also ensured that his GP focused on what was important to him. As a result, time was spent more effectively by all and Pete felt listened to and really participated in his GP consultation.
Use the Talking Mats 'health' symbols from the health and well-being resource to help people prepare for appointments with health professionals and manage their health more effectively.