What they are called, what they cost and what you get.
The re-developed Digital Talking Mats is nearly ready to launch with its new look and new functions. How you can buy it is new too so the team here thought we should put the new price structure down in black and white. The blogs we normally publish are interesting and thought provoking. I can tell you now, it is quite tricky to make a list of prices interesting or thought provoking, but I think you will be pleasantly surprised with the flexibility and creativity offered.
There are a lot of words used in these descriptions and because we use them every day we are used to them and know what they mean but sometimes we have to just stop and remember that's not the case for everyone. So here is our Talking Mats Glossary to help.
Glossary:
DTM – Digital Talking Mats. Also referred to as the digital Resource, Digital App or digital V2
Foundation Level training – our training course that can be complete online or face to face (Covid 19 restrictions permitting)
Resource – a collection of symbol sets that has been created to look at a particular area, eg Health and Well Being.
Resource library – all the symbols you have access to on the DTM depending on your subscription level, including on any photos you may upload.
Symbol set – a collection of around 15 symbols looking at a particular topic.
Top scale – symbols that show what a person thinks with a positive point, a mid-point and a negative point.
We are switching to a 'subscription' model. This means you choose the level you want, and then how often you pay for it – monthly or yearly. For individuals we have 3 levels that provide increased flexibility and choice. Organisations can buy subscriptions for groups of staff at our most flexible level.
Individual Subscriptions:
Organisation Subscriptions:
The subscription model for Organisations that want to buy several digital resources can be either a Yearly charge or a 3 yearly charge.
To offer more control over your Organisation's subscription each Organisation will be able to appoint someone to oversee the account who will be able to switch user emails as staff change.
Current Users:
Finally, for anyone who currently has a digital logon for our V1 app we will ensure the following:
We always recommend people access our Foundation Training course to ensure effective use of our resources. Our training is currently available online – find out more here: https://www.talkingmats.com/training/online-training/
So that's it, the new Digital Talking Mats, What it's called, what it costs and what you get. As always, we can be contacted on info@talkingmats.com if you have further questions.
Digital Talking Mats was designed in 2012 and was primarily designed to be used as an app on iPad and some Android tablets. The web browser version which uses Flash has never had the full functionality of the app version e.g. automatic reports, ability to add photographs, and unfortunately, Flash became obsolete in December 2020, a matter that was out-with our control. We sought investment funding and brought forward our plans to develop Version 2 of Digital Talking Mats and have been working hard with a tech company, MTC Media, to develop a new version that is responsive and is in line with current technology.
A blog outlining the new Digital Talking Mats was posted in Dec 2020: https://www.talkingmats.com/new_digital_resource/ . You will see it includes many of the features you have been asking for. We were hoping this would be ready for December 2020 but it has taken longer than we expected or wanted. You can still access Digital Talking Mats as an app on iPad or Android and it works as normal. However, Flash ending in December does leave us a gap in remote use and when using from a web browser.
Digital Talking Mats was not designed for remote use; we were not thinking pandemics in those days! When lockdown happened, we worked hard to find a way to support remote use and found that using it as a web browser application and sharing screens through platforms such as Teams or Zoom was the most effective way to make that happen. You can, however, still use it remotely if you have both an iPad/Android tablet and a laptop, by sharing your screen on the iPad with the Talking Mats application open and combining that with running a remote meeting on your laptop. This way you can see the Thinker and the Digital Talking Mats. We attach the detailed instructions and an example of Lois doing the Mat with our Office Manager, Heather Using Talking Mats virtually with two devices update Jan 21. You may find other temporary solutions – if so, let us know.
We will be in touch as soon as we have news of Version 2 and you will be migrated across to the new version (type of access will vary according to what you originally purchased from us). We anticipate this to be in March 2021.
We wanted the transition to be smoother than it is proving to be but hope you will understand that we are doing what we can. We really value your support in these tricky times. The new version is looking great and if you want to be sent information about being an earlier adopter then please email info@talkingmats.com and we will keep you updated.
We developed our Talking Mats' digital resource way back in 2012 when the online world was a simpler place. When first launched our technology was cutting edge – we were one of the few applications that worked on both Apple and android devices as well as web browsers. Over the years it has been used in many different settings; schools, hospitals, health centres, social work support and day centres to name a few. Unfortunately, digital development does not stay static and what was cutting edge then is now becoming outdated and so we need to revise and produce Version 2. We are delighted and excited to let you know we are launching our new digital resource early in 2021.
2020 has seen an unprecedented focus on digital communication and our web-based digital resource has proved to be invaluable. Our Talking Mats' community applied the web-based digital resource in conjunction with Microsoft Teams, Zoom and Attend Anywhere to allow remote contact when it was needed the most. However, technology progresses and recently many of you will have noticed a message from Adobe Flash Player plugin when you access the digital resource from the Google Chrome web browser. This is because Flash Player will become obsolete at the end of 2020, making it very difficult to use our current resource from the web. We began upgrading this year to ensure the stability of the digital resource and we have also taken this opportunity to improve its functionality and include new features. Flash Player will hopefully work on other browsers and it looks like its best to swap to Opera as a web browser but we are still seeking guidance on this and will let you know when advice is clearer. However you can also hare your iPad on teams and zoom and guidance on how to do this is can be found here Using Talking Mats virtually with two devices update Jan 21
Downloaded apps will still work on tablets and iPads but Talking Mats will only offer support for a limited time in 2021.
We have been working with Dundee based media company, MTC Media, over the past few months to design our new digital resource and whilst it is not quite ready, we wanted to share some of the new features.
'Can I make the mat on the screen bigger and less cluttered?'
'I'd like to be able to use a card from Health in my mat using the Secondary symbols, but I can't'
'Can I upload my own photographs?'
These questions and comments are some of the most common that our digital users ask.
Our new resource is user friendly and intuitive with bigger text, a larger area to create your mat and the ability to hide symbols until you are ready to use them.
You can create your own library of topics from across the different bundles.
Photographs can be easily uploaded and added to your library
This is just a small teaser to whet your whistle and to end 2020 with something to look forward to.
The way we sell this new resource will be changing to a subscription model but we will keep in touch with you about this and all existing digital users will automatically be moved over to our new digital resource. We are sure you will like it and want to stay with it.
We are all looking forward to celebrating Talking Mats is 21 on the 15th August
The morning is aimed at people who are experienced Talking Mats practitioners and will extend thinking and Talking Mats practice. There are an interesting range of parallel sessions to choose from. Each participant will get to choose three topics to attend.
Talking Mats as a Thinking Tool
Embedding Talking Mats in Schools
Talking Mats in Forensic Settings
Talking Mats in End of Life Care
My experience of using Talking Mats as a parent
Talking Mats and Positive behaviour Support
Talking Mats and Supported Decision- Making
Empowering people with Learning Disabilities to be Talking Mats Listeners and Trainers
Talking Mats and Children's Mental Health The afternoon is more informal and there will be an opportunity to engage with some of our partners – see how they use Talking Mats and try things out . There will be posters on the use of Talking Mats in lots of different places and for a wide range of applications.
Plus there will be lunch, cake and a few bubbles !
Thanks to funding from NHS Forth Valley endowment committee the event is free but you do need to book your space https://www.eventbrite.co.uk/e/talking-mats-is-21-tickets-62362171935
You can come to the morning only, afternoon only or come for the whole day.
If you can't come to our event watch out for out blogs and social media celebrating the reach of Talking Mats for 21 days before the 15th of August .Please join in with your contributions using the hashtag #TMis21. For 21 days after our event we will be having a special Birthday offer! Watch this space, more to follow …….
Rachel Woolcomb, our Talking Mats OT Associate, tells us about the recent Royal College of Occupational Therapists' Report and considers the ways Talking Mats can support:
The Royal College of Occupational Therapists have recently published a new report. "Making personalised care a reality: The role of occupational therapy."
As the OT Associate for Talking Mats, I took the opportunity to review the document and consider how Talking Mats can help OT's in fulfilling the recommendations made.
The report recognises that people living with long-term conditions bring different and equally important, knowledge and expertise to the decision –making process.
It challenges OT's to ensure that they really listen to, and hear the views of the people they work with.
A Talking Mat can help facilitate this. It helps people to understand what is being discussed, to reflect and organise their thoughts, to say what matters most to them and record their views. It helps OT's to really listen, to learn new information, to involve the person in their own planning and support decision making.
Read more about how Talking Mats can help OT's to make personalised care a reality in the TMOT Resource 1:  TM Personalised Care – Copy.
The RCOT report is available here: https://www.rcot.co.uk/news/delivering-personalised-care-frontline
Rachel would love to hear from you if you have any examples of how Talking Mats have helped you to provide personalised care, or if you want to know more about OT and Talking Mats. Her email is: Rachel@talkingmats.com.
If you are feeling inspired and would like to find out about accessing Talking Mats Foundation Training, take a look at our upcoming courses across the UK, as well as online and organisational training options: https://www.talkingmats.com/training/
Grateful thanks to Prof. Dr. Norina Lauer, OTH Regensburg – University of Applied Sciences, Germany for this blog.
At the conference of the German Society for Aphasia Research and Treatment (GAB) from the 1st to the 3rd of November Franziska Rau presented a poster – Let pictures talk – about her bachelor thesis on Talking Mats.

Speech and language therapists from German-speaking countries meet at this conference to present their latest research findings. This year's theme was " Aphasia Therapy Digital".
The presented bachelor thesis about Talking Mats was performed at the HAN University of Applied Sciences, Netherlands, and was written by Franziska Rau together with Karoline Bitter and Lara Stobrawe. The students asked 29 people with aphasia and 63 people without aphasia for how representative they rated the images and terms used in the Communication section of the Digital Talking Mats Health & Well-being resource. While the healthy persons judged many items as not clear enough, the people with aphasia estimated significantly more pictures and names as appropriate. For this purpose, various reasons have been discussed, such as the possibility that the persons with aphasia directly perceived the pictures and terms as aids, while healthy persons judged more critically on the basis of the task. But also problems of concentration or comprehension in people with aphasia would be causally conceivable. This should be examined in further studies.
The poster was presented as part of a poster session and was well received by the audience. Thanks to Franziska, Karoline and Lara for their great study and to Holger Grötzbach, Janine Coopmans and Xaver Koch who supported the students.
We are always happy to receive projects and posters from anyone studying how Talking Mats can be used
We are now half way through our project, funded by The Health and Social Care ALLIANCE Scotland, whose overall aim is to empower people with a range of long term conditions, with and without additional communication difficulties, to self-manage their own health and well-being by using Digital Talking Mats.
Participants

We have carried out all the initial visits and 16 follow-up visits and participants are sending in their completed mats, choosing whichever topics they want from the digital Health and Well-being resource. At the time of writing this blog we have received 137 completed mats.
We have received very positive feedback with many examples of how people are using the Digital Talking Mats to self-manage.
Here are 3 examples:
One participant with learning disability has diabetes. Through using the Digital Talking Mats she has stopped buying takeaways every night and is now buying M&S 'Balanced for You' meals. This is a huge step forward for her as she refused to discuss healthier eating before.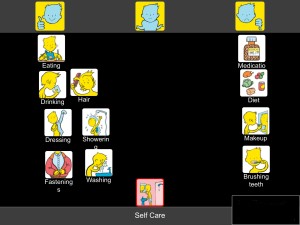 A man with early onset dementia has identified that he used to enjoy singing and has decided for the first time in his life to join a choir. This is not something that had come up in conversation before. Despite the diagnosis of dementia he has realised that he is still keen to try new things.

The wife of a man with severe aphasia said 'This (Leisure away) has highlighted how few things he can do away from home. We discussed this but can't see how we can change the situation.' However at the second visit he used the same mat and indicated that he had been thinking about his mobility and was about to start swimming and a fitness class.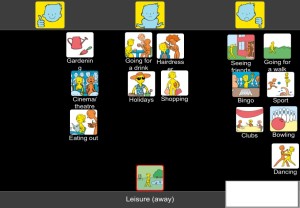 We already have an increased awareness of the meaning of self-management as we observe how participants are using the Digital Talking Mats to think about their situation, state their own views and share them with carers/support workers. We are also noticing that there is a shift in some relationships as the carers/support workers realise that the person with the long term conditions can make decisions and express their own views rather than having decisions made for them.
Fika (coffee time)  in the Talking Mats office is always interesting.  Recently we got chatting about Christmas preparations and who had the longest 'to do' list.  There was a definite variation in enthusiasm for all things Christmas.  We needed to do a Talking Mat! This was done on our digital Talking Mats – it's  easy to import your own images now and make a digital Talking Mat about any topic.
Eating , drinking and games and puzzles got the thumbs up!   (Lois is the games queen and was the most enthusiastic about that).
Holiday, partying and entertaining got consensus.
Extended family coming to stay? This moved around a bit, but was generally positive (say no more!)
Shopping was in the mid section-we all agreed.  Perhaps by now it would be less positive with last minute mayhem.
Gifts was added as a blank (how could the interviewer forget that) and not everyone was comfortable about the commercialisation of Christmas.
'How do you feel about Juggling demands?'   We all agreed -not sure.  Again remember, Talking Mats is how a person feels at a certain point in time.  Ask us again on Christmas Eve?!
Christmas cleaning?  All agreed was a chore and some thought best not to get too bothered about it
Talking Mats supports a group conversation.  We all got our say
Merry Christmas one and all
We are delighted that Nick Stewart, Director, Software and Products with Arum Systems, the IT Consultancy who have built the Digital Talking Mats has chosen TM as his favourite project for a case study.
Here is an extract from his case study describing the Challenge and Process of working with Talking Mats.
 The Challenge
The challenge was taking the existing physical Talking Mats tool and building a digital application suitable for multiple platforms, while maintaining the core ethos of the tool. A significant amount of academic research went into creating the physical product and those principles had to be present in a digital version. The applications had to be extremely intuitive to use and enable better conversations for people with communication difficulties.
The aim was to create 3 digital versions; a browser based version for laptop users and a tablet version for iPad users and Android users. Each application would connect to a cloud server, allowing users to log in from any device, and the tablet versions would allow offline working through syncing with the cloud when a connection was available. There was a requirement to set up a multi-tiered subscription based user account system to match the intended charging model for the digital app.
Our Process
Arum's approach was to totally immerse ourselves in the Talking Mats business to understand their goals, ethos and objectives. We took time to learn how the Talking Mats ecosystem worked and how they wanted to engage with their customers. By applying our 3D Methodology we were able to break down the deliverables into phases allowing the key building blocks to be delivered first. This also allowed the best use of budget and reduced the time to market the new product.
To read the full case study click here Arum Talking Mats Case Study
We are delighted to be a Winner in the People Driven Digital Health Awards which were held in Leeds on Friday 3rd July. These awards were instigated to recognise the work of digital health innovators from across the UK and aim to connect the people who have ideas and make them happen.
The event was organised by mHabitat  and compered by a well known health commentator, Roy Lilley, of the Academy of Fabulous Stuff. The evening was full of fun and energy and we met lots of interesting people and made good connections. There is loads going on in digital health and services should make use of all these fabulous innovations that will improve people's lives and health services. To get a flavour of the evening follow #PDDAwards15 and to find out about the other winners click here.
Our category, 'the most impressive third sector digitally enabled service' recognises third sector services which have embedded digital tools and services into improving people's experience and outcomes. We very honoured to win this category with our digital Talking Mat. The announcement of the winners was followed by a flurry on Twitter which you can dip into here .