The Talking Mats Foundation Training is a course that builds people's confidence in using and applying Talking Mats to their work. Organisations can access this as a group ensuring staff can embed the Talking Mats approach and principles into their practice. The training also gives staff a common language for embedding a patient centred approach at the heart of a service.
We offer online training by;
giving organisations access to our online training platform – this is designed as self-directed course, supported by a Talking Mats tutor, with a variety of activities and resources to support learning
zoom/teams sessions
a combination of both 1 and 2.
2020 saw an increase in organisations approaching Talking Mats for online team training and this has continued into 2021. We will work with you to find the approach that best suits your staff group.
Online learning does not suit everyone and comments from participants are mixed. Some really like the flexibility of being able to work at their own pace and find the site user friendly whilst others miss the interaction that face-to-face brings. As a team we miss the face-to-face training too but believe that our online training and the support we offer organisations is an excellent alternative.
It is easier to discuss the impact of an organisational course by giving an example. We recently ran a course using our online learning platform combined with short introductory and a follow-up session on Zoom for 24 staff working in an NHS Paediatric service. Taking part on the course were Nurses, Psychologists, Occupational Therapists, Physiotherapists, Dieticians and Speech and Language Therapists. It was great working with such a multidisciplinary group. They all have communication at the heart of their practice and were keen to learn about a framework that could help them improve the effectiveness of their work. There were different reasons for doing the course, but a common theme was wanting to have more ways of directly engaging and building relationships with the children they were working with rather than relying mostly on carer views. They wanted to be able to involve young people more meaningfully in some of the complex issues that surrounded their care.
It is always positive when a course has immediate impact and this staff group applied their learning in very different ways, for example Talking Mats was used to;
communicate with a young person with selective mutism,
involve a young woman who was self-harming to contribute to the strategies that help her reduce those behaviours ,
involve children in physiotherapy interventions.
One course participant said 'I have practised with a couple of patients and it has made a massive impact on their lives already. One patient's behaviours have dramatically reduced as I was able to support her to show how she felt about aspects of her care and resolve this.' And another participant said 'I have now used Talking Mats with a couple of young people with complex neurodevelopmental difficulties and this has helped engagement considerably, where things had felt stuck before'
An important part of Talking Mats training is to help participants think about their own communication style and how it impacts on interactions and relationships. Staff said;
this course increased my awareness of my communication style and made me reflect more on how I communicate with my patients but also what I presume from my patients.
I am more aware of the communication demands I place on others as a clinician/therapist and am more confident in engaging people with communication difficulties.
It has made me think more about the language that i use during interactions.
It has definitely made me reflect on my own style of questioning, and helped improve my pacing and language skills.
The feedback from this varied and engaged group of staff was positive and is summed up in this comment; 'The course was very engaging, interesting, and easy to follow and understand. I have learned a lot from this. The reflective work throughout the modules really helped to connect the theory with the practice of Talking Mats. The course leaders were very involved, supportive and helpful!'
Our training is relevant to organisations working within Social Work, Advocacy, Dementia Support and Education as well as Health and Social Care. If you think you would like to organise a course for your staff group please get in touch at info@talkingmats.com to talk it through.
Thanks to Kate Boot for the second part of her interesting blog describing her use of Talking Mats to assess and teach understanding of concepts and vocabulary related to Relationships and Sex Education, illustrating use of Talking Mats in a teaching context. Check out the first part of her blog here: https://www.talkingmats.com/sex-and-relationships-part-one/
In the second part of this two-part blog series, I explore how using Talking Mats enables us to review the progress of linguistic and pragmatic understanding within the context of Relationships and Sex Education.
Considering the speech and language therapist's focus is on increasing a person's linguistic and pragmatic understanding we also use talking mats to explore potential target vocabulary and concepts. Drawing on the best evidence-based practice from the developmental literature (Steele and Mills, 2011; Justice et al, 2014; Lowe et al, 2018) we need to use a variety of methods to teach the underpinning vocabulary which wider RSE concepts relate to or hinge upon, e.g., safe, consent, power and control.
Using Talking Mats enables me to assess what the student already knows or understands of the vocabulary, which in turn informs the ongoing therapy programme, e.g., the degree of prompting or support needed to learn new words and to apply them to situational contexts. We repeat these activities throughout the academic year to evaluate how well the therapy programme is going and how the young adult's understanding is developing.
Thinking back to Young Adult B from the first part of this blog, from their initial assessment, it was evident that they did not understand the word 'safe', therefore applying the evidence base described above we spent one term working on developing their understanding using a variety of communication friendly strategies. They even wrote two songs about the word 'safe' to the tune of Jingle Bells and Ariana Grande's 'Thank u, next'. Towards the end of the term, we completed a talking mat activity to review their progress. As I referred to in Part One it's important to give control to the 'thinker', it is their mat.
Moving forwards, we will continue to review their progress using Talking Mats, which combined with the data from other best evidence-based practice will be used to determine the increase in their word knowledge which in turn, should develop their self-awareness and improve their skills needed to make decisions about sexual relations.
Kate Boot is Clinical Lead, Specialist Speech and Language Therapist and Sensory Integration Practitioner at Phoenix Learning and Care. To share ideas or chat further about this work you can contact her via Twitter @SLTinSEND or LinkedIn www.linkedin.com/in/kate-boot-salt
References
Justice, L. M., Schmitt, M. B., Murphy, K. A., Pratt, A., & Biancone, T. (2014). The 'robustness' of vocabulary intervention in the public schools: targets and techniques employed in speech–language therapy. International Journal of Language & Communication Disorders, 49(3), 288-303.
Lowe, H., Henry, L., Müller, L. M., & Joffe, V. L. (2018). Vocabulary intervention for adolescents with language disorder: a systematic review. International Journal of Language & Communication Disorders, 53(2), 199-217.
Steele, S. C., & Mills, M. T. (2011). Vocabulary intervention for school-age children with language impairment: A review of evidence and good practice. Child Language Teaching and Therapy, 27(3), 354-370.
Thanks to Kate Boot for her interesting blog describing her use of Talking Mats to assess and teach understanding of concepts and vocabulary that keep you safe. This is part one of a two-part blog, illustrating use of Talking Mats in a teaching context.
For several of my students (young adults aged 16-25 with special educational needs and disabilities) the focus of our therapy work is Relationships and Sex Education. They've worked with me through Mental Capacity Assessments, the result of which indicate that they require further education and support to build their capacity to make decisions in relation to sexual relations. All of the young adults I work with have significant speech, language and communication needs. As their Speech and Language Therapist it's my duty to ensure that I work with them to enhance their understanding of the linguistic and pragmatic concepts which underpin their understanding of sex and relationships. As the Department for Education state in their latest RSE statutory guidance 'to embrace the challenges of creating a happy and successful adult life, pupils need knowledge that will enable them to make informed decisions about their wellbeing, health and relationships and to build their self-efficacy'.
According to case law (D Borough Council v AB [2011] EWHC 101) there are key factors an individual must understand to have capacity to sexual relations. These are:
The mechanics of the

act;

That there are health risks involved, particularly the acquisition of sexually transmitted and sexually transmissible

infections

;

That sex between a man and a woman may result in the woman becoming pregnant.
This was added to recently in A Local Authority v JB [2020] EWCA Civ 735 where Lord Justice Baker included the fact that the other person must have the capacity to consent to the sexual activity and must in fact consent before and throughout the sexual activity.
My talking mat activities give me an opportunity to assess student's self-awareness, an important consideration for mental capacity work when the law expects a person to be able to use knowledge and weigh it up to make a decision. Without the Talking mats structure, the responses are often 'I don't know' or I'm offered a learned response, e.g., 'to keep safe'.
The case study examples below demonstrate poor self-awareness, because when combined with further assessment to explore their understanding of key vocabulary and concepts it is evident that the young adults do not understand many of the terms used within these different sexual and social situations.
When working with talking mats it's important to remember that you're giving control to the 'thinker', it is their mat and therefore where or how they place visuals is their choice and part of the trust building exercise between the 'thinker' and 'listener'.
Young Adult A
They expressed through their talking mat that they know how to keep themselves safe in various social and sexual situations, however upon further assessment, including follow on mats they did not understand many words and concepts used within this context, e.g., 'hook-up', 'one night stand', 'morning after pill' and were unable to offer examples of sexually transmitted diseases when offered visual choices on their mat.
Young Adult B
This young adult expressed that they understood how to keep themselves safe from sexually transmitted diseases and to manage their own and others privacy, however, upon further assessment it became clear that they did not understand the word 'safe'. Understanding this concept is necessary for us to manage the majority of sexual and social interactions. Therefore, this talking mat helped to pave the way for our ongoing therapy work with the young adult.
Young Adult C
This talking mat facilitated a conversation with the young adult who explained how they sometimes find it difficult to keep themselves and others safe, specifically when they are struggling to manage their mental health. It acted as a starting point, allowed us to explore skills necessary to manage executive functions, e.g. planning, controlling our impulses and sequencing events. Again, it enabled us to consider what we would add into the therapy programme and how we would work with other key people involved in the young adult's life to keep them and others safe.
Kate Boot is Clinical Lead, Specialist Speech and Language Therapist and Sensory Integration Practitioner at Phoenix Learning and Care. To share ideas or chat further about this work you can contact her via Twitter @SLTinSEND or LinkedIn www.linkedin.com/in/kate-boot-salt
References
Department for Education (2020) Relationships Education, Relationships and Sex Education (RSE) and Health Education [pg 8]  
What they are called, what they cost and what you get.
The re-developed Digital Talking Mats is nearly ready to launch with its new look and new functions. How you can buy it is new too so the team here thought we should put the new price structure down in black and white. The blogs we normally publish are interesting and thought provoking. I can tell you now, it is quite tricky to make a list of prices interesting or thought provoking, but I think you will be pleasantly surprised with the flexibility and creativity offered.
There are a lot of words used in these descriptions and because we use them every day we are used to them and know what they mean but sometimes we have to just stop and remember that's not the case for everyone. So here is our Talking Mats Glossary to help.
Glossary:
DTM – Digital Talking Mats. Also referred to as the digital Resource, Digital App or digital V2
Foundation Level training – our training course that can be complete online or face to face (Covid 19 restrictions permitting)
Resource – a collection of symbol sets that has been created to look at a particular area, eg Health and Well Being.
Resource library – all the symbols you have access to on the DTM depending on your subscription level, including on any photos you may upload.
Symbol set – a collection of around 15 symbols looking at a particular topic.
Top scale – symbols that show what a person thinks with a positive point, a mid-point and a negative point.
We are switching to a 'subscription' model. This means you choose the level you want, and then how often you pay for it – monthly or yearly. For individuals we have 3 levels that provide increased flexibility and choice. Organisations can buy subscriptions for groups of staff at our most flexible level.
Individual Subscriptions:
Organisation Subscriptions:
The subscription model for Organisations that want to buy several digital resources can be either a Yearly charge or a 3 yearly charge.
To offer more control over your Organisation's subscription each Organisation will be able to appoint someone to oversee the account who will be able to switch user emails as staff change.
Current Users:
Finally, for anyone who currently has a digital logon for our V1 app we will ensure the following:
We always recommend people access our Foundation Training course to ensure effective use of our resources. Our training is currently available online – find out more here: https://www.talkingmats.com/training/online-training/
So that's it, the new Digital Talking Mats, What it's called, what it costs and what you get. As always, we can be contacted on info@talkingmats.com if you have further questions.
In these challenging times during lockdown/COVID-19 restrictions we have had to deliver our Speech and Language Therapy sessions differently. In my role as a Speech and Language Therapist for the NHS Stockport Foundation Trust Buy-Back Service, I am gathering feedback from some of the children I work with, using the free RCSLT Talking Mats resource topics described in my previous blog https://www.talkingmats.com/rcslt-lockdown-survey/
Many thanks to the Talking Mats-trained Teaching Assistants, Lucie Porteus (Woodley Primary School), and Dawn Wrigley (Romiley Primary School) for carrying out these sessions with the children involved. Talking Mats is used in both schools as a tool to support children to share their views and opinions about a wide range of topics, which enables child-centred practice and target-setting.
In this blog, I wanted to share some real-life examples for each topic. The topscale used for each topic is 'Happy/ Not Sure/ Not Happy':
Face to Face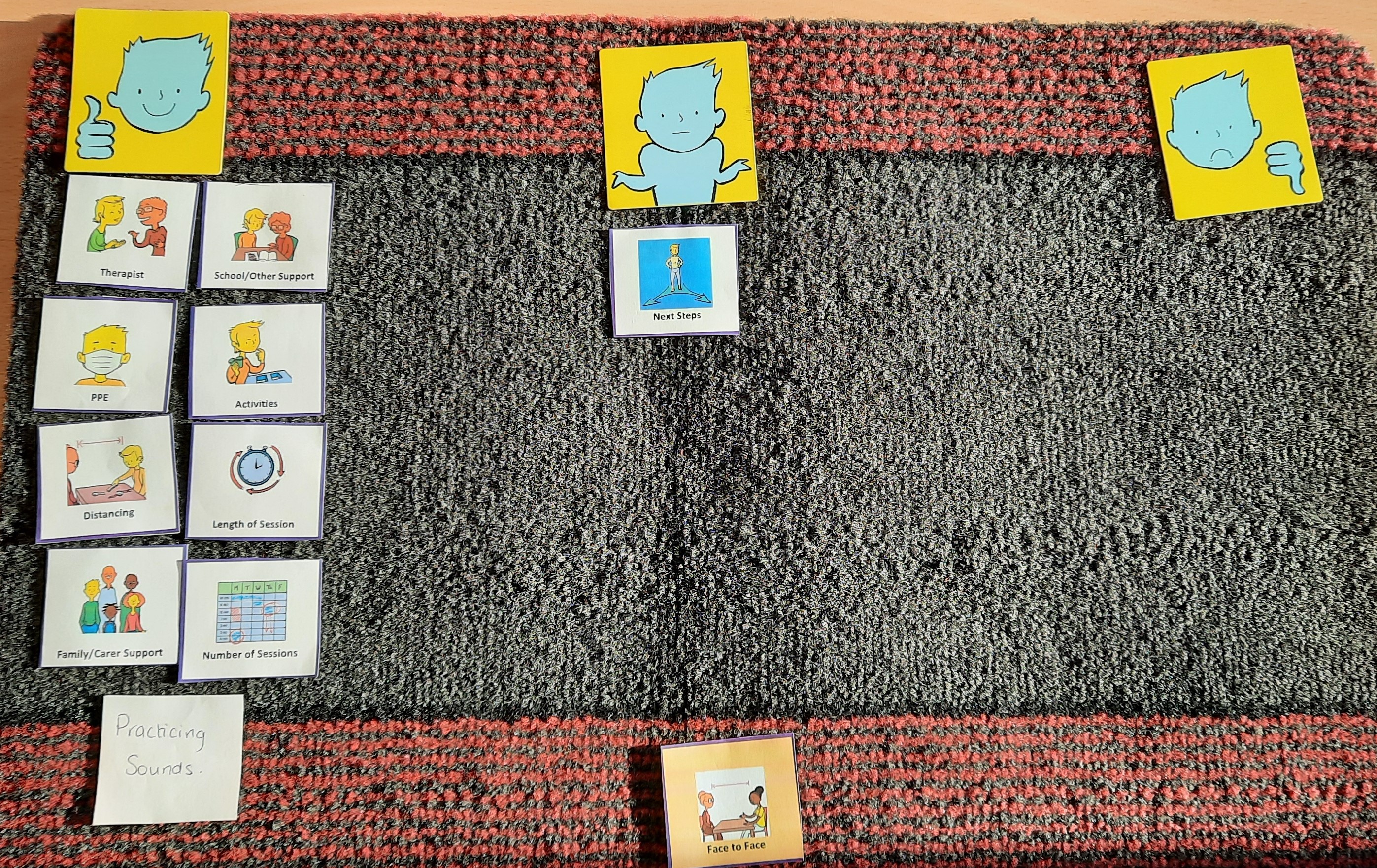 For this mat session, Dawn took out the symbols that were not relevant. The child was able to express that he was happy about the face-to-face sessions he had been receiving, during which the SLT has had to wear full PPE. The child added a blank to say that he was happy about 'Practising Sounds' in particular, and added further information about 'Activities', sharing that he especially liked the penguin and fishing games. The child shared that he was not sure about next steps, and so in future sessions I will ensure that these are made clearer.
Mats completed with other children on this topic have helped to explore the impact of use of PPE and a common theme has been that children have not been happy about the SLT's mask, usually because the child cannot see the SLT's mouth. In our school sessions we have attempted to resolve this by having a staff member who is part of their school 'bubble' present, who is then able to model the speech sounds/language used by the SLT. I am also aware of SLTs who have used video clips of themselves modelling speech sounds, as another potential solution.
Video
This mat enabled the child to share information about how they felt about video sessions using the Attend Anywhere platform. Lucie removed the options which were not relevant. The child was able to communicate that he felt happy about the SLT, Activities, and Family/Carer Support – he was happy that his Dad was sitting with him. The child was not sure about a few of the options such as time and number of sessions – and said that he wanted more sessions. He was also unsure about technology/access and mentioned that 'sometimes I see her, sometimes I don't. The child placed length of session on the negative side and said 'I wanted it longer'. This information has helped me to plan for future video sessions, as I had previously been keeping the activities shorter to help to maintain his attention/focus. It is clear the child is happy about the activities completed and is keen for more – and longer – video sessions in future. I am also aware that I need to be clearer when explaining next steps at the end of the session, which will include letting the child know that he also be working on the activities during his keyworker time in school, with a member school staff.
My Life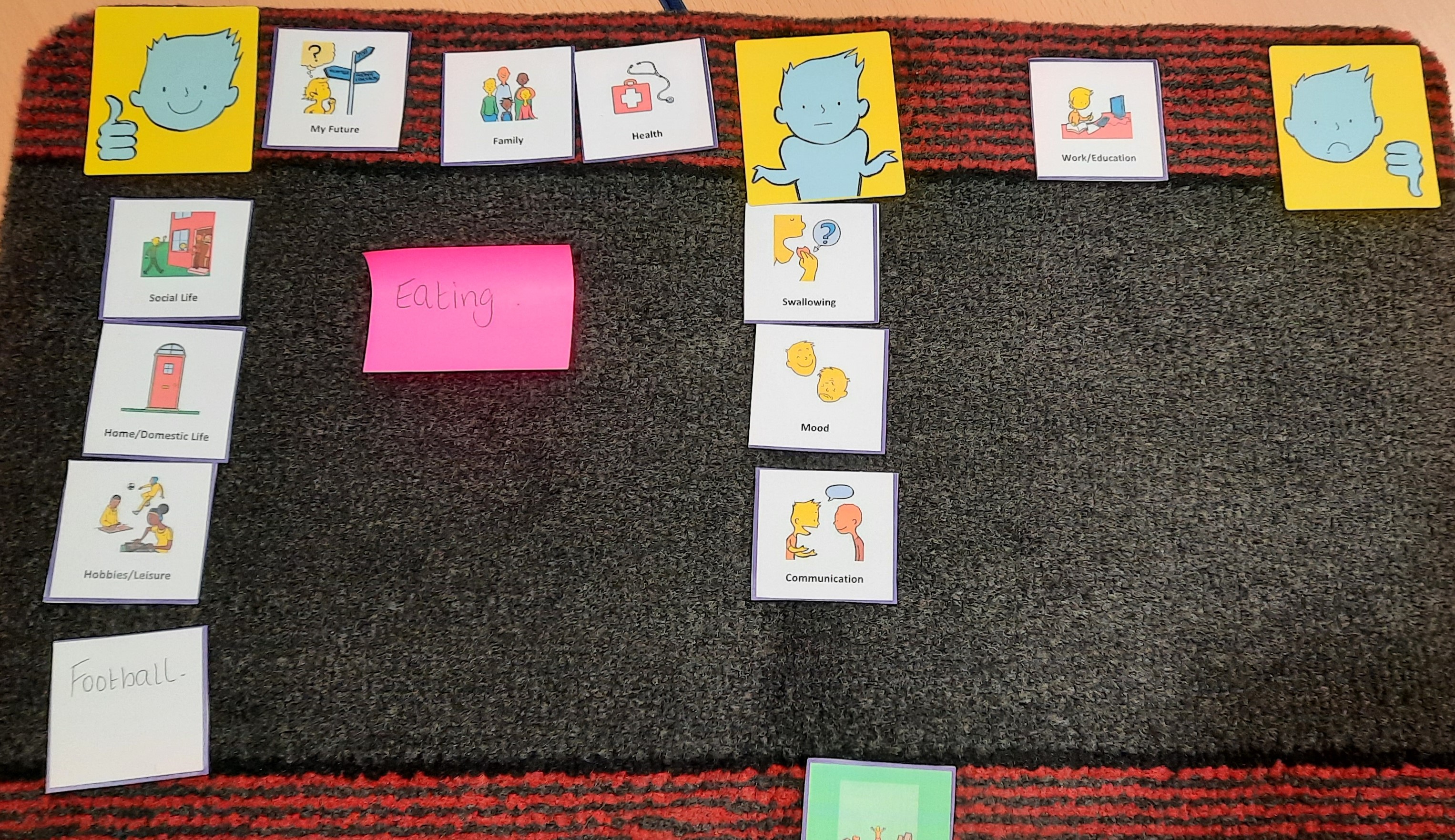 This child was able to share lots of additional information during the Talking Mats session, which helped to provide a clearer picture of how he felt about his life during lockdown. For example, for 'Mood', he shared that 'some days I am ok and some days I am not'. For 'Family': 'sometimes I fall out with my brother and my sister annoys me'. School was between not sure and not happy because he said he "only likes Maths and topic and he really doesn't like English".
The child put Communication under 'not sure' and shared that "sometimes I struggle to talk because of that, and that makes me sad sometimes".
The main action from this mat was to plan another Talking Mats session to submat 'communication', as when Dawn asked him if there was any he wanted to look at in a little more depth, he indicated the communication symbol and had said "that way I can move it from there to happy". Another option which would be useful to explore further will be 'mood', to find out what helps/ does not help.
Exploring the topic 'communication' further will enable the child to express which aspects of communication he is feels are 'going well/ going ok/ not going well', which will then result in updated SLT target-setting and intervention.
The RCSLT Talking Mats Survey is open until the end of June 2021 – please make use of these free resources so that the children and adults we are working with can have their voices heard about their Speech and Language Therapy Provision during COVID-19 lockdown/restrictions. Please send your feedback forms to: peter.just@rcslt.org
Access your guidance and free resources here:
Symbol Sets: https://www.talkingmats.com/wp-content/uploads/2013/09/Symbol-Set.pdf
Guidance: TM RCSLT guidance text – March 2021
Feedback Form: TM RCSLT TM feedback form
We are looking forward to our second Talking Mats Twitter chat on Thursday 10/12/20 7.30 – 8.30pm.
Join us to discuss and celebrate our new report 'Can Scotland Be Brave', which has a specific focus on children and young people's participation. Find out more about the report here https://www.talkingmats.com/new-report-to-launch-10th-dec/
The report will be launched by the Scottish Government on the same day, to coincide with Human Rights Day 2020.
Here are the questions we will be asking:
Grab a cuppa – or better still, a mulled wine and mince pie! – and join us to share experiences and ideas.
Remember to use the hashtag #TimeToTalkTM on all your posts!
Many thanks to Peter Just, Head of External Affairs, RCSLT and Padraigin O'Flynn, External Affairs Assistant, RCSLT for this blog describing the newly launched UK-wide RCSLT Survey, which includes free Talking Mats resources to support those with communication difficulties to have their voices heard.
Like many of you, the Royal College of Speech and Language Therapists (RCSLT) has been worried about the impact of COVID-19 on people with communication and swallowing needs. Based on what we've heard from our members, service user organisations and service users themselves we've been very concerned about how the UK-wide lockdown (March-June 2020) affected people's access to the speech and language therapy they and their families and carers need.
To help us understand the issue better and to inform our response, we've just launched a UK-wide survey. Following consultation with service user organisations, the three key questions we're asking are:
How did lockdown affect your speech and language therapy?

What impact did this have

on you?

What are your thoughts about the future?
From the start, we were clear: we wanted the survey to be as accessible as possible to as many people as possible, no matter how they communicate and no matter what their communication preference is. Over the past couple of months, we've worked with members to produce the survey in a range of accessible formats.
We're particularly delighted that one of those formats is Talking Mats – and we're very grateful to Lois and Laura for all their advice and support . As you will know better than anyone, the mats will enable people to give us their views and tell us how they've felt and are feeling. We are delighted the mats will provide people with the means to self-advocate – this will add a richness to the survey findings that they might otherwise lack.
We'll be working with service user organisations to promote the survey to their networks. But we'd also really like your help too. Please share the survey and encourage as many people as possible to fill it out. The more voices we hear, the more stories we collect and the more responses we receive, the greater the impact of the survey findings will be.
Those findings, which we hope to publish early in the New Year, will be used to influence Governments, Parliaments and Assemblies across the United Kingdom. The case that will be making to ministers, officials and parliamentarians – that people must have access to the speech and language therapy they need – will be all the stronger for it being based on service users' lived experiences. The very powerful testimony that the mats will provide will strengthen that case even further.
The survey is open until 5pm on Friday, 8th January 2021 and you can find more information about it here:
https://www.rcslt.org/learning/has-coronavirus-affected-your-access-to-speech-and-language-therapy
We hope you find the mats useful and if you had any queries or wanted any more information, please let us know. We look forward to working with you to help make a difference to the lives of people with communication and swallowing needs.
Peter Just, Head of External Affairs, RCSLT
Padraigin O'Flynn External Affairs Assistant, RCSLT
We are really looking forward to our first ever Talking Mats Twitter Chat on Thursday 01.10.20 from 7.30 – 8.30pm!
It will be a great opportunity to share experiences and ideas – here are the questions we will be asking:
This will be followed by a brief summary of the key learning points from the discussion. Join in and remember to use #TimeToTalkTM in all your comments – we look forward to chatting with you all!
Following on from last week's guest blog, Edith Barrowcliffe from the Action Group describes how she has continued using Talking Mats throughout lockdown. Please note that the image used in this blog is from a mock session and has been taken for publicity purposes only.
In the second week of March I was running a 9 week old pilot counselling service (HearMe at The Action Group) for adults with cognitive and/or communication difficulties, supported by Talking Mats.
A week later lockdown catapulted me into remote working and demonstrated just how crucial Talking Mats were. Without access to the digital app or a suitably high resolution webcam my first online sessions were conducted without them. One client immediately began struggling to retain the thread of their subject matter.
I quickly rigged up a secondary webcam, allowing me to shift between my face and a clear view of the physical mat on my desk. Clients direct me how to place the symbols for them.
I've recently acquired a Talking Mats digital license and am pleased to find I can add in additional images. My experience with the physical cards is that allowing the client to direct the session often means searching through multiple different sets or hastily drawing new images. We move at a slower pace because of this but it seems to be an important way of giving weight and attention to whatever the client (Thinker) brings. My fantasy version of the digital talking mats app would include an image search function allowing me to rapidly search all the symbols in all the sets, pick one and caption it appropriately mid-session!
The client I mentioned above uses Talking Mats in this very freeform way – when they tell me something I ask if they want to put it on the mat and they will reply yes, or no. Once I've located or drawn the image they tell me where to place it. Towards the end of the session we review the mat, photograph it, and I send them the picture.
Another client uses a more structured approach. I present a choice of symbol sets based on topics that seem to be important to them (eg home environment, relationships, mobility). They select a topic and we begin a more typical talking mat, giving us a framework and focus to explore their feelings around each symbol. After a while the client/Thinker moves on to other emotionally weighted topics unrelated to the symbol set and we transition into something more akin to "regular" counselling – albeit with simplified, concrete, reflections of the kind proposed by Garry Prouty [1] Yet the Talking Mat seems to provide a "way in" to these deeper feelings that we otherwise don't reach.
Not everyone uses Talking Mats. Lockdown has limited my capacity to offer it – not all clients have a computer/tablet for video calls and some clients actively prefer the phone. I'm continuing to learn, explore and find my way with this very diverse client group, but there is no doubt that Talking Mats opens up emotional exploration for some who might not normally manage it.
Edith Barrowcliffe, Hear Me, The Action Group
With thanks to our funders and partners for making this work possible – Hospital Saturday Fund, The Action Group Board, Leith Benevolent Society, Port o'Leith Housing Association, and The Scottish Government. And to the team at Talking Mats for their support and help!
[1] [PROUTY, G. (2008) Pre-Therapy and the Pre-Expressive Self. In: PROUTY, G. (ed.) Emerging Developments in Pre-Therapy. Monmouth: PCCS Books; also PÖRTNER, M. (2007) Trust and Understanding. Revised Ed. Ross-on-Wye: PCCS Books, pp82-85].
A new, updated version of our Digital app, will be available in the New Year. You can download a free taster version of our app here:
https://www.talkingmats.com/product/talking-mats-taster/
For more information about using Talking Mats remotely, check out this recent blog:
https://www.talkingmats.com/using-talking-mats-remotely/
Many thanks to Edith Barrowcliffe from The Action Group for sharing her experiences of using Talking Mats to support counselling with adults who have cognitive or communication difficulties. Watch this space for Edith's follow-up blog next week which will describe how she has continued to use Talking Mats during lockdown.  Please note that the image used in this blog is from a mock session and has been taken for publicity purposes only.
Eleven years ago, I began working at The Action Group with adults who have additional support needs and was struck by how many had mental health difficulties that they were getting little help with. Sadly, with services scarce enough for the "mainstream" population, I could see why.
The issue resurfaced for me in 2016 when I began training as a counsellor. I kept returning to whether talking therapy was possible with those who had difficulty communicating – or even thinking about – their feelings.
Then in 2019, I attended Talking Mats training. Immediately excited by the potential for emotional connection, I signed up for the advanced "Keeping Safe" training and approached The Action Group's CEO with the beginnings of a plan.
I'm fortunate in working for an organisation willing to take new ideas and run with them. Within six months I was embarking on a pilot project, called HearMe, offering counselling to adults with cognitive or communication difficulties, with Talking Mats as a key method to help overcome those barriers. Within a fortnight of opening the service was full to its limited capacity and had a waiting list!
The work has been experimental, learning as I go and adapting to the particular needs of each client. To conduct initial assessments, I've assembled symbols based on "Thoughts and Feelings" from the "Keeping Safe" pack. We return to this to review progress. Most clients have used a top scale of "True"/ "Not True" with statements "about me" for the assessment. We always begin with a practice mat based on more neutral material, allowing the client (Thinker) to learn what's involved and me to gauge whether the mat is right for them. This is crucial – one client found a way to frame everything we placed on the mat positively even when they'd been able to tell me the opposite was true a moment before! In this case we simply used each symbol as a focus for exploration.
We've kept the number of questions relatively small, but the assessment can take two or three sessions to complete as clients often respond quite deeply to the symbols.
Some more verbally able clients move on to a more "freeform" style of counselling as we progress, relying less on the mat to open up. But even in these cases having symbols on hand can be helpful. One client brought up the topic of sex – then apologised and asked if it was OK to talk about it.
"It's fine," I was able to reassure her, producing the relevant symbol. "Look, we even have a picture for it". She laughed and visibly relaxed, the card giving her tangible evidence that the topic was allowed.
It's still early days, but from the feedback we've received so far, the project really seems to be helping people to open up, express feelings they've never given space to before, and explore ways they want to change their lives.  The power of simply being heard.
Edith Barrowcliffe, Hear Me, The Action Group
 With thanks to our funders and partners for making this work possible – Hospital Saturday Fund, The Action Group Board, Leith Benevolent Society, Port o'Leith Housing Association, and The Scottish Government.  And to the team at Talking Mats for their support and help!
Follow the link below to find out more about our Keeping Safe training (now available online) and resource:
https://www.talkingmats.com/keeping-safe-a-new-talking-mats-resource-available-to-purchase/