Our first Talking Mats advanced online module has launched. We are pleased we had developed our online foundation training well before lockdown. There has been such great feedback from people who have completed our online foundation course and they have been asking for more. They like the bite size chunks, being able to pace their own learning and the reflective practice approach. Now we are adding to our online course with an advanced Talking Mats module focusing on Talking Mats use in safeguarding. This course is structured around the Talking Mats Keeping Safe resource and how to use it.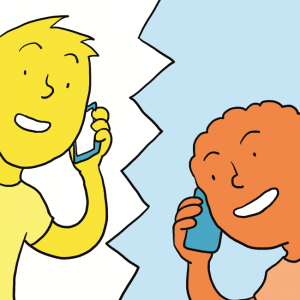 The Keeping Safe Talking Mats resource was developed to check in with people and find out how their lives are going. It uses a holistic framework to do this and the conversation it supports is structured around three topics: 1) well-being; 2) relationships; 3) thoughts and feelings. The resource was trialled and tested in projects involving over 700 practitioners. Originally, it was designed for people with learning disabilities but feedback has been that it has been helpful with a wide range of people including, those with stroke, head injury, dementia and mental health issues.
The advanced online module involves 2 to 3 hours of learning that you do at your own time and pace. It involves short talks, reading, videos and reflective practice activities. You will develop confidence in using the resource as well as an understanding of relevant issues, such as diagnostic overshadowing, developing the capacity of individuals to raise concerns, the impact of trauma. You will be encouraged to reflect on how you can apply the Talking Mats Keeping Safe resource to your own area of practice
To apply for the course, you must have completed your foundation Talking Mats training.  If you haven't completed this training book now – there is still the reduced price training offer if you book your place before the end of August 2020. Access to this advanced course will begin on the first of every month and you will have the full month to complete it.
Book your place now. The cost is £85 for the course and the Keeping Safe resource and £35 if you already have your Keeping Safe resource and just want to do the training.
Five short stories from our recent accredited training course in Stirling.
A looked after child was unhappy but no one knew specifically why. Using the Talking Mats, she indicated that she was upset by the weekly phone call with her mother because it always happened when it was her playing time. The time of the call was moved to just before her bedtime but this resulted in bad dreams. The time of the call was finally moved to Saturday afternoon which helped her settle and reduced her distress.
Talking Mats was used with an Iraqi boy who had come to England via Libya, Italy and the jungle camp at Calais. When he picked the symbol of a waiting room he indicated that despite all she had been through he really liked this because it reminded him of all the children in his family and made him happy.
A 76-year-old man with a learning disability disclosed that he had been attacked and suffocated by his upstairs neighbour one week previously. It was only when he used the Talking Mats that he disclosed to anyone what had happened.
A lecturer usually used quantifying measuring with her students to find out how they were managing their studies. Instead she used Talking Mats to find out how they were coping with their work life balance. One student told her that she was managing fine except that her pet rabbits always escape under the bed and it takes her a long time to get them back out so she does not let them out very often!
Talking Mats was used with a man who had had a stroke and had to go into residential care because his family could no longer look after him. They were very worried that he was unhappy with the new care set up. He was able to show with the Talking Mats that he was happy about everything except that he was not given enough time when he went to the toilet. Once the staff realised this they then gave him more time which resolved the situation and reassured his family.
Please send us your Talking Mats stories – we love hearing them.
The Keeping Safe Talking Mat resource provides a structured framework to ask someone 'How's your life going?  It has 3 topics: Your Well-being;  Relationships; Thoughts and Feelings
Do you find it difficult discussing feelings with people who have limited understanding?
Do you have limited time to discuss sensitive issues with people?
Do you want to find out any issues which may be slowing recovery or preventing someone moving forward in life?
A cost benefit analysis demonstrated that using the Keeping Safe resource to create a listening space for people to think and share how their lives are going, is cost effective for organisations.
The design of the resource is described in the Tizard Learning Disability Review More Than Pictures TLDR 2017
It has been trialled and tested with people with learning disabilities throughout Scotland, but has also been used effectively with a range of people who find it difficult to discuss their life e.g. Young people with mental health condition.
It  has been shown as a helpful way to
     discuss new information (89%),
     discuss and resolve fears (84%)
     support thinking (89%)
This poster gives an overview of the project KS 2nd Poster (click to enlarge)
The Thoughts and Feelings topic uses a different top scale and this resource is best used by people who have completed Talking Mats Foundation Training.  If you want to buy it (£55.00 +VAT)  contact the office  www.talkingmats.com   tel. (+44) 01786 479511
Talking Mat would like to wish you all a Happy Christmas
2106 has certainly been a busy year for us at Talking Mats. We have seen some staff changes saying goodbye to Jill hall and welcoming Morag Crawford. We were delighted when we brought Kirsty  onto our staff . Kirsty originally volunteered with us as part of a school transition programme for people with autism. Laura Holmes joined us as a Talking Mats external associate for the North West of England.
If you are interested in what we do and want to see our activity in numbers then have a look at the Talking Mats Year in numbers . Click on image to see the enlarge ! 
At the moment we are busy preparing for 2017 and we are looking forward to
The evaluation of our following projects in The New Year
Our programme of service wide training with Central London Community health
2 Continuing to work with
3 Launching more resources
Keeping Safe- so far this resource has only been available to people working with people with learning disability in Scotland. We will be holding a specialist seminar about this resource in London on the 17th March so its use can extend south of the border .
Launching our conversation sets: gardens, holidays, trips out, sports indoor, sports outdoor and football.  These were developed as part of the family training for people with dementia but they have much wider use and will be available  as additional  Talking mats sets
Plus Talking Mat is planning to go to Australia in May!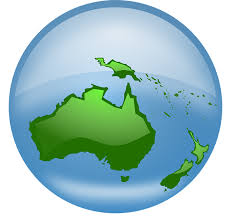 Nicki and Lois have their flights booked. Agosci here we come ! Then we are over to New Zealand to run foundation training in Christchurch and Auckland before we head back to Melbourne to run the first ever accredited training course in Australia. We will also be running a specialist seminar on Keeping Safe in Melbourne. If you want any details about the trip please get in touch.
We really appreciate all the support we get from everyone involved in Talking Mats and wish you all a happy and peaceful festive season
Many thanks to Ruth Spilman, Senior Speech and Language Therapist, for this great blog about how she uses Talking Mats for Capacity Assessments with People with ASD/LD
I am a speech and language therapist (SLT) working in a residential provision for young people with autism spectrum disorder, learning disabilities and other co-occurring difficulties. We support young people from 7 up to the age of 20. Many of the young people are in a 'grey area' with a view to capacity assessments, including those aged 16-18. We support many capacity assessments, including deputy-ship for finances and care, health and welfare, as well as more individualised capacity assessments around restrictions in the environment, consent to medical interventions and making decisions about the future.
A large part of the way we support these capacity assessments is by using Talking Mats, which support people with autism who generally prefer to think about things visually. The young people are encouraged to use Talking Mats in their everyday communication, such as evaluating activities, lessons and therapy sessions to develop their skills, as well as during direct Speech and Language Therapy work. If a young person has proven their competence using a Talking Mat, we can then move on to supporting capacity assessments. As part of the process, the SLT would break down the concepts needed to be understood to identify if the individual has capacity or not. For example with finances, do they know what money is? can they organise things that are expensive and cheap? can they put items in a scale of least to most expensive? This would all be done using a Talking Mat, then followed up if they achieved this task with a range of further activities. A Talking Mat can then support activities to evidence their understanding or lack of, while also giving a young person all practicable help to communicate.
See below two examples of a young person thinking about 1) money to support their finances, and 2) things that are healthy or not.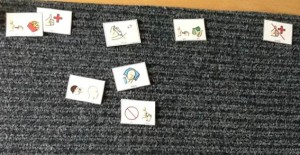 Talking mats are used for a range of different skills and assessments in the provision I work in, but their use for capacity assessment gives the young people the most practicable support with communication and allows for clear evidence of the person's understanding of the concepts involved. In addition to the range of items mentioned above, we have have also discussed tattoos, physical intervention and behaviour support strategies, having a lock on an individual's bedroom door, and understanding of fantasy and reality.
Talking Mats has proved to be a truly simple but brilliant and useful tool.
Ruth Spilman, Senior Speech and Language Therapist, Specialist services in education
The Cambian Group, Dorset, BH19 1PR www.cambiangroup.com
The Scottish Government has granted further funding for the Keeping Safe Talking Mats training and resources.
This extension coincides with the launch of the  Keeping Safe report 2013-2016   at a seminar on Thursday 19th May at the Raploch Community Centre Stirling.  It's great to hold our event during Learning Disability week where the theme is Celebrating Success.  This project has undoubtedly been a success.  234 Keeping Safe communication resources are in use across Scotland. Staff who have used the Keeping Safe resource report that it supports Safeguarding and  helps  people think how their life is going,  enabling them to express concerns they might  have,  either big or small.    The impact that the resource has on the lives of people with learning disability is powerful.  You can read more about this in our previous blog or in the  Keeping Safe report 2013-2016
The seminar on the 19th of May is an opportunity to share experiences and explore further some of the issues that exist for people with learning disabilities.
The next tranche of funding provides more training courses for:
People who work with adults with learning disabilities in Scotland to learn the skills and use the resource to support listening to their service users and
The staff who use the resource regularly to become Keeping Safe trainers and support the aim of ensuring adults with a learning disability in Scotland have access to this communication tool.  We particularly want to target geographical areas that do not yet have Keeping Safe trainers, e.g. Dumfries and Galloway and Aberdeenshire.
If you work with adults with learning disabilities in Scotland and would like to apply for Keeping Safe training please contact the office info@talkingmats.com  Application for
Striling course  19th August and 16th September is here;  20160610 training flier
Aberdeen Course 9th September and 7th of October is here 20160909 Aberdeen flier
Dumfries and Galloway course 20th October and 25th November is here 20161027 training flier
Further courses are being planned in the Autumn in Dumfries and Central Belt .Please contact  Info@talkingmats.com if you wish to be sent the relevant  flyer
It is important that we ask people with learning disability about their lives and enable them to raise any concerns. Over the past couple of years we have been developing a Talking Mat called Keeping Safe.  It is a resource that gives people time to think about various aspects of their lives, and express how it is going for them.
234 staff in different parts of Scotland now have the resource and have been trained to use it. Feedback includes that using the Keeping  Safe resource can improve the quality of communication for both the person with a learning disability and the staff member in the following ways :
Staff frequently commented that using the Mats revealed things they had not known previously;
'It gave so much information which we did not expect. It will assist in Adult Support and Protection feedback. It gave him his own say in things.'
'allowed needs to be identified that I would not have thought to ask about,  such as the smoking and taking drugs.'
It enabled staff have a conversation about more sensitive and or difficult issues;
'Usually when she expresses her feelings she can get either upset or angry. She did not get upset or angry at any point through doing the Talking Mats, although the subject and things she was saying was at times difficult issues.'
'A has good communication skills but as we had a sensitive issue (personal care) to discuss I felt that a talking mat would allow us to explore this.'
It also helped the thinker ( the thinker is the person doing the mat ) to express their thoughts clearly
'allowed this person to disclose things that they were struggling to disclose verbally.'
It helped with memory difficulties and kept the thinker focused on the topic
'It  helps with memory and attention as she has something visual to keep her focused.'
The information gained reflected the thinker's view and not the views of those around them
 'This resource gave this gentleman the power to say exactly what he was thinking and not what he thought someone wanted to hear.'
There was a lot of positive feedback on using the resource from people with learning disabilities
'I adore this. The mats really helped me speak about my feelings.'
It was a quick way to get information. Initially many staff thought using the resource would take too much time but in fact were surprised to find how much information they got in a short space of time.
The stories gathered from using the resource are powerful and a final report is being prepared which will be launched at a seminar  on the 19th May during learning disability week . There are still some spaces on the seminar so if you would like to attend please contact info@talkingmats.com .
We are delighted that the Scottish Government is funding a further round of Keeping Safe Talking Mats training.  If you work with adults with learning disability in Scotland, and would like to apply to a Keeping Safe Talking Mats  training course then please email us for dates and the application form.
The Keeping Safe Talking Mats resource is a visual framework that has been developed and trialled over 3 years. It provides:
A listening space for people with learning disability to raise concerns
A structure for staff to find out what people are thinking about their lives, and raise issues that can be difficult to discuss.
We have produced a poster that describes the development of the resource and where we have got to .  Please click here to view CM poster 20150825
The Scottish government learning disability strategy keys to life has 4 strategic outcomes for  people with learning disability in 2015-2017
A health life
Choice and control
Independence
Active Citzenship
Using the Keeping safe resource allows people to  think about , reflect on and have their say in these areas. We have loved training staff working in learning disability across Scotland to use it. The feedback on how it is being used is  very powerful, so watch  out for more blogs that will show how it has helped people with a learning disability  have a say in changing and determining their lives.
Over the past  year we have been funded by the Scottish Government to develop a Talking Mat to enable adults  with Learning disabilities to raise issues of concern.  We have worked in close partnership with Survivor Scotland and Kingdom Abuse Survivors Project  .  Together we have developed and trialled a Talking Mat  . The final report for this project is here :Talking Mats and Survivor Scotland final Report
This year the Scottish Government recognised the value of using Talking Mats as a conversation framework to enable people with learning disability to reflect on their lives and express their views including raising  any areas of concern.  One of the key themes from the national Scottish strategy for people with learning difficulties 'Keys to Life' is to  keep people safe, but it was also recognised that the Talking Mat that had been designed could also help with other themes –
Helping people with learning disabilities stay in control
Shift the culture and ensure care is genuinely person centred
Evidence that the views of people with learning disabilities have been taken into account
Support people to cope with adversity and loss and enhance  resilience
Address health inequalities and reduce early deaths
The Scottish Government has funded a 3 year project which we are calling Keeping Safe.
This project will
Produce a new resource based on the feedback from earlier projects This has 3 topics of conversation . Firstly ,How people are feeling about their Health and well-being secondly, their relationships. For people who are able to think and express their views at a more abstract level  the resource has a third topic and gives them  space to reflect on their thoughts and feelings.
 Train staff in the 14 health boards across Scotland to use Talking Mats and this resource specifically. This training will be provided jointly with KASP so staff can be supported to think through how they respond appropriately to any concerns that may arise
Ensure that all health board areas have accredited trainers who will be able to lead ongoing training and sustain use of the resource
If you work with adults with learning disabilities in Scotland and would be like to be part of this exciting initiative please contact us at info@talkingmats.com.
My name is Karin Torgny, I'm from Sweden. My background is in journalism and culture studies. I used to work in "The Development Centre for Double Exposure" for many years, and our mission was to improve and spread knowledge about violence against women with disabilities. My special interest during these years was AAC. Today I work for Unicef and in different projects on human rights issues.
A year ago I did my accredited Talking Mats training in Stirling, Scotland. Since then I have given my first course in using Talking Mats when talking about abuse and harm. It was a great experience and an opportunity to work with an enthusiastic group of women who were open and willing to communicate using symbols. They are all in an organisation working with girls/women with intellectual disability exposed to violence and oppression in the name of honour.
I think Talking Mats is a good tool when approaching difficult subjects and I hope to run more courses like this in Sweden in the future. Lately I was interviewed on the Swedish Radio and talked about the use and possibilities with Talking Mats when someone is exposed to harm and abuse.
For those who know Swedish (!), here is a link to that program, http://t.sr.se/1mxZv9W
I am also curious if someone else is doing something similar. If so I would be interested to know more. Send an e-mail to: karin.torgny@gmail.com
Have a look at how Talking Mats has been used in Scotland to support people with a learning disability to disclose issues of concern: Survivor Scotland