Thank you to Lisa Chapman,Lead Speech and Language Therapist at Bee U: Child & Adolescent Mental Health Services, Midlands Partnership NHS Foundation Trust, who has shared her thoughts about the new sensory resource, sharing what it means to her both professionally and personally. Use these links to read more about the resource and our giveaway offer and to book directly.
A personal and professional journey intertwined.
Communication has always been one of my passions. As a languages teacher I was struck by the speech, language and communication needs (SLCN) of my students and this led me to retrain as a Speech and Language Therapist (SLT). As a parent I saw how my youngest son struggled to communicate his needs and how others struggled to understand him across different environments. He now has a diagnosis of Autism and the experiences we have had together were the start of my journey to explore Sensory Processing.
Sensory Processing, Sensory Integration and Neurodiversity.
Sensory processing is something we all do, it is how we make sense of the world around us using our 8 senses. These websites offer a good general overview of our senses and sensory processing;
How this information is then dealt with is referred to as 'Sensory Integration'; 'the processing, integration and organisation of sensory information from the body and the environment' (Schaaf & Mailloux, 2015, p5).
From my growing personal interest came ideas on how sensory processing and integration overlapped with my professional life as an SLT. Hooked, I enrolled on the Sensory Integration Masters course with Ulster and latterly Sheffield Hallam University. I completed my Diploma in 2021 and hope to complete my Masters dissertation later this year.
I love that I have been able to weave my 'lived' experiences into my professional development. These experiences continue to overlap. Most recently, this has involved exploring the concept of Neurodiversity, "the infinite variation in neurocognitive functioning within our species" (Walker, 2014a). Walker clarifies that the neurodiversity paradigm has three fundamental principles
• Neurodiversity is natural and valuable. We are stronger because of our diversity.
• There is no one 'right' way to process information. There is no such thing as a 'normal' brain.
• It is important to acknowledge social power dynamics exist in relationship to diversity. Walker (2014b) reminds us to 'check' our privilege. This will frequently involve moving out of our comfort zone (Murphy, 2022).
This paradigm has become a core framework for me as both an SLT and a parent. It helps me make sense of variations in communication and sensory experience, to reframe these as differences, not deficits. Understanding my son's sensory processing has helped me see the world through his eyes allowing new spaces for communication and different conversations. It has helped to reduce the Double Empathy gap (Milton, 2012).
I am equally aware of the impact of environments. Luke Beardon's (2017) 'golden equation', one I quote often, aptly summarises this. "Autism + Environment = Outcome". Environment here includes identity, the sensory environment, other people and society (Beardon, 2022). The value of having a clearer understanding of your identity and needs is also context dependent, 'relational' (Chapman, 2021). You, and others around you, may have great insight into how your body and mind work, but this can only go so far. If no one is listening to you, and environments in their broadest terms are set up to be against you, are 'low-functioning' (Patten, 2022, p.8), it is harder to achieve positive and authentic outcomes.
For my autistic son, education settings have sadly often been 'low-functioning' environments, placing an immense toll on his sensory processing, communication and ultimately on his emotional well-being. The impact on us as parents has been no less challenging, coping with multiple exclusions from multiple placements. I have equally seen the power of restorative, 'high-functioning' environments (Patten, 2022, p.12) that enable him to be the best he can be: environments that offer success, building on his interests and abilities.
The very nature of neurodiversity suggests that we all process sensory information differently. A better understanding of individual sensory experiences gives more information that we can use to create and advocate for 'high functioning' environments for everyone, and achieve equity. A crucial first step in neurodiversity affirming practice is respecting an individual's 'epistemic authority' (Chapman & Botha, 2022). To listen without prejudice, and not to enforce that we know best, just because of our position.
With this as my personal and professional 'framework' I welcomed the opportunity to trial the Talking Mats resource; Me and My Senses and my final thoughts are around using it with my son.
My personal journey continues; learning and growing
As his mum, and as an informed professional, I felt that I already knew my son's sensory profile, that I could predict what some of his answers were going to be. He had also already had a full OT-ASI assessment. I came to this as an exercise in ironing out snags, not primarily one of personal learning. I couldn't have been more surprised by the wealth of new information I came away with, after using the mat with him.
My most important learning was around the significance of smell for my son. Using the mat gave him the space and opportunity to share his insights into smell that I had never really appreciated before. What's more, this 'opening up' extended beyond the time we were using the mat. For the rest of the day he continued to refer to his mat, adding further examples and anecdotes about 'smell' as a fundamental sense for his well-being. The mat had provided a safe space for exploration, connection and communication beyond its physical presence. It was a humbling, but also precious experience. It illustrated beyond doubt the importance of listening, but also the immense privilege of opening up and sharing a space that facilitated my son's voice to be heard.
Until now, few tools have captured the lived 'sensory' experiences of children and young people. The Talking Mats 'Me and My Senses Resource' meets this need. It places an individual's voice as central, acknowledging and facilitating autonomy and agency. As such, it is an invaluable tool to anyone wishing to explore sensory processing in a neurodiversity affirming way.
References
Beardon, L., (2017, July). How can unhappy autistic children be supported to become happy autistic adults? https://blogs.shu.ac.uk/autism/files/2017/07/How-can-unhappy-autistic-children-be-supported.pptx
Beardon, L. [@SheffieldLuke]. (2022, December 11). Autism + environment = outcome; environment could include: autistic self (e.g. understanding of self); others in that environment; the sensory. [Tweet]. Twitter. https://twitter.com/SheffieldLuke/status/1601894447721111552?s=20&t=HmyywdI4gDSrDJ1BggtF3w
Chapman, R. (2021). Neurodiversity and the Social Ecology of Mental Functions. Perspectives on Psychological Science, 16(6), 1360–1372. https://doi.org/10.1177/1745691620959833
Chapman, R., & Botha, M. (2022). Neurodivergence-informed therapy. Developmental Medicine Child Neurololgy. 00: 1– 8. https://doi.org/10.1111/dmcn.15384
Milton, D. E. M. (2012). On the ontological status of autism: The "double empathy problem". Disability & Society, 27(6), 883-887. https://doi.org/10.1080/09687599.2012.710008.
Murphy, K. (2022). Neurodiversity in the Early Years. Neurodiversity & ableism reflection tool. https://assets-global.website-files.com/5f903cbab2ae71f26cf02400/638a04bcc5a15c6fda2c02b1_AUDIT_Kerry%20Murphy.pdf
Patten, K. K. (2022). Eleanor Clarke Slagle Lecture—Finding our strengths: recognizing professional bias and interrogating systems. American Journal of Occupational Therapy, 76, 7606150010. https://doi.org/10.5014/ajot.2022.076603
Schaaf, R.C. & Mailloux, Z. (2015). Clinician's guide for implementing Ayre's sensory integration: Promoting participation for children with autism. American Occupational Therapy Association: Incorporated.
Walker, N. (2014a). Neuroqueer: The writings of Dr. Nick Walker. Neurodiversity: Some basic terms & definitions. https://neuroqueer.com/neurodiversity-terms-and-definitions/
Walker, N. (2014b). Neuroqueer: The writings of Dr. Nick Walker. Neurotypical psychotherapists & autistic clients. https://neuroqueer.com/neurotypical-psychotherapists-and-autistic-clients/
We are all looking forward to celebrating Talking Mats is 21 on the 15th August
The morning is aimed at people who are experienced Talking Mats practitioners and will extend thinking and Talking Mats practice. There are an interesting range of parallel sessions to choose from. Each participant will get to choose three topics to attend.
Talking Mats as a Thinking Tool
Embedding Talking Mats in Schools
Talking Mats in Forensic Settings
Talking Mats in End of Life Care
My experience of using Talking Mats as a parent
Talking Mats and Positive behaviour Support
Talking Mats and Supported Decision- Making
Empowering people with Learning Disabilities to be Talking Mats Listeners and Trainers
Talking Mats and Children's Mental Health The afternoon is more informal and there will be an opportunity to engage with some of our partners – see how they use Talking Mats and try things out . There will be posters on the use of Talking Mats in lots of different places and for a wide range of applications.
Plus there will be lunch, cake and a few bubbles !
Thanks to funding from NHS Forth Valley endowment committee the event is free but you do need to book your space https://www.eventbrite.co.uk/e/talking-mats-is-21-tickets-62362171935
You can come to the morning only, afternoon only or come for the whole day.
If you can't come to our event watch out for out blogs and social media celebrating the reach of Talking Mats for 21 days before the 15th of August .Please join in with your contributions using the hashtag #TMis21. For 21 days after our event we will be having a special Birthday offer! Watch this space, more to follow …….
In this latest blog, our Talking Mats OT Associate, Rachel Woolcomb tells us how Talking Mats can support delivery of Personalised Care:
"Person centred practice", and "partnership approach" are common phrases heard in health and social care settings but what does this really mean in practice?
How good are we at ensuring our service users are truly heard, and given opportunities to talk about what is important to them?
Recently NHS England set out their ambitions for the delivery of personalised care. This is a commitment to enabling people to have the same choice and control over their mental and physical health that they have come to expect in every other part of their life.
This however requires a shift in culture.
One of the cornerstones of personalised care is shared decision making. This is a collaborative process in which people are supported to understand the options available to them including the various risks, benefits and consequences. A shared decision will have acknowledged personal preferences, circumstances, values and beliefs. This ensures that when a choice is made it is fully informed.
There is substantial literature which demonstrates the usefulness of goal setting as part of the communication and decision making process.
A well written person-centred goal will describe the anticipated achievement of a specific activity. It will be meaningful and help create a common vision within the rehabilitation process.
Talking Mats is an ideal tool to help facilitate these processes. They enable better conversations and provide an interactive thinking space. They have also been demonstrated to be a useful tool in enabling people to think about their rehabilitation goals.
Read more about this in the TMOT Resource 2: How Talking Mats can help facilitate shared decision making and goal setting: Goal setting TMOT 2
If you would like to find out more about the different Talking Mats training options we offer, take a look here:  https://www.talkingmats.com/training/
In this latest blog, Laura Holmes (Talking Mats Associate based in Stockport) shares a great example of how Talking Mats can be used by education staff to help children to share their thoughts and feelings:
One of Teaching Assistants I work with at Woodley Primary School in Stockport, Lucie Porteus, attended Talking Mats Foundation Training in December 2018. Since then Lucie has been using Talking Mats with many of the children on our Speech and Language Therapy caseload in school.
Lucie's use of Talking Mats with a group of Year 6 children is a great example of the benefits of using Talking Mats to help children to share their views and opinions. Lucie had carried out initial Talking Mats sessions with four children, on a one-to-one basis. These sessions had focused on getting a general idea of each child's thoughts and feelings using the Talking Mats 'Consulting Children and Young People' resources. A common theme had emerged through use of 'blanks' – all four children wanted to talk more about their upcoming school residential trip.  Here is a picture of one of the mats (click on the picture for a clearer view):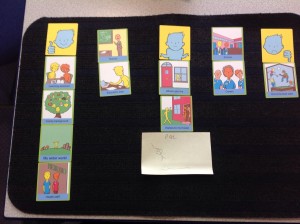 Lucie then planned and prepared options to 'sub-mat' the topic 'PGL' – the residential school trip, and chose the topline questions 'happy about/not sure/ not happy about'. She then met with each child individually to complete the mats. Some of the issues/ questions which emerged from the mats were:
'I don't know who the people there are'/ meeting new people
'I don't know what we will be doing'
'Do we have a choice about what activities we can or can't do?'/ 'I'd like to have a choice'.
Privacy – getting dressed
Will any instructions be written down – do we just listen or will we be shown what to do?
The instructions might be confusing – what will I do?
I don't like heights – I'm worried about climbing up high
Working in groups – we might all fall out
Sleeping – it might be hard to get to sleep. Sometimes other children talk and I can't get to sleep.
What will the food be like?
What happens if I don't feel well?
The journey – I might feel sick if I'm not at the front of the coach/ Do we get to choose who we sit with?
This information was passed on to each child's Class Teacher and Teaching Assistant. Further conversations then took place to answer/address the above queries and concerns. Using Talking Mats meant that these conversations were personalised and focused. The children's queries/concerns were listened and responded to well before the school trip itself.
School staff report that all the children had a fantastic time on their school trip!
Talking Mats enabled these children to have their voices heard about a topic which was really important to them. If you are interested in finding out more about accessing training to enable you to support the children and young people you work with to have their voices heard, take a look at our training options here: https://www.talkingmats.com/training/
Thanks so much to all the practitioners who have sent us guest blogs about using Talking Mat in a Criminal Justice setting. Here are our top 5 – in no particular order!
1. Supporting Families in the Criminal Justice System: Sally Kedge, Speech and Language Therapist from Trouble Talking New Zealand shares two powerful case examples of using Talking Mats with children and families caught up in the criminal justice system. https://www.talkingmats.com/support-for-prisoners-families-experience-from-new-zealand/
2. Communication Needs within Youth Justice – Part 1: On 17th April 2017, we organised a seminar to look at underlying issues and share good practice when addressing the communication needs of people in youth justice. We had representatives from: the Scottish government, the NHS; Third sector organisations working in youth justice, the police, social workers, professional bodies, universities and social work – from as far afield as New Zealand. The emphasis from the start was that understanding communication is key to improving service delivery. https://www.talkingmats.com/communication-needs-in-youth-justice/
3. Communication Needs within Youth Justice – Part 2: The afternoon session of our seminar on 17.04.17 continued the underlying theme that communication support needs are often hidden and many looked after children have support needs that remain unidentified. The outcome of the day was the establishment of a collaborative network. https://www.talkingmats.com/youth-justice-and-communication-needs-2/
4. Setting up a SLT Service in Prison: This inspiring blog by Jacqui Learoyd explores her role in setting up a speech and language therapy ( SLT )  service in a prison and her use of Talking Mats in that setting https://www.talkingmats.com/setting-up-an-slt-service-in-prison/
5. Has Talking Mats been used in Court? Two registered intermediaries talk about a couple of cases where Talking Mats was used as part of the achieving best evidence (ABE) interviews. https://www.talkingmats.com/talking-mats-used-court/
If you have been inspired and are not yet trained, come along to one of our Foundation training courses – for details see https://www.talkingmats.com/training/foundation-training/
We also offer online training if you are unable to access the training locations – for details see https://www.talkingmats.com/training/online-training/
Find out about the Core and Essential Service Standards for Supporting People with Profound and Multiple Learning Disabilities. and thanks to Joanna Grace for this interesting and important guest blog ,she writes;
Last week I threw used deodorant canisters at an audience of earnest professionals and was cheered for doing so. What was going on?
I run The Sensory Projects an organisation that aims to share the knowledge and creativity required to turn inexpensive items into effective sensory tools for inclusion. In all I do I am working to contribute to a future where people are understood in spite of their differences.
The empty deodorant canisters had been washed, their roller balls removed to enable me to fill them with festive scented balm – some frankincense some myrrh – with balls replaced they make wonderful massage tools enabling me to form a connection through touch and smell with persons of all abilities and to share a sensory conversation around the season.
I lobbed them at my audience to bring to life the new Core and Essential Service Standards for Supporting People with Profound and Multiple Learning Disabilities. That title might not sound exciting and the link with my improvised massage tools might not be immediately apparent but I promise you the link is there and the document is very exciting indeed.
My original dream when I set up The Sensory Projects was to write five sensory stories. That dream was a bit of a fantasy and so I had to pinch myself when it came true. The original five stories are sold to fund the writing of more and there are now twenty available on the website. The stories led to books, of which there are five in print currently and a few more in the pipeline. The stories project led to another project, which led to another, and there are four currently and a fifth due to start next year. Through the projects I have had the chance to do some remarkable things and found myself in situations I never imagined I would be in: I've been featured in a book given away in Lush stores globally, I've been interviewed on Radio 4, I've done a TEDx talk, I've even exchanged text messages with the Foo Fighters! If I continued to pinch myself when remarkable things in my life happened I would be black and blue by now.
And yet of all of these wonderful things and the many adventures I have had, by far and away the best thing I have been a part of  is the new Core and Essential Service Standards for Supporting People with Profound and Multiple Learning Disabilities.
The new Core and Essential Service Standards for Supporting People with Profound and Multiple Learning Disabilities is a document that describes what best practice care looks like when supporting people with profound and multiple learning disabilities. It is beautifully simply having just 7 standards for what best practice looks like at an organisational level and 6 standards for what it looks like at an individual level. It was written by a team of volunteers over 140 strong over an 18 month period. It represents an enormous work of effort and hope. I am humbled and proud in equal measure to be one of its four lead authors. If adopted by the inspecting agencies it would change the face of what care looks like for individuals with complex disabilities nationwide and influence care provision globally.
Even without being adopted by the inspecting bodies it is having an impact. I encourage all settings to take a look at it. If you are a great setting celebrate that you meet the standards, declare it publicly, display it on your website, tell the world – and help us to create an expectation that this is what care should look like. If you are a middling setting celebrate that you are working towards the standards, use them as a reflective tool to drive up the quality of care that you offer. And if you work in a duff setting….well, I spoke to one woman who worked in a setting where the management were thoroughly uninterested in supporting their residents with profound and multiple learning disabilities. She looked through the document, thumbing the forward by Norman Lamb and the endorsement by NHS England, she gave me a wry smile "I don't think my boss will know this isn't legal" she winked, "I'm just going to give it to him!" However the change comes about, we want to see these standards upheld.
Early on in the writing process we had to make a decision: were we going to describe what best practice care looked like now, or what it ought to look like. We went with what it ought to look like. This is an aspirational document. But that is not to say it is unachievable. I cannot emphasise the "ought to" strongly enough. The first standard for individuals is communication, within the explanation for this standard is the following: "Communication should be a collaborative activity, it has to be a two-way exchange; reciprocal and responsive." That is not asking a lot. It is a shame on our society that such basic standards are aspirational at all. It should already be happening.
We launched the standards at an event called Raising the Bar last year. Raising the Bar II was held this year and looked at how far we had come since the launch. One speaker told the room full of delegates "before you seek to raise the bar you must allow family members to say where the bar is currently" and we did. Families presented about the level of care their loved ones had received and their stories were horrific to hear. The bar is currently set very very low. Standards such as two way communication are aspirational. It is so low that it should be easy to raise. Simply by being aware of what we should be doing, making others aware, and expecting to see positive change we can go some way to improving care. Raising the Bar III is due to be held at Birmingham University next year on the 25th of October.
Most importantly of all we want families and primary carers to know about the standards so that they can use them as an advocacy tool and demand that settings meet them. There is a community of practice hosted on Facebook that networks people working together to see this change come about. Please join us.
So what was the deodorant canisters thing about? Well a two way communication for someone who does not use words can begin at a sensory level. It can be me massaging your hand with a festive scent and watching for your response. To be truly two way I need to share this time with you on multiple occasions as your responses today might be indicative of something other than your opinion of this scent. They could be a pain in your stomach, a tightening of a muscle, a epileptic shudder. To truly know your response, your opinion, to truly make the communication two way I need to repeat, and to give you time, and to tune in to your response and then I need to listen to it and act upon it. If through our conversations you tell me you like one smell and dislike another then this will help me choose from the pile of toiletries you are given for Christmas which you will really enjoy. As I share these simple conversations with you over time I address another of the standards:
Standard two is about health and wellbeing and describes how staff will have an awareness of what good mental health looks like for an individual and how to support it. Smell has a particularly powerful effect on the emotions and fostering an engagement with smell is a good way of supporting someone's mental health – regardless of their ability, disability or neurodiversity. On my Sensory Engagement for Mental Well Being training day I look at many simple sensory strategies for supporting mental health for people with complex disabilities.
A document like the standards can seem dry and impersonal, throwing things at my audience helped me to bring it to life. My whole working life, and much of my private life – I have worked for inclusion in mainstream education settings, I have taught in a school for children with severe and profound special educational needs and disabilities, I have inspected schools for their provision for children with additional needs and provided consultancy services to schools looking to improve their provision, I have family members with neurodiverse conditions and physical disabilities, I have been a registered foster carer for children with severe and profound special educational needs and disabilities and I have run The Sensory Projects – has been about working to see people be better understood, better included and better appreciated for being themselves. The Standards are the pinnacle of all of this work.
You can download the Standards for free from the PMLD link website: www.PMLDlink.org.uk by following the 'Resources' tab, or from my own website www.TheSensoryProjects.co.uk – again follow the Resources tab. Please print them off and share them far and wide, make sure everyone you know who is involved in the lives of people with profound and multiple learning disabilities, or has influence over their lives in anyway, knows about them. Together we will create this change.
I also warmly invite you to join us on the Community of Practice, let us know who you have shared the Standards with, it is great to hear what others are doing.
This blog by Jacqui Learoyd explores her role in setting up a speech and language therapy ( SLT )  service in a prison and her use of Talking Mats in that setting . HMP Berwyn is a large prison which opened in February 2017. To help you understand the challenges facing me when setting up this service in a new prison, I'll tell you something about prisons, the people in prison, and the healthcare provision at HMP Berwyn.
In the UK the prison population is just growing and growing.  The graphic above  is taken from the Commons Library Briefing of April 2017 so that you can see the trend.  The number of people in the prison system as of April 2018 is 83,617.  The reoffending rate is about 30%.
From this data alone, we can see that something needs to change in order to reduce offending and re-offending.  Part of the 'something which needs to change' is considering offender rehabilitation / prison reform.  This led to the building of the UK's newest prison – HMP Berwyn.
We tend to shorten the name of the prison to just 'Berwyn', so that is what I will call it in this short piece.   Berwyn has a focus on rehabilitation and treating people as individuals. We aim for the provision of high quality healthcare.  We have space for 2106 gentleman – which makes us quite a large facility.  We also give attention to the words which we use in our daily conversations – the clients are not called prisoners, but 'men', the cells are 'rooms', people are called by their first names, etc.
The healthcare provision is an integrated multidisciplinary team with a mix of professionals offering a range of skills.  It's called the Health and Wellbeing Team as it offers holistic care to our clients.  I'm happy to say that this includes full time Speech and Language Therapy (SLT), which is where I come in.
Speech and Language Therapy is necessary in a prison setting as a significant proportion of people in the criminal justice system will have speech, language and communication needs.  Some research suggests that this may be as high as 91% (Brooks, 2011).  Many of these people will not have accessed SLT in the past, and will have developed their own strategies in hiding their difficulties.  This is why communication impairment is a hidden disability in this client group.  Alongside this, people in prison experience much worse mental and physical health compared with the general population.  There are more head injuries, more illnesses caused by drugs and alcohol, higher numbers of people with diagnosed mental illness and more people with conditions such as ADHD.  The prison population is aging, so we have all the illness which link with an aging population too, such as strokes, dementia, cancers.  You can see that as a service, we are going to be kept very busy!
We've got lots of plans for how to tackle some of the things which we want to do as an SLT service, but something which we have already achieved is using Talking Mats.
My first thought was how the men at Berwyn would respond to a conversation using a set of symbols and a doormat.  Needless to say, they took it to without question – even the toughest looking customers who had been 'inside' for many years happily sat down with me to chat using the tool.  Not only did they tolerate the Talking Mat, but they loved it – reporting that they were able to organise their thoughts and report their views more easily.
To start with (and to ease clients into this way of sharing information) we tried Talking Mats about the problems faced by individuals at Berwyn.  The question was 'what do you feel about ________ at Berwyn?' with symbols for the experiences and situations that men face during the day.  It looked something like this: You can see that this gentleman was having some problems with his mental health, his computer in his room (which is necessary to book visits and make purchases), his memory and his weight.  Other aspects of his life were OK such as family contact and care from the doctor.
Some clients wanted to say more about emotions following completing the 'problems' Talking Mat.  We used a 'me'/'not me' visual scale and symbols to represent emotions.  This Talking Mat requires the client to have some emotional awareness skills so that they can recognise what they are feeling.  Not all of the clients are at this stage, and it is especially hard for depressed people to access their emotions vocabulary (Bryan,2013).
Here is an example of this Talking Mat.  This information could be used as a starting point to develop an emotions safety plan with an individual. After completing this Talking Mat with a 21 year old man who has a significant history of Adverse Childhood Events, he wanted to make his own Talking Mat about his life experiences.  This is a young man who finds expressing his emotions and past very difficult. I was quietly excited that he was prepared to share more information.  We have sat together and used the symbol software to make his symbols, and next week I will get to see what he is going to tell me.
And lastly, we have met some clients who have a diagnosis of an Autistic Spectrum Condition.  They had attracted this diagnosis during their teen or adult years, but had limited understanding of what Autism is or how it affects them on a personal basis.  Being in prison, they can't Google to find out more as you and I might.
We have developed a Talking Mat which explores 'what is Autism?' and allows the client to learn while they report on what having autism feels like for them.  We hope to develop the responses on this Talking Mat into a person centred communication passport which can be shared to help all their communication partners.
We keep thinking about 'what next?' with the clients and the SLT service, and we continue to develop symbol sets for more Talking Mats conversations.  Often we are being led by the clients in terms of what they need in Talking Mat form.
We have strong links in the wider team, so will be doing more Talking Mats work with psychology, substance misuse and nursing colleagues.  We hope to access the Talking Mats Accredited Training and expand the number of people using Talking Mats to include Offender Managers and Prison Officers.  Alongside this we are developing healthcare pathways for clinical work such as end of life care, so will be applying the Talking Mats methodology to advanced care planning.  There's a lot to do!
Postscript 
If any of you want you to link with Jacqui to discuss this further please let us know and we will link you with her. If you want to become confident and skilled at using Talking Mats then please come on a training  We also have an online course
References
Brooks, V., 2011. Report outlining the findings of a 13 month pilot project examining the effectiveness of speech and language therapy for young people known to Exeter, East and Mid Devon Youth Offending Team. East and Mid Devon Youth Offending Team.
Bryan, K. (2013). Psychiatric disorders and communication. In L. Cummings (Ed.), The Cambridge Handbook of Communication Disorders (Cambridge Handbooks in Language and Linguistics). Cambridge: Cambridge University Press. doi:10.1017/CBO9781139108683.020
Talking Mats were delighted to be involved in the launch of Care Opinion's Picture Supported stories at the Life Changes Trust Gathering in Perth Scotland this week. We have been working with Care Opinion for the past two years to develop this feature.  This earlier Talking Mats blog describes the development process and this recent Care Opinion blog gives some examples of the feature in use.
However, in this blog,  I want to reflect on two events I went to within a short space of time; the gathering in Perth on Monday and the Royal College of Speech and Language  Therapists study day the previous thursday in Stirling . It felt to me like my two worlds colliding or maybe it was just my stars aligning ! At the RCSLT study there was a session on the public perception of Speech and Language therapy and how there is still much work to do in changing the myths that are spun and repeated about what Speech and Language therapists actually do . For as John F Kennedy said in 1962 ' the great enemy of truth is very often not the lie but the myth , persistent, persuasive and unrealistic ´ The  National  Allied Health Professional  children's lead, Pauline  Beirne suggested to the study day that Care Opinion is a great web site for encouraging that sharing of stories. Then, strangely when I got back into the office there was a story waiting for me in my in box all about the positive experience of a parent involved in a Hanen programme in NHS Lanarkshire  which reinforced that very message.
We know people relate to stories, stories resonate and have impact, they are easy to remember .  Our drive in working in partnership with Care opinion was to support more people to tell their health and care stories  by increasing accessibility . It was designed with and for people with dementia   through funding from Life Changes Trust but anyone can use it and they are! It is great to see the stories coming in.
Through stories let's celebrate the good, develop and improve practice and let's use stories to challenge myths and educate. So use Care Opinion and try out the  picture supported stories to share your experiences , tell other people ,spread the word and the picture supported story feature  !
Do you want to introduce Talking Mats to people with a communication disability and autism, but know they will need support to learn it?
We are holding a 2 hour seminar on the 1st of February in Stirling to share ways of supporting people with autism to learn to use Talking Mats and express their thoughts.Twilight ASD Seminar
Do you want to help people think about the future and what they might want to have in place at end of life?  Talking Mats and Strathcarron Hospice have developed a powerful new resource to support these sensitive conversations and an advanced course is being held in Stirling on the 21st February   and in London 27th of March http://www.talkingmats.com/training/specialist-seminars/
These opportunities are only open to people who have attended Foundation training
Talking Mats and Autism- Have you sometimes tried it and it didn't work?
There is a growing interest in teaching TM to people with ASD. We know that some important adaptations might be required to make this a meaningful experience, and are keen to share our learning so far.
Being asked for thoughts or views can be difficult for some people with communication difficulties.  In particular, there is a group of people with autism where some of the core principles of Talking Mats have to be taught in stages.   Some thinkers will just 'get it' and find it a valuable tool for sharing their thoughts and for supporting decision making.  For others there may have to be adaptations and /or  specific teaching e.g. the vocabulary of the top scale.  We heard recently of a student in a specialist centre who couldn't use Talking Mats.  However the staff would include him in groups where it was used and make sure he was around others doing Mats.  After a few years, he did learn the principles and go on to use it effectively.
We have gathered ideas and knowledge from practitioners working in the field of autism and included these on our web-site under Free Stuff on Communication Disability.  ASD guidelines  It's important that these guidelines grow and adapt as we learn more about using TM with an even wider range of people.
We've arranged a twilight session here at Stirling on the 1st of February 2018  to bring together practitioners working in the field of autism to extend our knowledge and encourage a staged approach to effective use of Talking Mats.
We're delighted that Ruth Chalmers, Principal Teacher for Autism Spectrum Info and Support Team (ASIST) in Fife will be joining us to talk about developing social communication skills using Talking Mats. There will be time for small group chat so bring along a case you want to discuss.
Please share the attached flier 201802 AsD seminar with your network and we hope you can join us
Please come along and   If you are interested in attending this twilight session 4.00pm to 6.00 pm (cost £20.00),  please notify us at info@talkingmats.com