Our first Talking Mats advanced online module has launched. We are pleased we had developed our online foundation training well before lockdown. There has been such great feedback from people who have completed our online foundation course and they have been asking for more. They like the bite size chunks, being able to pace their own learning and the reflective practice approach. Now we are adding to our online course with an advanced Talking Mats module focusing on Talking Mats use in safeguarding. This course is structured around the Talking Mats Keeping Safe resource and how to use it.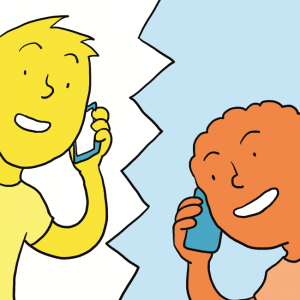 The Keeping Safe Talking Mats resource was developed to check in with people and find out how their lives are going. It uses a holistic framework to do this and the conversation it supports is structured around three topics: 1) well-being; 2) relationships; 3) thoughts and feelings. The resource was trialled and tested in projects involving over 700 practitioners. Originally, it was designed for people with learning disabilities but feedback has been that it has been helpful with a wide range of people including, those with stroke, head injury, dementia and mental health issues.
The advanced online module involves 2 to 3 hours of learning that you do at your own time and pace. It involves short talks, reading, videos and reflective practice activities. You will develop confidence in using the resource as well as an understanding of relevant issues, such as diagnostic overshadowing, developing the capacity of individuals to raise concerns, the impact of trauma. You will be encouraged to reflect on how you can apply the Talking Mats Keeping Safe resource to your own area of practice
To apply for the course, you must have completed your foundation Talking Mats training.  If you haven't completed this training book now – there is still the reduced price training offer if you book your place before the end of August 2020. Access to this advanced course will begin on the first of every month and you will have the full month to complete it.
Book your place now. The cost is £85 for the course and the Keeping Safe resource and £35 if you already have your Keeping Safe resource and just want to do the training.
Thanks so much to all the practitioners who have sent us guest blogs about using Talking Mat in a Criminal Justice setting. Here are our top 5 – in no particular order!
1. Supporting Families in the Criminal Justice System: Sally Kedge, Speech and Language Therapist from Trouble Talking New Zealand shares two powerful case examples of using Talking Mats with children and families caught up in the criminal justice system. https://www.talkingmats.com/support-for-prisoners-families-experience-from-new-zealand/
2. Communication Needs within Youth Justice – Part 1: On 17th April 2017, we organised a seminar to look at underlying issues and share good practice when addressing the communication needs of people in youth justice. We had representatives from: the Scottish government, the NHS; Third sector organisations working in youth justice, the police, social workers, professional bodies, universities and social work – from as far afield as New Zealand. The emphasis from the start was that understanding communication is key to improving service delivery. https://www.talkingmats.com/communication-needs-in-youth-justice/
3. Communication Needs within Youth Justice – Part 2: The afternoon session of our seminar on 17.04.17 continued the underlying theme that communication support needs are often hidden and many looked after children have support needs that remain unidentified. The outcome of the day was the establishment of a collaborative network. https://www.talkingmats.com/youth-justice-and-communication-needs-2/
4. Setting up a SLT Service in Prison: This inspiring blog by Jacqui Learoyd explores her role in setting up a speech and language therapy ( SLT )  service in a prison and her use of Talking Mats in that setting https://www.talkingmats.com/setting-up-an-slt-service-in-prison/
5. Has Talking Mats been used in Court? Two registered intermediaries talk about a couple of cases where Talking Mats was used as part of the achieving best evidence (ABE) interviews. https://www.talkingmats.com/talking-mats-used-court/
If you have been inspired and are not yet trained, come along to one of our Foundation training courses – for details see https://www.talkingmats.com/training/foundation-training/
We also offer online training if you are unable to access the training locations – for details see https://www.talkingmats.com/training/online-training/
Many thanks to Nicola Lewis from London who has sent us this powerful blog. She has 2 roles – one as a Registered Intermediary with adults with learning disabilities and the other as a family mediator working with children.
I started work as an intermediary, assisting vulnerable people to communicate their evidence to the police and in court. I work with adults with a mild to moderate learning disabilities or mental health issues and with children. The Talking Mats tool has proved invaluable, initially as a rapport building exercise which enables me to build a connection with the person. At the same time I can assess their communication in an informal way. I notice that it is often a relief for those who don't want to talk as they can just engage in moving the pictures around, without having to make eye contact or without having to speak.They do often start chatting, in spite of themselves as there are not many people who don't like to talk about their likes, dislikes  and preferences and to be heard about what is important to them. I use active listening: reflecting back what they say, summarising, reframing and a touch of humour if appropriate to build a connection, using the mat. When they see me the next time, they often remember me in connection with the Talking Mat:"oh yeah, we did that picture thing!"

 I also work as a family mediator and have a specialist qualification enabling me to meet with the children of the family to discuss their wishes and feelings. Again, the Talking Mats tool is the first thing out of my bag and on the table. After working through likes and dislikes in a natural and informal way, I can then use the cards with the children and ask about "your family", "where you live" etc to find out about how they are managing in a divorce situation and what they might want their parents to know about their feelings. Many mediators will only meet with older children. The Talking Mats tool has given me access to the thoughts of those as young as 5. They are at ease with me and there is a level of trust that did not exist when they entered the room.I have had 100% positive feedback from these meetings as a result.

Thanks for developing this amazing tool. It is incredibly useful to me in both my roles.
Please send us any other stories you would like to share
The Scottish Government has granted further funding for the Keeping Safe Talking Mats training and resources.
This extension coincides with the launch of the  Keeping Safe report 2013-2016   at a seminar on Thursday 19th May at the Raploch Community Centre Stirling.  It's great to hold our event during Learning Disability week where the theme is Celebrating Success.  This project has undoubtedly been a success.  234 Keeping Safe communication resources are in use across Scotland. Staff who have used the Keeping Safe resource report that it supports Safeguarding and  helps  people think how their life is going,  enabling them to express concerns they might  have,  either big or small.    The impact that the resource has on the lives of people with learning disability is powerful.  You can read more about this in our previous blog or in the  Keeping Safe report 2013-2016
The seminar on the 19th of May is an opportunity to share experiences and explore further some of the issues that exist for people with learning disabilities.
The next tranche of funding provides more training courses for:
People who work with adults with learning disabilities in Scotland to learn the skills and use the resource to support listening to their service users and
The staff who use the resource regularly to become Keeping Safe trainers and support the aim of ensuring adults with a learning disability in Scotland have access to this communication tool.  We particularly want to target geographical areas that do not yet have Keeping Safe trainers, e.g. Dumfries and Galloway and Aberdeenshire.
If you work with adults with learning disabilities in Scotland and would like to apply for Keeping Safe training please contact the office info@talkingmats.com  Application for
Striling course  19th August and 16th September is here;  20160610 training flier
Aberdeen Course 9th September and 7th of October is here 20160909 Aberdeen flier
Dumfries and Galloway course 20th October and 25th November is here 20161027 training flier
Further courses are being planned in the Autumn in Dumfries and Central Belt .Please contact  Info@talkingmats.com if you wish to be sent the relevant  flyer
Over the past  year we have been funded by the Scottish Government to develop a Talking Mat to enable adults  with Learning disabilities to raise issues of concern.  We have worked in close partnership with Survivor Scotland and Kingdom Abuse Survivors Project  .  Together we have developed and trialled a Talking Mat  . The final report for this project is here :Talking Mats and Survivor Scotland final Report
This year the Scottish Government recognised the value of using Talking Mats as a conversation framework to enable people with learning disability to reflect on their lives and express their views including raising  any areas of concern.  One of the key themes from the national Scottish strategy for people with learning difficulties 'Keys to Life' is to  keep people safe, but it was also recognised that the Talking Mat that had been designed could also help with other themes –
Helping people with learning disabilities stay in control
Shift the culture and ensure care is genuinely person centred
Evidence that the views of people with learning disabilities have been taken into account
Support people to cope with adversity and loss and enhance  resilience
Address health inequalities and reduce early deaths
The Scottish Government has funded a 3 year project which we are calling Keeping Safe.
This project will
Produce a new resource based on the feedback from earlier projects This has 3 topics of conversation . Firstly ,How people are feeling about their Health and well-being secondly, their relationships. For people who are able to think and express their views at a more abstract level  the resource has a third topic and gives them  space to reflect on their thoughts and feelings.
 Train staff in the 14 health boards across Scotland to use Talking Mats and this resource specifically. This training will be provided jointly with KASP so staff can be supported to think through how they respond appropriately to any concerns that may arise
Ensure that all health board areas have accredited trainers who will be able to lead ongoing training and sustain use of the resource
If you work with adults with learning disabilities in Scotland and would be like to be part of this exciting initiative please contact us at info@talkingmats.com.
My name is Karin Torgny, I'm from Sweden. My background is in journalism and culture studies. I used to work in "The Development Centre for Double Exposure" for many years, and our mission was to improve and spread knowledge about violence against women with disabilities. My special interest during these years was AAC. Today I work for Unicef and in different projects on human rights issues.
A year ago I did my accredited Talking Mats training in Stirling, Scotland. Since then I have given my first course in using Talking Mats when talking about abuse and harm. It was a great experience and an opportunity to work with an enthusiastic group of women who were open and willing to communicate using symbols. They are all in an organisation working with girls/women with intellectual disability exposed to violence and oppression in the name of honour.
I think Talking Mats is a good tool when approaching difficult subjects and I hope to run more courses like this in Sweden in the future. Lately I was interviewed on the Swedish Radio and talked about the use and possibilities with Talking Mats when someone is exposed to harm and abuse.
For those who know Swedish (!), here is a link to that program, http://t.sr.se/1mxZv9W
I am also curious if someone else is doing something similar. If so I would be interested to know more. Send an e-mail to: karin.torgny@gmail.com
Have a look at how Talking Mats has been used in Scotland to support people with a learning disability to disclose issues of concern: Survivor Scotland
Talking Mats has been working with Survivor Scotland.  They are the organisation that oversees the National Strategy for Survivors of childhood abuse in Scotland. They have focused their work on a whole range of people but recognise the incidence of abuse within Learning disability is very high and that people with a learning disability often don't have the resources or skills to tell their story and get the support they require. Survivor Scotland are anxious to address this and develop appropriate resources for this group of people.
.In our current project with Survivor Scotland  we have developed 3 sets of Talking Mats that would allow conversations to be had with people with a learning disability. These sets were developed from a previous project that had been conducted in NHS Fife;'the 6D Cards' and with the input of staff experienced and skilled in working with survivors of abuse. The sets cover general issues but within those issues, patterns of concern may emerge that would allow people to discuss concerns further.
We then ran 3 training courses. These courses gave participants space to think about disclosure, encouraged them to become trauma aware and built their confidence in supporting and dealing with disclosure. Specific training in Talking Mats was also provided. The training was run jointly with Kingdom abuse Survivors Project, Survivor Scotland and ourselves and was funded by the Scottish Government
The 3 courses have now finished and 40 people have been trained in the resource. They came from all over Scotland from the Western Isles to the Borders and represented a range of professions working with people with a learning disability and with an interest in preventing abuse in learning disabilities: therapists, nurses, social workers, consultants, advocates  They will use this resource in their practice  and it will be evaluated later in the summer
Talking Mats role in child protection
Here are 3 stories of how Talking Mats has been helpful to staff from Edinburgh Council – Child Protection Team.
Use with parents
N. works with chaotic drug using parents and said "TMs was a turning point – like gold dust – it helped parents identify important issues".
Involving child in access decisions
A young girl completed two mats the first one about going to mum's and the second one about going to dad's. The social worker was then able to explain to the parents how the child felt and TMs allowed the parents to discuss positive ways to unify care. The visual impact of having two differing viewpoints is very powerful.
Use of Talking Mats in children's panels
L. has trained many Children's Panel members in Edinburgh and some are now asking social workers if they have used a TM. Using the actual mat rather than a photo was considered to be more beneficial. "it is like the child is present in the room". An example was given of a young child bringing in her mats about cats. She showed the panel member her mat and it acted as evidence to show the panel that the girl is now able to separate from her mother. Her mother had suffered abuse as a child and she had become over-protective of her daughter. TM increased the child's participation.
If anyone has used Talking Mats in Child Protection we would love to hear from you.