This research will explore older father carers perspectives  of caring for a son or daughter with learning disabilities. The aim of this project is to learn more about the experience of fathers who have a son or daughter with learning disabilities and how we can provide better supports and services for them in the future.
I am particularly interested in talking to fathers as mothers tend to be the focus when discussing the impact of caring on families who have a son or daughter with learning disabilities. While it is vital that we find out how to better support mothers, fathers' role within the family and their experiences of caring are also very important. Despite this, fathers' voices are rarely included in discussions about how service provision could be improved to meet these families' needs.
The project focusses on older fathers (aged 60+) as I want to better understand the experiences of fathers who care for their son or daughter with learning disabilities over time. Fathers who are aged 60 and over will be able to talk about their experiences of caring at different times in their lives and how these experiences changed over time.
Fathers who participate in this project will attend an interview which lasts around one hour. I will meet fathers in their homes or at the University of Glasgow, depending on which option is more convenient for them. The interview involves discussing father's experience of caring for their son or daughter with learning disabilities. We will discuss topics such as caring during their child's early years, as they grew up, and more recently. We will talk about how the father's relationship with their child and their caregiving role has changed over time, and how caring has impacted them.
If you think that you, or someone you know, would be interested in taking part in this project then please contact me at k.dunn.1@research.gla.ac.uk to find out more.
Self-management for people with long term conditions (LTC) is now a key government strategy to encourage people to take responsibility for their own health, behaviour and well-being. Talking Mats received funding from The Health and Social Care Alliance Scotland to look how using the Digital Talking Mats (DTM) can help people with LTCs to manage their health and well-being and to recognise their own strengths and abilities.
The overall aim of our project was to empower people with different long term conditions, to manage their own health and well-being. Through using Digital Talking Mats (DTM) we hoped that participants would be able to have more control over their lives and have improved communication with families and professionals.
There were a total of 28 participants in this project living with one of three different long term health conditions – stroke, dementia and learning disability. Each participant had access to a tablet device and was given a personal DTM licence which gave them access to 13 topics in the Talking Mats Health and Well-being resource. We visited each participant at home and taught them how to use it and asked them to complete and send us at least 1 digital mat per week for 6 weeks on any topic they wished. The design of the digital Talking Mat allowed them to email their mats directly to the researchers. We visited each participant a second time to discuss on how easy it was to use the digital Talking Mats and their views on their completed mats. We asked those who wished to, to continue sending us completed mats beyond the initial 6 weeks. We visited them again in 6 months to discuss how they were managing.
15 participants completed all 6 mats and 12 participants continued to complete mats over the length of the project. Participants completed 235 digital mats across all 13 topics
There were 3 particularly significant findings
1. At 18 months the participants living with dementia actually felt their well-being had improved, despite dementia being a progressive illness.
2. For the participants living with stroke the results were even more striking as 95% felt things were going well at the end of the project in comparison with 47% at the beginning.
3. At the end of the project the percentage of people with learning disability who felt things were not going well had reduced from 19% to 10%. Furthermore the percentage of people indicating that they were not sure about their views had increased from 27% to 42%. There can be a tendency for people with learning disability when using Talking Mats, to express their views at either end of the mat and to rarely use the mid- point. However being able to use the unsure mid- point is noteworthy as it indicates that the participants in the project realised that they could express their views not only as black or white but could indicate that they were unsure. This awareness opens up the potential for people to express views more thoughtfully with opportunities for further exploration.
Here are three examples of how using the DTM supported people to self-manage situations in their lives. Click on image to enlarge.
As well as helping participants self-manage their long term conditions, an unexpected outcome of this project is that many people found that using the DTM helped them see the positive things in their life and not just the negative. It also highlighted that despite having a long term condition and, for many also a deteriorating one, that things were not getting worse.
Click here for full report including 6,12 and 18 month reports to the funders  20180717 Alliance full report
Click here for the summary report 20180717 Alliance Final Short Report
Click here for a video link of 2 participants
Talking Mats in Germany is being extended by one of our trainers Professor Norina Lauer.  Here she describes two of her current interesting  projects and we look forward to reading her findings.
The German version of the Talking Mats app will now be tested in two more projects in the west of Germany. As the communication symbols were developed for English-speaking clients six German SLT students of the Hogeschool van Arnhem en Nijmegen (han) in the Netherlands want to find out if the words and symbols fit to German clients and their cultural background. Because of cultural differences between Scotland and Germany it is necessary not only to adapt the language but also check the icons.
One of the projects will be conducted with children between the ages of 8 and 10 years. The children will be asked to classify the symbols from their age-group. The question will be whether the symbols and words are relevant for the situation of German children. If not, they will be asked for possible alternatives.
The other project focuses on adults. One group of people with aphasia and one group of healthy persons will be tested. Every tested person scores the 57 icons concerning their correspondence with the words written down below by using a scale from 0 to 3. In addition, possible graphic alternatives will be enquired and collected. The two groups of adults will be used to determine if there is a significant difference between the obtained results from each group.
Apart from the necessity of fulfilling the requirements of the General Data Protection Regulation which has to be completed by 25th May, I have been pondering on other advantages of complying with the GDPR.
Here at Talking Mats we are all going through files, bagging up paper for shredding, deleting data files on our master computer and preparing text to send to all our customers and contacts to make sure we only hold information that is adequate and relevant.The first advantage for us is that it's a good way to re-establish contact with people.
I've been given the task of going through all the research data and have ploughed through 16 drawers of research data starting in 1992!  Way back then I worked with a wonderful professor who was keen to hold onto all our raw data just in case we wanted to check or replicate anything. Its all been under lock and key but the time has come to bite the bullet and get rid of it.  I found this to be not only nostalgic but also emotional – all those fantastic participants who gave us their time and insights.
Its also been cathartic because as well as filling bags for shredding I am smashing up discs of video footage. We filmed lots of people with a range of communication difficulties using Talking Mats to compare with the same conversations without Talking Mats to analyse any differences. So… another big advantage is that I've destroyed all evidence of my dodgy hair cuts throughout the years!!
I counted 41 completed projects going from the very first one in 1992 which was a demographic survey of people who used AAC (Augmentative and Alternative Communication) systems in Scotland. In 1998 the Gannochy Trust funded the original project where Talking Mats was born Gannoch Final report. We then went on to carry out a wide range of projects which include working with people with Motor Neuron Disease, Stroke, Learning Disability, Children with Additional Support Needs, people living with Dementia to name but a few. The website contains the final reports on all our projects and in looking back at them I am also very proud of the good quality research the team here at Talking Mats has carried out.
Many others are now doing projects using Talking Mats but I leave it to them to organise their own GDPR and hope they also find the process worthwhile and rewarding and not just seen as a chore to be done.
We are delighted that 'Talking Mats in German' is now available in the Digital version and includes the latest technical and symbol upgrades. These upgrades are also now included in the English version.
We are very grateful to Prof Norina Lauer for sending us this blog which explains how 'Talking Mats in German' has been developed.
In 2016 Prof. Dr. Norina Lauer, a German professor for speech language therapy contacted Joan Murphy from Talking Mats because she was initially interested in the digital version for goal setting with people with aphasia. We found out that it would be interesting to have a German version of the app. So we started a project for translating Talking Mats into German. Prof. Dr. Norina Lauer managed the translation process. The project was financially supported by a German health insurance "BKK Dachverband" in cooperation with the German aphasia self-help organization "Bundesverband für die Rehabilitation der Aphasiker" (www.aphasiker.de). The translations were performed in a special scientific procedure to make sure that they match the English terms.

What did we do?

Norina Lauer and her colleague Holger Grötzbach independently translated the English terms into German. Subsequently these translations were compared and the differing terms were discussed until a consensus was reached. The agreed translations were given to a professional translator who only got the German words and the corresponding pictures. She re-translated the terms into English and these re-translations were checked by Talking Mats if they were in accordance with the original English terms. For those terms that did not match, the process started again until all terms matched the original English terms (figure 1 shows the translation process). This process was performed for all topics of the app. So we have the complete Talking Mats app in German now.

Figure 1

So what's next?

Norina Lauer completed the foundation training and the accredited training in 2017. In October 2017 she performed her first foundation training for 6 of her SLT students. One of these students will do her bachelor thesis about the German app version in 2018. Under accompanying consultation of Norina Lauer the student will perform two workshops for people with aphasia. In these workshops they will practice doing Talking Mats and afterwards evaluate the app concerning its content and practical use. For the evaluation we are planning a short questionnaire and a focus group.
It has been a delight to work with Norina and we look forward to hearing the results of her student's project.
If you already have the Digital Talking Mats make sure you upgrade to get all the new features.  The German version with the upgraded is now available from the App store, Google Play (Free and Lite versions) or purchase the full version from our website .
We are now half way through our project, funded by The Health and Social Care ALLIANCE Scotland, whose overall aim is to empower people with a range of long term conditions, with and without additional communication difficulties, to self-manage their own health and well-being by using Digital Talking Mats.
Participants

We have carried out all the initial visits and 16 follow-up visits and participants are sending in their completed mats, choosing whichever topics they want from the digital Health and Well-being resource. At the time of writing this blog we have received 137 completed mats.
We have received very positive feedback with many examples of how people are using the Digital Talking Mats to self-manage.
Here are 3 examples:
One participant with learning disability has diabetes. Through using the Digital Talking Mats she has stopped buying takeaways every night and is now buying M&S 'Balanced for You' meals. This is a huge step forward for her as she refused to discuss healthier eating before.
A man with early onset dementia has identified that he used to enjoy singing and has decided for the first time in his life to join a choir. This is not something that had come up in conversation before. Despite the diagnosis of dementia he has realised that he is still keen to try new things.

The wife of a man with severe aphasia said 'This (Leisure away) has highlighted how few things he can do away from home. We discussed this but can't see how we can change the situation.' However at the second visit he used the same mat and indicated that he had been thinking about his mobility and was about to start swimming and a fitness class.

We already have an increased awareness of the meaning of self-management as we observe how participants are using the Digital Talking Mats to think about their situation, state their own views and share them with carers/support workers. We are also noticing that there is a shift in some relationships as the carers/support workers realise that the person with the long term conditions can make decisions and express their own views rather than having decisions made for them.
We are very grateful to Marieke Lindenschot from the Netherlands for this great blog about finding out what activities children like and we look forward to hearing the next stage of her PhD.
For my PhD research in the Netherlands I use Talking Mats as a tool for my interviews with children. The children I interview vary in their communication abilities. Some are able to express their opinions and feelings very well, others are not able to communicate orally. As I was able to purchase the Talking Mats cards without text, I wrote down the words in Dutch in 'children's language' on the cards.

Last week was an exciting week. I conducted the first pilot interviews with a boy of 12 years, a boy of 9 years and a girl of 8 years. They varied in their development. The first interview went great. The child could express which activities he liked, which he disliked and which were 'so, so' (in between like and dislike). With Talking Mats he could also tell me with whom he performed the activities and where. It was a fun way to get a lot of information in only 15 minutes! The child and his mother were very enthusiastic. He was able to tell a lot more then he usually does when he is asked about his activities! Unfortunately the other two interviews didn't produce the same amount of information. The cognitive level of these children seemed too low to use Talking Mats. The boy didn't understand the top scale 'like' and 'dislike', whereas the girl didn't recognize the activities on the cards.
Overall we were very satisfied with these pilot interviews. The goal was to check if the interview guide with Talking Mats 'worked' and also to see for which developmental level this way of interviewing is possible. The pilot interviews gave a lot of information on these two goals. I am looking forward to the next interviews as Talking Mats showed to be a very helpful tool in finding out which activities children like.
Please send us any other examples of how you have used Talking Mats.
We are delighted to have Celine Josephine Giese, a 4th year psychology student from the University of Stirling, on placement with us. As part of her placement she has to write a series of blogs which she has kindly shared with us. This is the first in the series.
Talking Mats is a social enterprise, that has developed a unique communication system that aspires to improve quality of life for people who struggle to communicate effectively, such as people with a learning disability or a stroke as well as people who have dementia. People who are affected by communication barriers have difficulty articulating their needs, emotions and wishes, which can be particularly challenging for carers and clinical practitioners.
The interactive communication tool consists of an actual doormat and different sets of communication symbols that are placed on the Talking Mat. The communication symbols represent a scale from positive, medium to negative. Specifically, designed topical image sets are used to communicate how the person feels about activities, eating, support and so forth. In addition, they also developed a digital app version.

Talking Mats simplifies the communication process by breaking down information into small manageable chunks without the need for literacy. A range of training courses are offered to help individuals to use Talking Mats effectively.
The first day I arrived I was excited as I have not worked in an office environment before. In advance of the meeting I read a lot about their concept and ongoing projects to demonstrate my enthusiasm and interest. I was introduced to the team, who were all very kind and welcoming. During the first meeting, I was introduced to their communication system via a Talking Mat with a general interests' topic to get to know me better. This was a great way to understand and see how their system works in action. We also filled out the placement agreement and discussed the project I will be involved in.
My role involves supporting Talking Mats in the analysis and impact of the training. For this I am looking at recorded Talking Mat outcome stories from trainees as part of a large-scale project in London Health Authority. I am recording specific details of the stories in an excel spreadsheet, such as the outcome for the patients which will aid the further development of Talking Mats and give feedback to the funders on their investment. Moreover, this analysis will shed light on the bigger impact Talking Mats has on the communication between patients and their carers.
The analysis will be useful in determining the impact Talking mat has on the person whose mat it is and on who used the mat i.e. the interviewer. In addition, it will provide evidence to the organisation of the effectiveness of using Talking Mats. My involvement in the thematic analysis will allow me to further develop excel skills and experience an office setting in a social enterprise, while expanding my knowledge on its origins, current use and future direction potential. Because the cases disclose patients' personal details I have signed a confidentiality agreement. I look forward to learning more and contributing to the project as well as working with the team. The atmosphere is both pleasant and inspirational and I admire the concept of the enterprise and I feel privileged to be part of such a life changing organisation.

Celine's second blog will be posted soon.
Many thanks to Greg Cigan for this great blog about his study that explored how children and young people with an intellectual disability feel about undergoing clinical procedures.
A clinical procedure is any activity performed by a healthcare practitioner to diagnose, monitor and/or treat an illness such as blood pressure testing, x-rays and other scans (Cigan et al., 2016). While some procedures cause no pain or only mild discomfort when completed, others can be prolonged and potentially painful (Coyne and Scott, 2014). Children and young people with an intellectual disability are more likely to develop physical illnesses including epilepsy and digestive disorders than the general population and can be frequently required to undergo healthcare procedures (Emerson et al., 2011; Short and Calder, 2013). Yet, there is currently little empirical research reporting how children and young people with an intellectual disability experience procedures (Peninsula Cerebra Research Unit, 2016). More research is required so that healthcare services can better understand the needs of children and young people with an intellectual disability (Oulton et al., 2016). As part of my doctoral studies at Edge Hill University, I am conducting a study that explores how children and young people with an intellectual disability experience having a clinical procedure.
From the outset of the study, I felt it was important to obtain data directly from children and young people rather than relying on parents and carers to speak on their behalf. I was keen to adopt methods during interviews that would enable as many children and young people as possible to take part, including those who find verbal communication challenging. After researching different methods, I chose to utilise Talking Mats as the innovative design of the tool offered children and young people the option to express their views entirely non-verbally should they wish to by arranging symbol cards. To date, I have interviewed 11 children and young people about their experiences of undergoing procedures. Each participant was between 7-15 years of age at the time of the interview and had a mild to moderate intellectual disability.
Prior to an interview beginning, I spent time describing and showing each child/young person a Talking Mat and asked whether they would like to use the tool during their interview. Out of the 11 children and young people I have interviewed, three used a Talking Mat. Those that chose not to use the tool were older children who were confident having a verbal conversation with me or those who had a visual disability and could not see the symbols. In all cases, the decision of the child/young person in relation to using the Talking Mats was respected.
The three children who used the Talking Mats were able to express their views non-verbally and also seemed to convey more information than some of those who chose not to use the tool. Viewing the symbol cards within a Talking Mat appeared to help children and young people break down information into smaller chunks which then made it easier for them to process and discuss. Indeed, using a Talking Mat led all three children to discuss information that was new to their parents who sat in while s/he was being interviewed. An example of a completed Talking Mat is shown below which was created by an 11-year-old boy during his interview. The boy clearly expressed that he did not enjoy his experience of having a clinical procedure.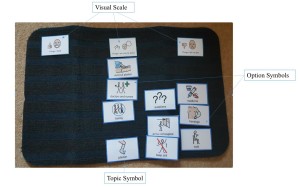 Within my study, I feel using Talking Mats has helped to augment the verbal communication of some of the children and young people which in turn enabled them to take part in interviews and share their views and experiences of procedures. Talking Mats are a valuable tool for researchers working within the field of intellectual disabilities. If used more widely, Talking Mats has the potential to enable more children and young people with intellectual disabilities to have the opportunity to be involved and express their views within healthcare research.
Reference List
CIGAN, G., BRAY, L., JACK, B. A. and KAEHNE, A., 2016. "It Was Kind of Scary": The Experiences of Children and Young People with an Intellectual Disability of Undergoing Clinical Procedures in Healthcare Settings. Poster Presented at the 16th Seattle Club Conference (Awarded Best Poster Prize), 12-13 December. Glasgow: Glasgow Caledonian University.
COYNE, I. and SCOTT, P., 2014. Alternatives to Restraining Children for Clinical Procedures. Nursing Children and Young People, 26(2), pp. 22-27.
EMERSON, E., BAINES, S., ALLERTON, L. and WELCH, V., 2011. Health Inequalities and People with Learning Disabilities in the UK: 2011. Lancaster: Improving Health and Lives: Learning Disabilities Observatory.
PENINSULA CEREBRA RESEARCH UNIT, 2016. What's the Evidence? Reducing Distress & Improving Cooperation with Invasive Medical Procedures for Children with Neurodisability. Exeter: University of Exeter.
SHORT, J. A. and CALDER, A., 2013. Anaesthesia for Children with Special Needs, Including Autistic Spectrum Disorder. Continuing Education in Anaesthesia, Critical Care & Pain, 13(4), pp. 107-112.
If you would like more information about Greg's work you can contact him at Cigang@edgehill.ac.uk
We are very grateful to Lauren Pettit and her colleagues from Pretoria, South Africa for sending us their published paper on a recent research project which used Talking Mats as a research method.
The study's aim was to describe and compare the views of adults with aphasia, their significant others and their speech and language pathologists regarding the importance of nine life areas for the rehabilitation of adults with aphasia.
They used Talking Mats to support 15 adults with expressive aphasia to rate 9 life areas in terms of importance to them. The 9 life areas they included were Domestic Life, Relationships, Work and Education, Leisure, Self-care, Learning and Thinking, Coping, Communication and Mobility. These are taken from the World Health Organisation International Classification of Functioning Disability and Health (WHO-ICF). The researchers also obtained the ratings of 15 significant others and the 15 speech and language pathologists treating them.
They found that most life areas were rated as important to work on in rehabilitation by most participants. However, there were some discrepancies between the views of the adults with aphasia and the other 2 groups in the study and significant discrepancies were noted for 3 of the 9 life areas.
The graphs below show the comparisons of the 3 groups of participants. Click on graphs to enlarge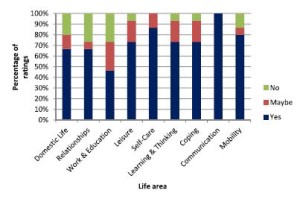 Fig1. People with aphasia
Fig2. Significant others
Fig3. Speech and language pathologists
The researchers suggest that 'These life areas can provide the 'common language' for team members to engage in dialogue and identify problem areas related to the daily life functioning of people with expressive aphasia. By simplifying some of the labels of the activities and participation dimensions of the WHO-ICF and pairing these labels with pictures and the interactive Talking Mats interview procedure, adults with expressive aphasia (who often have difficulty participating in the selection of rehabilitation priorities) were able to express their own views. This may be a first step in assisting the adult with aphasia to advocate for themselves and to exercise their right to identify the activities and participation opportunities which they would like to access, and to set rehabilitation priorities based on their choice. While the overlap in priorities among the three groups as found in this study is encouraging, the presence of some significant differences underlines the importance of the voice of adults with aphasia themselves. This ensures truly client-centred rehabilitation that underscores the principles of human rights and a focus on competence rather than deficits'.
To link to the full article:  http://dx.doi.org/10.1080/10749357.2016.1207148aphasia
Please contact info@talkingmats if you would like to discuss using Talking Mats in research