In the first of 2 blogs on Selective Mutism, Vanessa Lloyd of Birmingham Women's and Children's NHS FT describes using Talking Mats to give a young boy the opportunity to communicate at a time when talking was too hard.
Using Talking Mats with a primary school aged child with developmental Selective Mutism
Selective Mutism is a form of social anxiety characterised by stark differences in how a person communicates in different situations. There is also acute awareness of everyone around them who may be listening, either intentionally or accidentally. In Education settings Selective Mutism often become apparent at times of transition and teachers often describe a very different child to the one a parent knows at home. As a school therapist I have the job of finding the puzzle pieces and bringing them together in a way that home and school can understand. I have found the Talking Mats approach to be very useful when working in this area. Here's an example;
I recently took a referral for 'A' who is 6 years old:
Main points from school:
Not spoken at school in those 12 months
Staff felt they didn't know him
Staff assumed he was happy not joining in
Main points from parents:
Aware he is quiet in school
This is who he is and he has been like this since starting Nursery
My observations indicated Selective Mutism;
his body language indicated anxiety in situations where he was expected to speak or interact
I needed a way to feedback this anxiety to staff and for A to be heard without using his voice. After building a rapport with him I introduced Talking Mats and offered him the opportunity to engage
Getting Started
Using the Primary Communication Rating Scale (Johnson & Wintgens, 2016) as a basis, combined with an image system he was familiar with, I planned the symbols needed to support the conversation and set out the expectations for the activity. Fundamentally, I made it clear that he did not have to talk to me to participate.
How it went
The school environment.
As anticipated, he made his feelings instantly clear about the activities where he was required to talk, rapidly sorting them into 'unsure' or 'don't like'.
What was less expected was how relaxed his body language became, particularly when I suggested showing his class teacher. It was as though he knew that there was some power behind his arrangement of these symbols and he was ready to embrace it.
Follow up
Talking at home.
Having fully grasped the potential of the task, this young boy set to work answering my questions through careful consideration and placement of symbols. The same questions that would otherwise spiral him into a freeze or flee response were now being answered with a newfound command of the situation. He had things to say, things he wanted people to know, and in that moment, he had a way of doing this
Taking it forward:
Showing the child's perspective provided a powerful way of highlighting to school the misguided assumptions that had been made about his feelings and attitudes towards talking. The Talking Mat conversations opened the discussion about the importance of Selective Mutism intervention and created a platform for the child to be involved and be heard. He was a valued contributor in an environment which was previously inaccessible for him.
This year's campaign focuses on the importance of healthy connections in supporting mental health and wellbeing.  Being able to communicate feelings and opinions is a huge contributor to creating healthy connections. Whether it is because there is a visual focus or because the 'side by side conversation' is more comfortable, Talking Mats is a tool that allows the voice of the young person to be heard.  Read these blogs on Mental Health and Young People and our Impact Stories (to follow!) to find out more and take advantage of our discount on the Advanced Keeping Safe online module (details at bottom)
Keeping safe is an Advanced Online Module and the first 20 people to sign up to this course will receive a 20% discount. Please remember you need to already be trained to Foundation Level to access this course. Use the code KS2020 at the checkout
Find out more about our Keeping Safe Resource and how to book click
Foundation Training and how to book
Many thanks to Edith Barrowcliffe from The Action Group for sharing her experiences of using Talking Mats to support counselling with adults who have cognitive or communication difficulties. Watch this space for Edith's follow-up blog next week which will describe how she has continued to use Talking Mats during lockdown. Please note that the image used in this blog is from a mock session and has been taken for publicity purposes only.
Eleven years ago, I began working at The Action Group with adults who have additional support needs and was struck by how many had mental health difficulties that they were getting little help with. Sadly, with services scarce enough for the "mainstream" population, I could see why.
The issue resurfaced for me in 2016 when I began training as a counsellor. I kept returning to whether talking therapy was possible with those who had difficulty communicating – or even thinking about – their feelings.
Then in 2019, I attended Talking Mats training. Immediately excited by the potential for emotional connection, I signed up for the advanced "Keeping Safe" training and approached The Action Group's CEO with the beginnings of a plan.
I'm fortunate in working for an organisation willing to take new ideas and run with them. Within six months I was embarking on a pilot project, called HearMe, offering counselling to adults with cognitive or communication difficulties, with Talking Mats as a key method to help overcome those barriers. Within a fortnight of opening the service was full to its limited capacity and had a waiting list!
The work has been experimental, learning as I go and adapting to the particular needs of each client. To conduct initial assessments, I've assembled symbols based on "Thoughts and Feelings" from the "Keeping Safe" pack. We return to this to review progress. Most clients have used a top scale of "True"/ "Not True" with statements "about me" for the assessment. We always begin with a practice mat based on more neutral material, allowing the client (Thinker) to learn what's involved and me to gauge whether the mat is right for them. This is crucial – one client found a way to frame everything we placed on the mat positively even when they'd been able to tell me the opposite was true a moment before! In this case we simply used each symbol as a focus for exploration.
We've kept the number of questions relatively small, but the assessment can take two or three sessions to complete as clients often respond quite deeply to the symbols.
Some more verbally able clients move on to a more "freeform" style of counselling as we progress, relying less on the mat to open up. But even in these cases having symbols on hand can be helpful. One client brought up the topic of sex – then apologised and asked if it was OK to talk about it.
"It's fine," I was able to reassure her, producing the relevant symbol. "Look, we even have a picture for it". She laughed and visibly relaxed, the card giving her tangible evidence that the topic was allowed.
It's still early days, but from the feedback we've received so far, the project really seems to be helping people to open up, express feelings they've never given space to before, and explore ways they want to change their lives. The power of simply being heard.
Edith Barrowcliffe, Hear Me, The Action Group
With thanks to our funders and partners for making this work possible – Hospital Saturday Fund, The Action Group Board, Leith Benevolent Society, Port o'Leith Housing Association, and The Scottish Government. And to the team at Talking Mats for their support and help!
Follow the link below to find out more about our Keeping Safe training (now available online) and resource:
https://www.talkingmats.com/keeping-safe-a-new-talking-mats-resource-available-to-purchase/
Our first Talking Mats advanced online module has launched. We are pleased we had developed our online foundation training well before lockdown. There has been such great feedback from people who have completed our online foundation course and they have been asking for more. They like the bite size chunks, being able to pace their own learning and the reflective practice approach. Now we are adding to our online course with an advanced Talking Mats module focusing on Talking Mats use in safeguarding. This course is structured around the Talking Mats Keeping Safe resource and how to use it.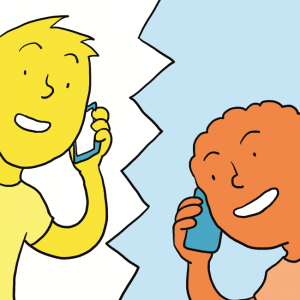 The Keeping Safe Talking Mats resource was developed to check in with people and find out how their lives are going. It uses a holistic framework to do this and the conversation it supports is structured around three topics: 1) well-being; 2) relationships; 3) thoughts and feelings. The resource was trialled and tested in projects involving over 700 practitioners. Originally, it was designed for people with learning disabilities but feedback has been that it has been helpful with a wide range of people including, those with stroke, head injury, dementia and mental health issues.
The advanced online module involves 2 to 3 hours of learning that you do at your own time and pace. It involves short talks, reading, videos and reflective practice activities. You will develop confidence in using the resource as well as an understanding of relevant issues, such as diagnostic overshadowing, developing the capacity of individuals to raise concerns, the impact of trauma. You will be encouraged to reflect on how you can apply the Talking Mats Keeping Safe resource to your own area of practice
To apply for the course, you must have completed your foundation Talking Mats training.  If you haven't completed this training book now – there is still the reduced price training offer if you book your place before the end of August 2020. Access to this advanced course will begin on the first of every month and you will have the full month to complete it.
Book your place now. The cost is £85 for the course and the Keeping Safe resource and £35 if you already have your Keeping Safe resource and just want to do the training.
Thanks so much to all the practitioners who have sent us guest blogs about using Talking Mat in a Criminal Justice setting. Here are our top 5 – in no particular order!
1. Supporting Families in the Criminal Justice System: Sally Kedge, Speech and Language Therapist from Trouble Talking New Zealand shares two powerful case examples of using Talking Mats with children and families caught up in the criminal justice system. https://www.talkingmats.com/support-for-prisoners-families-experience-from-new-zealand/
2. Communication Needs within Youth Justice – Part 1: On 17th April 2017, we organised a seminar to look at underlying issues and share good practice when addressing the communication needs of people in youth justice. We had representatives from: the Scottish government, the NHS; Third sector organisations working in youth justice, the police, social workers, professional bodies, universities and social work – from as far afield as New Zealand. The emphasis from the start was that understanding communication is key to improving service delivery. https://www.talkingmats.com/communication-needs-in-youth-justice/
3. Communication Needs within Youth Justice – Part 2: The afternoon session of our seminar on 17.04.17 continued the underlying theme that communication support needs are often hidden and many looked after children have support needs that remain unidentified. The outcome of the day was the establishment of a collaborative network. https://www.talkingmats.com/youth-justice-and-communication-needs-2/
4. Setting up a SLT Service in Prison: This inspiring blog by Jacqui Learoyd explores her role in setting up a speech and language therapy ( SLT )  service in a prison and her use of Talking Mats in that setting https://www.talkingmats.com/setting-up-an-slt-service-in-prison/
5. Has Talking Mats been used in Court? Two registered intermediaries talk about a couple of cases where Talking Mats was used as part of the achieving best evidence (ABE) interviews. https://www.talkingmats.com/talking-mats-used-court/
If you have been inspired and are not yet trained, come along to one of our Foundation training courses – for details see https://www.talkingmats.com/training/foundation-training/
We also offer online training if you are unable to access the training locations – for details see https://www.talkingmats.com/training/online-training/
In Stockport we have a termly 'Voice of the Child/Young Person' Champions Network meeting during which professionals working in health, education and social care settings across the area meet to discuss real-life examples and to share information and strategies – during the last meeting in October 2018, we discussed using Talking Mats to support police interviewing.
Louise Tickle, Specialist Learning Disability Nurse from the Children's Learning Disability Team at Stockport NHS Foundation Trust, shared a great example of using Talking Mats to support a child she was working with to share information about a serious safeguarding concern. Louise had been asked by the police to carry out a Talking Mats session with the child as they were aware that she was already using this approach. Louise led the session and was supported by the child's school SENCO, who had also been Talking Mats trained. The aim was to explore a disclosure which the child had previously made.
Louise shared some great tips about using Talking Mats during an investigation phase:
Introduce the Talking Mat with a familiar topic, then move on to the main topic/ area of concern
Watch out for non-verbal cues – initially, the child appeared to be happy and relaxed during the interview, however the child's non-verbal communication visibly changed when the topic changed. It is easier to pick up on these non-verbal cues if you are able to video the session.
Have another Talking Mats trained observer present if possible to support and evaluate the session with you.
 Make sure you use terminology that the child is familiar with, and use language that the child would use themselves e.g. when describing body parts.
Talking Mats are often used by people working within the justice system, including registered intermediaries – here is the link to one of our previous blog posts for more information: https://www.talkingmats.com/talking-mats-used-court/.
In this work you must be clear about the different stages of safeguarding and follow the procedures within your organisation. Disclosure and investigation are two different phases. The Keeping Safe resource has been trialled and tested to support people to raise concerns. https://www.talkingmats.com/keeping-safe-a-new-talking-mats-resource-available-to-purchase/ . When a disclosure moves to the investigation phase you may have to personalize the mat to fit the situation but what is key is that you keep the options open and non-leading.
For further information about accessing one of our Talking Mats Foundation Training Courses across the UK, and our 'Keeping Safe' Advanced course, see our training options here https://www.talkingmats.com/training/
 'For every pound invested in the Talking Mats Keeping Safe resource and training there is a potential saving to services of £23.00' .This was the findings of a cost benefit analysis carried out during the development phase of the Keeping Safe Talking Mat resource.  A Cost-benefit analysis demonstrates the overall economic value of an intervention with numbers and evidence.
 The Keeping Safe resource
The Keeping Safe resource is a visual framework that has been developed and trialled over 6 years in partnership and with funding from various organisations e.g. Survivor Scotland, Scottish government , Kingdome Abuse survivors project and NHS Fife
The Keeping Safe resource provides:
A listening space for people with learning disability and communication difficulties to raise concerns and express their point of view.
A structure for staff to find out what people are thinking about their lives, and raise issues that can be difficult to discuss.
A reflective practice training was developed and  provided to over 700 staff to allow staff become familiar and confident with using the the resource
Findings of the cost benefit intervention
There is a significant financial advantage to services using Talking Mats. Analysis of six scenarios found that for each pound invested in the Keeping Safe training there is a potential saving to public services of £23.00. In learning disability services it is easy for costs to accelerate quickly. If services don't respond effectively, challenging behaviours can escalate and relationships and placements are at increased risk of breakdown. Talking Mats can help provide staff with a comprehensive and accessible framework to help them listen to people who can find it difficult to articulate what is really going on for them e.g. issues of pain, relationships or levels of support. In this project 89% of Talking Mats resulted in staff learning new information about the person they were working with, even when they thought they knew them well.  The Talking Mats framework provides a way to turn these points of views into actions that can be monitored and reviewed. It is these early interventions that not only save money but improve quality of life.
Cost benefit Process
With support from Inspiring Scotland a cost benefit analysis was done that examined the cost of the Talking Mats intervention and any resulting actions. 6 cases were chosen from over 100 detailed descriptions of how practitioners working with people with learning disabilities had used the resource.  These descriptions  represented a cross spectrum of  people with learning disabilities in Scotland in terms of living situations e.g. living at home , in supported settings and an inpatients facility . They were also chosen to represent the comorbid conditions that often exist with learning disability e.g. autism, mental health and cerebral palsy. An alternative scenario was created and tested with critical friends as to the likelihood of what might have happened without the Talking Mats intervention. All the scenarios that were developed are  available here 20180110 scenarios cost benefit   The primary source of financial information and the subsequent calculations  was the Unit Costs of Health and Social Care produced by the Personal Social Services Research Unit (PSSRU) 2015/16 . This contains detailed cost estimates for a range of services such as care placements, NHS services, social work, mental health, and family interventions. This analysis can only be illustrative as assumptions are subjective.
The findings from our final report 160512 Keeping Safe report 2013-2016 showed that effective use of the resource   not only led to  improvements to quality of life for individuals but that it can save services money. Book a place on our  webinar and get the Keeping Safe  resource 20180122 Keeping Safe Webinar  or if face to face discussion is more your thing attend the advanced course in April 2018 – you get the resource with that booking too!