Many thanks to Peter Just, Head of External Affairs, RCSLT and Padraigin O'Flynn, External Affairs Assistant, RCSLT for this blog describing the newly launched UK-wide RCSLT Survey, which includes free Talking Mats resources to support those with communication difficulties to have their voices heard.
Like many of you, the Royal College of Speech and Language Therapists (RCSLT) has been worried about the impact of COVID-19 on people with communication and swallowing needs. Based on what we've heard from our members, service user organisations and service users themselves we've been very concerned about how the UK-wide lockdown (March-June 2020) affected people's access to the speech and language therapy they and their families and carers need.
To help us understand the issue better and to inform our response, we've just launched a UK-wide survey. Following consultation with service user organisations, the three key questions we're asking are:
How did lockdown affect your speech and language therapy?

What impact did this have

on you?

What are your thoughts about the future?
From the start, we were clear: we wanted the survey to be as accessible as possible to as many people as possible, no matter how they communicate and no matter what their communication preference is. Over the past couple of months, we've worked with members to produce the survey in a range of accessible formats.
We're particularly delighted that one of those formats is Talking Mats – and we're very grateful to Lois and Laura for all their advice and support . As you will know better than anyone, the mats will enable people to give us their views and tell us how they've felt and are feeling. We are delighted the mats will provide people with the means to self-advocate – this will add a richness to the survey findings that they might otherwise lack.
We'll be working with service user organisations to promote the survey to their networks. But we'd also really like your help too. Please share the survey and encourage as many people as possible to fill it out. The more voices we hear, the more stories we collect and the more responses we receive, the greater the impact of the survey findings will be.
Those findings, which we hope to publish early in the New Year, will be used to influence Governments, Parliaments and Assemblies across the United Kingdom. The case that will be making to ministers, officials and parliamentarians – that people must have access to the speech and language therapy they need – will be all the stronger for it being based on service users' lived experiences. The very powerful testimony that the mats will provide will strengthen that case even further.
The survey is open until 5pm on Friday, 8th January 2021 and you can find more information about it here:
https://www.rcslt.org/learning/has-coronavirus-affected-your-access-to-speech-and-language-therapy
We hope you find the mats useful and if you had any queries or wanted any more information, please let us know. We look forward to working with you to help make a difference to the lives of people with communication and swallowing needs.
Peter Just, Head of External Affairs, RCSLT
Padraigin O'Flynn External Affairs Assistant, RCSLT
As a group of Allied Health Professionals (AHPs) working in a secure hospital we recently embarked on a mini project using Talking Mats to check in with our service users with learning disabilities during Covid-19. We collated the evidence from our respective professional bodies (Royal College of Occupational Therapy, Royal College of Speech and Language Therapy, Chartered Society of Physiotherapists and British Dietetic Association) in terms of changes that people might experience if they'd had Covid-19 and produced a talking mat around these.  
It quickly dawned on us that we might be on to something here, and that creating an opportunity to 'check in' more broadly with our service users would serve a useful purpose, so we added some additional categories around changes to routine, psychological wellbeing and feeling safe.  
This was my colleagues' first experience of using talking mats, and their faces when I turned up clutching my 99p actual doormat were a picture! I introduced them to the theory behind the mat and its presentation and harped on about the benefits in terms of attention, comprehension, non-threatening interaction, initiation and structuring narrative; they nodded supportively.  
We set off across our learning disability wards in multi-disciplinary pairs and all but a few of the service users agreed to have a chat with us. My colleagues commented that they were pleasantly surprised by the engagement and the amount and novelty of the information gained; we  identified things that the service users hadn't told anyone because they hadn't been asked that question!  
In talking to others we were asked why weren't rolling this out in a partner secure hospital for people with mental health conditions? 'no reason really, we just haven't got there yet' we answered. Then came the…. but we can just do it like a questionnaire with them. This question wasn't, and in my experience isn't ever ill meant. It comes from a place of naivety in relation to the presence of communication difficulties in people with mental health conditions and because of that, lack of exposure to different professional groups such as Speech and Language Therapy and the skills and approaches we have to offer. Skills in gaining and holding someone's attention. Skills in decreasing pressure in communication situations. Skills in enabling time, space and ways in which people can initiate their thoughts.  
The Multi-Disciplinary Team (MDT) working around the project has enabled me to show others how talking mats can support their practice. It has enabled them to see how a very simple and non-threatening visual tool can open up conversations and lead to information that the service users hadn't shared before, in a way that a face to face conversation doesn't.  
Thanks to Jo Brackley, Clinical Lead, Speech and Language Therapy Secure Services at Cumbria, Northumberland Tyne and Wear NHS Foundation Trust for this inspiring blog – which demonstrates when we shift the way we listen and gather information from patients we get a different result and improve the quality of information and communication . If you or your team want to consider Talking Mats training then we can provide this for organisations . At the moment we can take a cohort through our online course together and then arrange a zoom call to discuss application to your work setting  – email info@talkingmats.com for more information.
In the first of two blogs, we talk about how using Talking Mats Resources can help people have better conversations.
Talking Mats provides a visual framework to help people express their views and feelings, using a selection of communication symbols that cover a variety of topics.  Talking Mats resources are used by many professionals across a wide range of health, social care, residential, and education settings.  Most of our resources are available in both low-tech, and digital, formats.  In this first blog we focus on the resource bundles which are available to purchase with our Foundation Training course.
Our resources are available to buy through our website (https://www.talkingmats.com/shop/) however we do strongly recommend completion of one of our Foundation courses (https://www.talkingmats.com/training/foundation-training/) to get the most benefit from Talking Mats – and to use it to its full potential.  If you add a Health and Wellbeing, Consulting Children & Young People, or Social Care resource pack bundle to your training you only end up paying £65 for the training day itself which is a great deal!
Resource Bundles available to purchase with Training
Health and Wellbeing Bundle:
These packs are based on the 'activities and participation' domains from the WHO ICF framework and includes 9 topics which are relevant to people, regardless of their health, disability or where they live around the world. We have translated these into more 'user-friendly' language and have generated symbols to represent each topic.
In addition to the 9 topics from the Activity and Participation domains, we have also included Environment and Health, which are important topics within the ICF framework and in people's lives.
Consulting Children and Young People Bundle:
These packs are based on 'Getting It Right For Every Child' (GIRFEC), a Scottish framework for everyone to use when working with children and young people. There are three broad topics which are relevant to any child or young person's life. This resource can also be used with SEND reforms in England.  There are different packs for each developmental stage: Early years (ages 3 to 7); Primary (ages 7 to 12) and secondary (age 13 upwards).
Best Value Bundle: This option includes the Health and Wellbeing and Consulting Children and Young People bundles above, as well as our Social Care resource packs, providing a complete set of resources to support communication on a comprehensive range of topics for children and adults.
If you'd like to book a place on one of our Foundation Courses and would like to know more about our bundle options, get in touch with us at info@talkingmats.com
Find out more about our Foundation Training course here: https://www.talkingmats.com/training/foundation-training/
In our latest blog, Rachel Woolcomb, Talking Mats OT Associate, discusses how Talking Mats can support Reflective Practice for Occupational Therapists.
Taking time out to stop and reflect on our practice can be a challenge. We convince ourselves there are more important things to do, people to see, targets to meet, and therefore we just don't have the time.
However, I suggest, that with this mind set we are doing ourselves, and the people to whom we provide support and care, a disservice.
Clinical supervision has always been embedded in the culture of occupational therapy and at its best should create a safe and supportive environment in which reflective practice can take place.
Unfortunately, in practice, the reality can look different.
The more I have used Talking Mats to enable my clients to think and express their opinions, the more I have been convinced, that there is also great benefit to them being used within the clinical supervision process.
I want to thank the occupational therapists who agreed to explore this further with me. They used Talking Mats to think about their coping skills at work, or reflected on how their ability to learn and think, impacted their job role.
They were surprised how easy they found it to think about the full breadth of their working life and the impact this had on their wellbeing. As clinicians, we are great at looking after other people and ensuring that their health and wellbeing needs are met, however, we are not so great at caring for ourselves.
The latest TMOT resource provides more information about why and how, Talking Mats can be an effective tool in enabling a reflective thinking space for clinicians. Check it out here: TMOT3 Reflective practice
Give it a go… You are worth it!
To find out more about our Talking Mats resources, check out this link:
https://www.talkingmats.com/shop/
Rachel Woolcomb, our Talking Mats OT Associate, shares a recent personal experience where she used Talking Mats to support a difficult conversation:
The vision of Talking Mats is to improve the lives of people with communications difficulties. I have been reflecting recently on the definition of 'communication difficulties.'
When I first heard about, and started to use Talking Mats 10 years ago, my perception was that it was fantastic for those that could not speak but I must admit I didn't really consider using it with people who, such as myself, could use their voice to communicate.
Over the years as my understanding has developed, and I have looked further into the use of Talking Mats as a 'thinking tool' I have come to a different conclusion.
I would like to suggest that at some points in our lives, each one of us is likely to experience a communication difficulty. I don't mean that we cannot physically speak, but that we cannot express what we really want to say in words. Perhaps a topic is too difficult to talk about with someone so we don't bother, or we are overwhelmed by the subject that we don't really know where to start.
One such subject is that of death and dying.
We know it will happen to us all one day but to talk openly with loved ones, is for some reason, too much to comprehend, too emotive, or considered bleak.
I am very fortunate enough to have grandparents in their 90's however the conversation about their wishes for the future goes unspoken. It is a challenge for my parents to raise the issue therefore it remains the big unknown.
This is a common problem. In 2009, The National Council for Palliative Care wanted to address this issue and set up the Dying Matters Coalition in England and Wales, to help people talk more openly about dying, death and bereavement and to make plans for the end of life.
Talking Mats have produced a set of topic cards called 'Thinking Ahead.' https://www.talkingmats.com/product/thinking-ahead/
These were created in consultation with Strathcarron hospice to help people with advanced illness or long term conditions to think ahead and plan for the future. The three topics in the set are: Affairs, Care and Treatment and Personal Values.
My Mum was interested in my role with Talking Mats and wanted to understand what it was all about. We had already started to talk about the challenges of having difficult conversations, especially about death, and therefore over a drink, in a relaxed coffee shop, we embarked on a journey of discovery using a Talking Mat. My Mum as the Thinker and myself as the Listener .
She used the Talking Mat to help her think about things she had not considered and was able to make plans about what she wanted to do next. I heard her wishes and her thoughts, on why certain things were important to her. It was a very special time, facilitated by a Talking Mat.
My challenge to you as readers of this blog is to ask yourself 'what do I have difficulty talking about' – A Talking Mat just might be the answer!
Another resource you might find helpful is 'Let's Talk about Death and Dying' –  www.ageuk.org.uk
Rachel will be running a 'Talking Mats as a Thinking Tool' workshop at our Talking Mats is 21 Event is in Stirling on Thursday 15th August 2019. Dr Sally Boa from Strathcarron Hospice will also be running a 'Talking Mats in End of Life Care' workshop at this event. Thanks to funding from NHS Forth Valley endowment committee the event is free but you do need to book your space https://www.eventbrite.co.uk/e/talking-mats-is-21-tickets-62362171935
You can come to the morning only, afternoon only or come for the whole day.
If you can't come to our event watch out for out blogs and social media celebrating the reach of Talking Mats for 21 days before the 15th of August.  Please join in with your contributions using the hashtag #TMis21. For 21 days after our event we will be having a special Birthday offer! Watch this space, more to follow …….
Here Laura Holmes, our North-West England Associate, describes how she used Talking Mats to support mid and end of placement reviews with a Speech and Language Therapy Student:
I am very familiar with using Talking Mats to help the children I work with to express their views and opinions – to give them a voice in terms of therapy planning and to enable the children to think about and share what works for them.
However I recently also used Talking Mats to support a Speech and Language Therapy student who was on placement with me. I introduced the approach to support our discussion during her mid-placement review, and then again, during the final review at the end of her placement.
I introduced a Talking Mat with the topic 'Clinical Areas' and the topline question 'Confident/OK/ Not Confident'. I made up options relating to each clinical assessment area as described in the University Student Handbook/Guidelines.
Here is the mat from the student's mid – placement review:
And here is the mat from the end of placement review:
The pictures help to show the shift in the student's confidence from the mid-point of the placement in comparison to the end of the placement.
The first Talking Mat helped us to focus our discussions in terms of what skills needed further support/development during the placement. The second Talking Mat then supported our evaluation of current learning outcomes at the end of the placement, as well as helping to identify key learning outcomes for the student's next placement.
The student shared that she found Talking Mats a really useful thinking tool to help her to think carefully about her skills and the progress she had made during the placement. This was easier than during a typical face-to-face discussion due to the focus on the mat. The interaction itself was also more relaxed as a result.
My next step will be to introduce use of symbols for topic and options – here are some examples from a Scotland-wide Talking Mats project which involved asking students about their work placements:
We often have members of University and College staff coming to our Foundation Training Courses – find out more about this and other training options we offer here:
https://www.talkingmats.com/training/
If you have any examples of using Talking Mats for student supervision, and would like to share them, it would be great to hear from you! Just email me at laura@talkingmats.com
In this latest blog, Laura Holmes (Talking Mats Associate based in Stockport) shares a great example of how Talking Mats can be used by education staff to help children to share their thoughts and feelings:
One of Teaching Assistants I work with at Woodley Primary School in Stockport, Lucie Porteus, attended Talking Mats Foundation Training in December 2018. Since then Lucie has been using Talking Mats with many of the children on our Speech and Language Therapy caseload in school.
Lucie's use of Talking Mats with a group of Year 6 children is a great example of the benefits of using Talking Mats to help children to share their views and opinions. Lucie had carried out initial Talking Mats sessions with four children, on a one-to-one basis. These sessions had focused on getting a general idea of each child's thoughts and feelings using the Talking Mats 'Consulting Children and Young People' resources. A common theme had emerged through use of 'blanks' – all four children wanted to talk more about their upcoming school residential trip.  Here is a picture of one of the mats (click on the picture for a clearer view):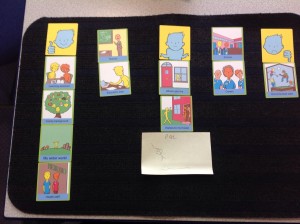 Lucie then planned and prepared options to 'sub-mat' the topic 'PGL' – the residential school trip, and chose the topline questions 'happy about/not sure/ not happy about'. She then met with each child individually to complete the mats. Some of the issues/ questions which emerged from the mats were:
'I don't know who the people there are'/ meeting new people
'I don't know what we will be doing'
'Do we have a choice about what activities we can or can't do?'/ 'I'd like to have a choice'.
Privacy – getting dressed
Will any instructions be written down – do we just listen or will we be shown what to do?
The instructions might be confusing – what will I do?
I don't like heights – I'm worried about climbing up high
Working in groups – we might all fall out
Sleeping – it might be hard to get to sleep. Sometimes other children talk and I can't get to sleep.
What will the food be like?
What happens if I don't feel well?
The journey – I might feel sick if I'm not at the front of the coach/ Do we get to choose who we sit with?
This information was passed on to each child's Class Teacher and Teaching Assistant. Further conversations then took place to answer/address the above queries and concerns. Using Talking Mats meant that these conversations were personalised and focused. The children's queries/concerns were listened and responded to well before the school trip itself.
School staff report that all the children had a fantastic time on their school trip!
Talking Mats enabled these children to have their voices heard about a topic which was really important to them. If you are interested in finding out more about accessing training to enable you to support the children and young people you work with to have their voices heard, take a look at our training options here: https://www.talkingmats.com/training/
In this latest blog, our Director, Lois Cameron describes the initial stage of a Scottish Learning Disabilities Observatory project aimed at enabling involvement and engagement of people with learning disabilities in supporting people with learning disabilities to have a voice. A great example of co-production in action:
Background
The Scottish Learning Disabilities Observatory aims to generate evidence, build understanding and provide information on the causes of poor health and health inequalities experienced by people with learning disabilities in Scotland. However, they recognised that there was a need to develop their approach to involving people with learning disabilities. They considered whether a citizens' jury for people with learning disabilities on health and health research would be a constructive way of engaging people with learning disabilities in supporting people with learning disabilities to have a voice. From the outset, they acknowledged that communication would be a key challenge and approached Talking Mats to work with them to put forward a bid to the Welcome Trust Public engagement fund. This bid was written, submitted and was successful.
To establish the project, our first task was to recruit a Public Engagement Lead to take the lead on project delivery. This raised the first hurdle, as since the Engagement Lead was not in post there was no citizen's jury and therefore no pool of people with learning disabilities to approach to be involved in the interview panel. From the outset, involvement of people with learning disability was seen as central to the project. Talking Mats had recently completed a course working with people with learning disabilities from the National Involvement Network to become Talking Mats interviewers, so we approached one of the participants who had completed the course and asked if he would be willing to be on the interview panel. He was very happy to take part and contribute his skills and experience to the interview panel.
Planning the interview Talking Mat
We examined the job description and divided it into questions that were more factual and knowledge-based and those that we might describe as 'softer'. However, calling them soft might be misleading as they were actually value based and we felt that the successful candidate's proficiency and self-awareness in responding to these options would be central to the success of the project. After going through this sifting process we came up with 8 possible options for the interview talking mat. We met with our interviewer from the National Involvement Network and with him honed it down to six and choose the top scale: extremely confident, confident, not that confident. He also choose the symbols he wanted to use. Candidates would be asked to justify where they placed their options. A script was developed to support the interviewer e.g. 'It would be good if when you placed the card down you gave us a reason why you placed it there. Examples from other work you have done would be helpful' .   The full script can be found here – Interview Script
The six options were:
Making information accessible
Making sure everyone has a chance to speak
Helping the group understand research
Helping the group set its goals
Involving people with severe learning disabilities in the research agenda
Not taking power away from the group
The interview
In the interview, candidates were asked to give a short presentation, and then the member of the National Involvement Network carried out the Talking Mat. After this, there were some further panel questions and a chance for the candidate to ask questions.
The experience and outcomes
"I really liked being involved in making the mat. At the interview I knew what I had to do and I felt the other interviewers listened to me and my opinion."
Other panel member's perspective
"Having never used a Talking Mat in a recruitment interview before I was not sure how effective it would be as a recruitment tool. We wanted the process to be as inclusive as possible, where all interviewers had a clear and purposeful role. The Talking Mat worked really well, both as a way of gathering knowledge and information from the candidates, but also by providing an opportunity to observe the interactions between the candidate and the interviewer. I also think that the structured framework of the Talking Mat put the interviewer at ease and it was nice to observe that his confidence in using it in this context and, where necessary, in prompting and supporting the interviewee. All in all this was an effective way of conducting an inclusive interview process that signalled to our candidates that people with learning disabilities should be involved meaningfully in all stages of the process. It also meant that when we came to reviewing the candidates against the role criteria all members of the panel were able to contribute. I can't wait to do more interviews like this!"
Candidate perspective:
"For me, an interview process is really about making sure that you and your potential new employer have compatible values. Therefore, it was a relief to have someone with learning disabilities on the interview panel who could help direct the questions. It was also clear that the interviewer knew how he fit into the interview process and was taking the lead on his section of the interview.
The Talking Mat itself was an interesting tool for the interview discussion because the top scale allowed me to look at where my skills and confidence were but also identify some potential challenges within the project. The interviewer also really kept me on my toes with some good follow up questions. In one in particular, he asked me what I would do if he was talking too much and dominating the conversation in the group. It was a challenging question and quite uncomfortable on the spot, but it forced me to be honest about my own values and say that actually, the right thing to do is to politely confront someone who is not letting others speak.
The benefit of a Talking Mat is that it has to be really clear and concrete to work, so I actually felt that I understood the demands of the role better than reading the much longer job description."
Summary
The involvement of people with learning disabilities was possible from the start of the project because we were able to harness the skills and experience of a person from the National Involvement Network who was trained in Talking Mats. He had a clear independent role which was central to the interview process and improved the quality of the information gained by panel members . The Talking Mats design gave all panel members particular insight into those 'soft skills' that were felt to be crucial to the project and that might not have come through so clearly if just the traditional presentation and questions were used.
If you are thinking about a Talking Mats project for your own organisation/service you can find more information here:  https://www.talkingmats.com/projects/
Grateful thanks to Prof. Dr. Norina Lauer, OTH Regensburg – University of Applied Sciences, Germany for this blog.
At the conference of the German Society for Aphasia Research and Treatment (GAB) from the 1st to the 3rd of November Franziska Rau presented a poster – Let pictures talk – about her bachelor thesis on Talking Mats.

Speech and language therapists from German-speaking countries meet at this conference to present their latest research findings. This year's theme was " Aphasia Therapy Digital".
The presented bachelor thesis about Talking Mats was performed at the HAN University of Applied Sciences, Netherlands, and was written by Franziska Rau together with Karoline Bitter and Lara Stobrawe. The students asked 29 people with aphasia and 63 people without aphasia for how representative they rated the images and terms used in the Communication section of the Digital Talking Mats Health & Well-being resource. While the healthy persons judged many items as not clear enough, the people with aphasia estimated significantly more pictures and names as appropriate. For this purpose, various reasons have been discussed, such as the possibility that the persons with aphasia directly perceived the pictures and terms as aids, while healthy persons judged more critically on the basis of the task. But also problems of concentration or comprehension in people with aphasia would be causally conceivable. This should be examined in further studies.
The poster was presented as part of a poster session and was well received by the audience. Thanks to Franziska, Karoline and Lara for their great study and to Holger Grötzbach, Janine Coopmans and Xaver Koch who supported the students.
We are always happy to receive projects and posters from anyone studying how Talking Mats can be used
 We are very grateful to Tom Tutton from Autism Spectrum Australia for this interesting blog. 
Autism Spectrum Australia (Aspect) works with people on the autism spectrum and their families. We regularly recommend visual communication strategies because people on the spectrum often have strengths in visual learning. This is especially important in our work through Aspect Positive Behaviour Support where communication can replace challenging behaviour.
In the past, we applied a 'hierarchy' of visual representations based on how easily they can be understood.
Generally, objects are considered the easiest form of visual communication to understand; followed by miniatures, remnants, photos, line drawings and symbols and writing, in that order. Although this hierarchical understanding is held true for many people on the spectrum, there can be exceptions. Some individuals find line drawings easier to understand than photographs.
Aspect Practice continually reviews and applies the evidence base to our daily work. So, with the knowledge that the hierarchy does not fit for some people, we reviewed the research literature to see if we could refine our understanding and use of visual communication strategies.
We asked "What evidence is available about the hierarchy of visual representation which could explain how an individual could benefit more from line drawing supports than photos?"
To find the answer, we searched an electronic research database, prioritised 20 papers and then reviewed four papers in detail that seemed to answer our question (references below).
We found information that suggests the factors contributing to a person's understanding of visual symbols is broader than a simple hierarchy and involves consideration of three main areas:
The individual's experience
The individual's ability to learn
'Iconicity' of the symbol (more detail about this piece of terminology below)
Ideally, these factors should be considered for every symbol used with every individual. We learned that a symbol can be placed on a continuum in terms of 'iconicity'. At one end, it can be described as "iconic" or "transparent", meaning that it is very similar to the object it refers to (e.g. using a juice bottle to present the choice of juice). At the other end, it can be described as "arbitrary" or "opaque", meaning that there is little or no visual similarity between the real item and the symbol (e.g. the written word "bird" does not look or sound anything like an actual bird).
The generally accepted hierarchy of visual representations aims to organise types of symbols by their level of iconicity, but misses some subtleties. This means that phrases such as "photos are easier to understand than line drawings" are often overgeneralisations.
For example, image 1 looks more like an apple than image 2, even though the second one a photograph. Image 1 would also be easier for an individual to understand if that symbol had been used extensively around them, if it was motivating and functional and if that individual had a strong ability to learn the association of that symbol and an actual apple. Therefore, a person's ability to understand a symbol does not depend on its iconicity alone, but the ways symbols are used and learned.
In answer to our question, there are several possible explanations why a person may understand line drawings better than photos.
They may have been exposed to line drawings more than photos, meaning they can learn the associations between line drawings and things in the real world more effectively.
The photos being used contained a background (and had lower 'iconicity'), whereas the line drawings provided a simple representation on a plain white background.
The person's learning style may mean they learn each symbol individually, rather than learning how to associate symbols the real objects in a more general way. If a person who learns this way is exposed to more line drawings, they will learn more through line drawings.
As a general statement, it is clear that greater emphasis needs to be placed on the needs of the individual, as well as the properties of the individual symbol, rather than considering only a hierarchy.
Steve Davies (Positive Behaviour Support Specialist & Speech Pathologist, Aspect Therapy)
Dr Tom Tutton (National Manager, Aspect Practice, Positive Behaviour Support Specialist)
References
Fuller, Lloyd & Schlosser (1992) Further Development of an Augmentative and Alternative Communication Symbol Taxonomy, AAC Augmentative and Alternative Communication, pp67-74
Sevik & Romski (1986) Representational Matching Skills of Persons with Severe Mental Retardation, AAC Augmentative and Alternative Communication, pp160-164
Stephenson & Linfoot (1996) Pictures as Communication Symbols for Students with Severe Intellectual Disability, AAC Augmentative and Alternative Communication, pp244-256
Dixon, L. S., (1981) A functional analysis of photo-object matching skills of severely retarded adolescents, Journal of Applied Behaviour Analysis, 14, pp465-478
This article was inspired by a blog post written by Dr Joan Murphy, Co-Director, Talking Mats.
Click here to read original blog
Aspect Practice is an initiative where Aspect shares its evidence based practice through information, workshops and consultancies. To learn more about Aspect Practice, visit www.autismspectrum.org.au/content/aspect-practice.